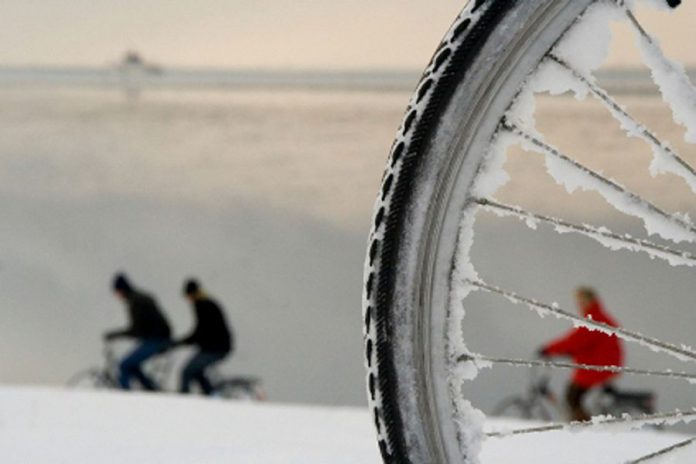 Again this year, I waited too late to have my winter tires installed. I called around Sunday morning and everyone was booked — some as far out as today. While Monday's snow didn't cause too much trouble, I would have certainly felt more confident on the road with winter tires rather than summer.
Just like motorists, those who get around by bike also needed to prepare for the snowy months.
You may not realize it, but there are actually a large number of people who cycle year-round. While most of us put our bikes away once the cool fall weather rolls in, this hardy segment of the biking world doesn't let an icy chill and a bit of snow slow them down. What's the key to their winter cycling success? Preparedness — and that begins now.
Once the snow flies, it's not has hard as you think to continue using your bike, especially if both the bike and yourself are properly equipped. Being properly prepared for the elements can make winter cycling just as safe as biking the other three seasons of the year.
Just like you would with a car or truck, a major step you need to take when preparing your bike for winter cycling is investing in good tires. As with automobiles, bikes need winter tires to better cope with snow and ice and get from point A to point B safely. It's never any fun to be that driver who always gets stuck going up hills or slides off into the ditch. You also don't want to be that cyclist who is the first to hit the ground due to improper tires. Besides being embarrassing, it could also be painful.

When shopping for winter bike tires, carbide studded winter tires are the best way to go. This type of tire allows for additional grip on snowy and icy surfaces. As with anything in a retail environment, there are a wide variety to choose from at many different price points and brands. Once you have your tires, a great tip is to reduce the tire pressure so the tire will grip the road surface better, increasing traction.
Aside from the cold and snow, the part of winter the people dislike the most are the shorter days. With less daylight, outdoor activities can be limited and people tend to spend more time cooped up inside. Cyclists who venture out also need to keep the shorter days in mind and realize that visibility is key to their safety. If drivers, pedestrians and other cyclists can't see you, you're increasing your chances of getting hurt.
Increase your visibility with bike lights and by wearing plenty of reflective material. Essentially, the more visible you are the better. It's advised to use a white light on the front of your bike and a red light on the back. When choosing lights, note that flashing lights are the most visible to drivers and others you may encounter.
It's also important to keep in mind both the space you need to make turns and your reaction time. In most cases, you're going to be making wider turns during the winter and it's essential that you allow more time to stop for yourself and other vehicles you may encounter. As with driving a car, it's good to leave lots of space between yourself and other vehicles on the road.
Even the most dedicated winter riders carefully consider the conditions and their route before going out. Walk your bike when necessary, and recognize that sometimes biking just isn't an option. Very icy conditions are particularly difficult, and require studded tires to make any riding possible.
A great resource for all things cycling — including tips, tricks and advice on winter cycling — is the Peterborough Community Bike Shop. Check out their website at communitybikeshop.org, or visit their location on at 336 Rubidge Street. They're open Sunday to Wednesday from 2 to 6 p.m.
---
Winter Cycling For Everyone
The town of Oula in Finland has embraced winter cycling. So much so that it hosted the Winter Cycling Congress, the only international cycling conference concentrating on winter cycling, in 2013.