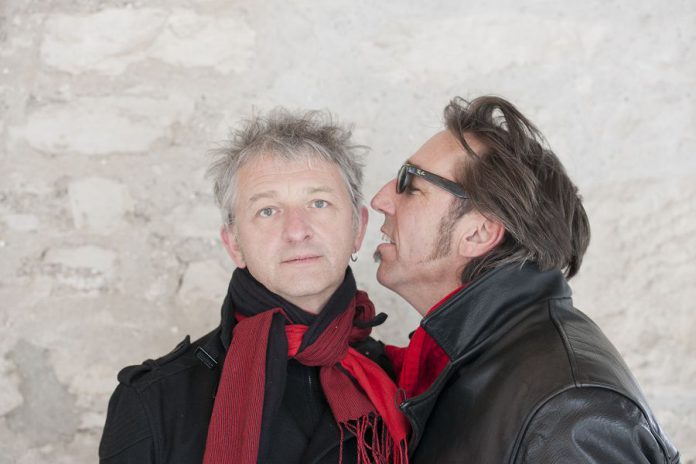 On Friday, February 13th, Stephen Fearing and Andy White are bringing their musical friendship to Market Hall in Peterborough, with local favourites Bowskill and Fewings opening the show. Presented by kawarthaNOW, the concert is a perfect opportunity to celebrate Valentine's Day with your own best friend.
For those of you who haven't heard Fearing & White, there's a bit of magic on stage when these two renowned singer-songwriters put on a show. There are a lot of reasons why this is so, but a key one is that both Stephen and Andy are both accomplished musical craftsmen of stories and experiences.
"We are storytellers at heart and that's a big part of the show, both in the songs and between the songs," Stephen says.
It's true that each musician has gathered wisdom through years of making music, travelling, working with amazing peers, and just plain hard work. Yet there's something else at work here as well: a genuine friendship, balanced with similarities and differences.
Stephen first met Andy backstage at the Winnipeg Folk Festival in 1998. They became fast friends and vowed to write some tunes together — despite the epic distance between them and their busy careers in bands and as solo acts. At the time, Stephen lived in Guelph, Ontario (he relocated to Halifax in 2008), while Andy moved from Ireland to Switzerland in the late 1990s and then to Melbourne, Australia in 2002.
Over 10 years, Stephen and Andy held a series of annual co-writing sessions at Stephen's Guelph home, where they would play a few shows and then spend the rest of their time together working on songs. This process culminated in 2011, when they recorded their debut Fearing & White.
---
"Rockwood" from Fearing & White (2011)
---
That first record was critically acclaimed. The Ottawa Sun called it "a blues-rock album with a big Celtic soul" while the CBC described the songwriting duo as "The Everly Brothers on steroids."
This year, the duo released their sophomore album, Tea and Confidences, but the songwriting process was quite different for this record. Living on opposite sides of the globe, Stephen and Andy knew they'd have to make the most of their time together.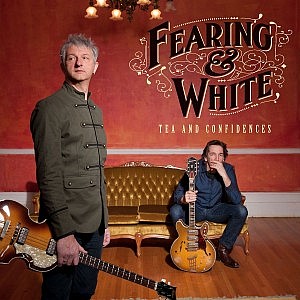 So they wrote the record in two sprints of musical inspiration, beginning with a brief session at Stephen's house in Halifax in January 2012 to get the ball rolling, and then a four-day songwriting marathon in British Columbia the following July, when they completed 11 songs.
Six months later, they recorded the album in Guelph, featuring Gary Craig (Bruce Cockburn) on drums and percussion with special guests Jeff Bird (Cowboy Junkies) on harmonica and Ray Farrugia (Junkhouse, Lee Harvey Osmond) on drums.
Although Stephen and Andy didn't set out to purposely write so many keepers on the new record, things definitely turned out that way,
"The fact that we've written so much together in the past was a big factor in being able to cut to the chase and zero in," Stephen explains.
The album's title refers to the duo's long-distance songwriting endeavours and comes from their tune "Tomorrow Takes a Long Time" (Let's meet at eight for tea and confidences / You tell me yours and I'll tell you mine).
"Living so far apart, we have a weird closeness that exists in short, concentrated bursts," Stephen says. "Our work has always sprung from that feeling of being pals."
Stephen and Andy have a lot of fun performing, but the two men share more than just music and friendship: they both have roots in Ireland.
Born in Vancouver in 1963, Stephen spent his formative years (from ages 6 to 17) in Dublin. He actually attended the same high school as members of the then-unknown group U2. In 1981, he returned to Canada to pursue a career in music as a singer-songwriter and virtuoso fingerstyle guitarist. The influences of the Celtic folk tradition in Stephen's songwriting and guitar playing are easy to hear.
In 1986, he released his self-produced debut Stephen Fearing (The Yellow Tape) on cassette, and subsequently released nine albums as a solo artist (seven studio records, one live record, and a best-of compilation). In 1996, along with Colin Linden and Tom Wilson, he founded the roots-rock supergroup Blackie and the Rodeo Kings, which has released eight records and with whom he continues to perform. Both for his solo work and his work with Blackie, Stephen has won and been nominated for multiple JUNO awards.
---
"We Came Together" Remix from Fearing & White
---
Andy, a self-described "21st century troubadour", was born in Belfast in Northern Ireland in 1962. He grew up in Belfast during The Troubles and began writing socially aware poetry and music when he was young (as a nine-year-old, he wrote a poem about the Northern Ireland riots).
He's since released 17 records as a solo artist and with others, published four volumes of poetry, and written a memoir. He's worked with some of the great names of Irish music — Sinead O'Connor, Donal Lunny, Van Morrison, and Mary Black — and has written with Peter Gabriel and Neil and Tim Finn. Known for blending folk and pop stylings with a poet's sensibility, Andy has won Ireland's top songwriting awards and toured the world many times over, living up to his troubadour moniker.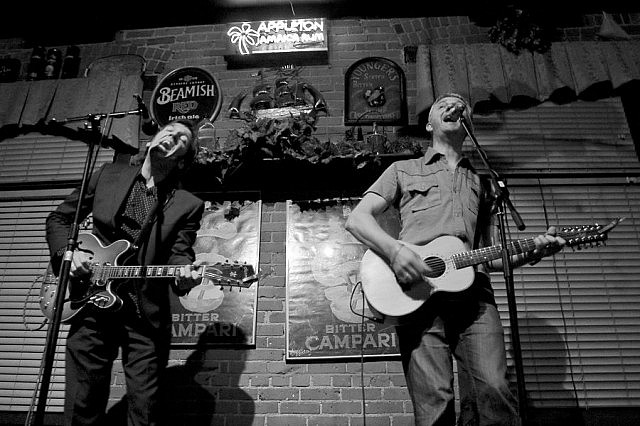 Their shared Irish connection provided an extra feeling of familiarity when Stephen and Andy first became friends.
"When I met Andy, it was like meeting my long-lost brother," Stephen recalls.
Their music is often formed from their differences as much as their similarities.
"Andy can be relied on to bring a certain flavour of Celtic mysticism and poetry," Stephen says. "While I'm maybe more clued into the North American roots music scene."
Stephen tells me how he played Andy a number of old country records — or more accurately "forced them upon him" — to bring a certain form of inspiration that only country music can bring. Those old classics aside, the pair do have some common rock influences in David Bowie, The Beatles, Slade, The Clash, T. Rex, and Van Morrison, to name a few.
Fearing and White combine these musical tastes and more on Tea and Confidences and in their live shows. Stephen describes their sound as full of harmonies and lots of British influences, but with a rootsy North American sound that you can't find across the pond.
Andy describes how those combined musical ingredients deliver a potent brew of songwriting and performance.
"The power of our songs comes from a combination of truth-telling, harmony in action, and the rock 'n' roll attitude and commitment we bring to the stage every single night," he says.
An exciting aspect of the Peterborough show will be the addition of Gary Craig, one of Canada's most accomplished drummers. Gary, who recorded on Tea and Confidences, has worked with Bruce Cockburn, Jesse Cook, Gowan, Anne Murray, Colin Linden, Blackie and the Rodeo Kings, and many others.
"Gary's a master drummer," Stephen says. "When he sits behind the kit, he shapes the songs in ways you don't expect. He might change the tempo subtly or radically. He might suggest a different arrangement. That process continues over the course of the tour."
You will definitely want to be at Market Hall on February 13th to experience the storytelling and musicianship of these two fine performers.
---
"Under The Silver Sky" – Fearing & White
---
Bowskill and Fewings
Another pair of friends, well-known local musicians Jimmy Bowskill and Dan Fewings, will open the show with their unique and special blend of bluegrass, roots, and folk.
Bowskill and Fewings merge soaring harmonies with skillfully played instrumentation to form a classic but unique roots sound. Their sound comes from the duo's excellent chemistry that is second to none and built over many years of friendship. In 2014, they released their debut album High Strung Fully Wound and toured all the way to Newfoundland and the Maritimes.
Originally from Bailieboro near Peterborough, Jimmy Bowskill started playing music at a very early age. When he was 11, he attracted the attention of the late great bluesman Jeff Healey by busking outside his Toronto club and Healey invited him to play on stage that night. Sensing Jimmy's passion for the blues and his potential, Healey and the Toronto blues community helped him record his 2003 debut album, the fittingly named Old Soul, when Jimmy was only 13 years old.
The following year, Jimmy's second album, Soap Bars and Dog Ears, was nominated for a JUNO Award, making Jimmy the youngest-ever JUNO nominee. He's since received Canadian Indie Awards and a Canadian Maple Blues Award. Now 24, Jimmy is an accomplished instrumentalist and singer who plays a range of music — and he just keeps getting better and better.
The senior member of the duo, Peterborough's Dan Fewings, is a local icon who has played music for 30 years — along with having been a high-school teacher, actor, and performer (and, yes, he's my dad).
Dan is known for his musical work in groups like The Three Martinis and Slim Pickets and the Union Cards. He's involved in the local community with charity efforts like the annual Dan Fewings & Friends Community Christmas Concert that raises funds for Teachers for Kids. He's also known for having amassed a collection of 2,600 school board and National Film Board films known as "The Impossible 16mm Film Collection".
---
"Somebody Loves You Darlin" by Ralph Stanley – Bowskill and Fewings