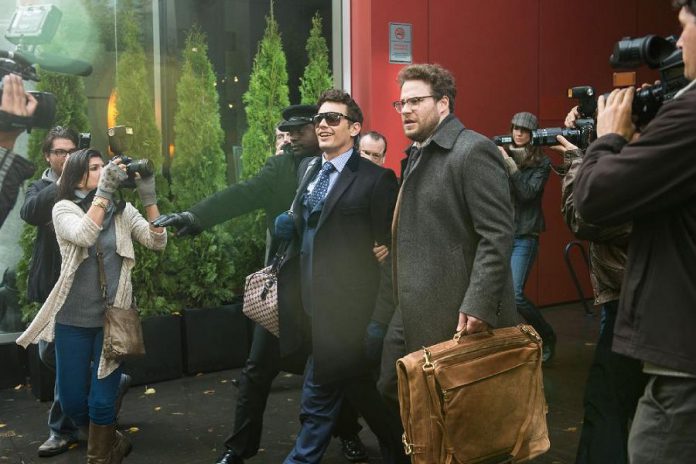 Unless you've completely shunned social media for the last two months (and if you have, good for you) then you are aware of The Interview and the ever-growing chimera known as "the Sony Hack" or, as I've been calling it, "The Highlight of Entertainment Media in 2014."
What began so innocuously as some lip-smacking leaked-email bitchery from the studio strip's hallowed hard drive quickly had everyone and their publicist clutching their pearls when the "T" for terrorism word entered the picture.
The much-ballyhooed The Interview is the latest in a line of films from the creative team of Evan Goldberg and Seth Rogen (Pineapple Express, This Is The End) that were probably a lot more fun to make than they are to watch, and concerns a couple of slackers fumbling their way through a government-sanctioned assassination attempt on North Korea's real-life dictator Kim Jong-un.
It is common practice for intent and reception to have disconnect within the realms of realization. In other words, was this latest phoned-in stoner comedy intended to be the incendiary satirical liberation tool that many feared it to be? Likely no. Button-pushing, censor-baiting hydraulic press machine? Definitely.
Upon initial press releases, North Korean representatives immediately declared the film itself to be an act of terror. Not entirely surprising, given the impenetrable hold the dictatorship continues to maintain over its population by means of an unparalleled cult of personality.
When the Sony Pictures network was hacked in November and thousands of personal documents were leaked for public consumption (I read almost all of them), the obvious angle was North Korean retaliation. Emails between super-producer Scott Rudin and Sony co-chair Amy Pascal trash-talking Angelina Jolie quickly became the most popular. I suppose the concept of people of power in Hollywood not being perfectly groomed philanthropists with keyboard sets of teeth was somewhat of a revelation to people.

The hacks aptly demonstrated that even billion-dollar conglomerates (Sony, Madonna) can have fatal flaws in what was that to be the most airtight of encryption systems. Evidently they need to turn to Beyonce for some firewall advice.
The security breach was signed with a litany of intimidating warnings promising further chaos — including one to "remember the 11th of September 2001" — and was credited to a group calling itself "The Guardians of Peace". It is still unconfirmed who the group actually is. Some suspect disgruntled former Sony employees, or an independent group that North Korea (the FBI's number-one suspect) could have recruited in an effort to cover their tracks.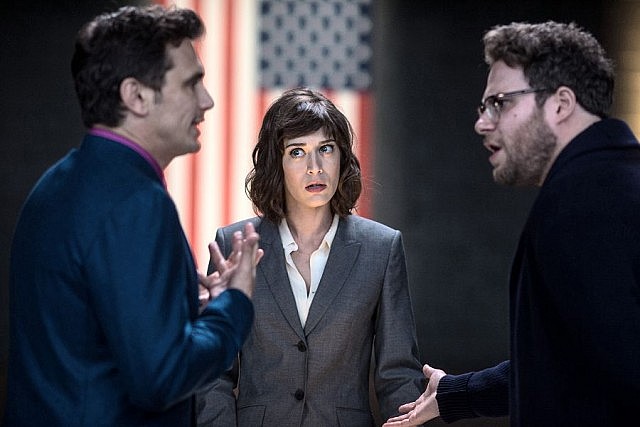 The threats of continued leaks of highly sensitive information and eventual violence massively bolstered the international profile of the film and created the kind of awareness campaign that would have never ever been achieved had the group said nothing at all. This is what is known as The Streisand Effect.
Sony's decision to pull the theatrical release was vehemently decried by many high-ranking entertainment figures and even President Obama, who viewed the decision as giving in to threats of terror. Naturally, three weeks later, the film is now widely available — albeit slightly edited — including in a handful of theatres and through a plethora of online sources (at last count, Google Play, Xbox Video, YouTube, iTunes, and a Sony-sponsored website SeeTheInterview.com).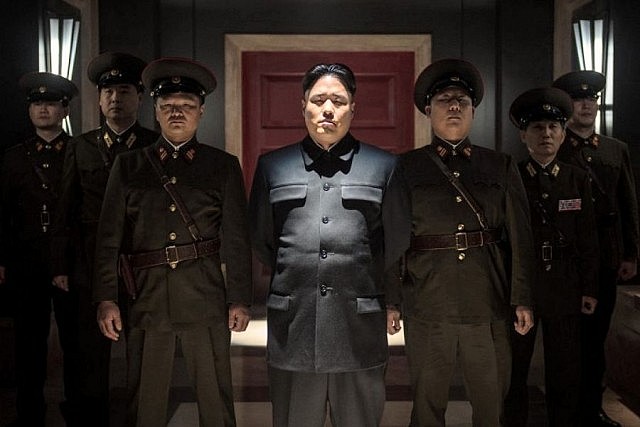 The inevitable release gave many of us the overwhelming urge to climb atop the nearest church steeple and hurl ourselves off of it crying "STUNT QUEEN" as the bells ring, only to land face-first in a shallow pool filled with equal parts contempt and thin validation.
Why? Because, had the film been released normally, it would have never had the success it is now destined to have. And, more importantly, the source of the hack has still not been confirmed.
But if it is being given away essentially for free on the internet, how will Sony make any money? At least the price is right! (Editor's note: as of December 29, The Interview had earned more than $15 million in online sales and $3 million through 300 independent movie theatres — around 18 percent of the $100 million it cost Sony to produce and market the film.)

I'm not sure why anyone not working for Sony would care about this, but if people are talking about something to this degree, then it is making money. Like it or not, The Interview is now a piece of history and is destined for cult status at midnight madness screenings in the years to come.
But is it any good?
Like the Human Centipede before it (Google it … actually, don't), the film's exaggerated reputation greatly precedes it and the most interesting idea (I'm being generous here) is revealed in the flaccid trailer.
James Franco plays Dave Skylark, a smug jewel-tone Barbara Walters-type whose charlatan methods ironically persuade celebrity guests to expose their darkest secrets. Seth Rogen plays Aaron Rapoport, Skylark's long-suffering producer who, of course, desires to cover more serious political fare.

Rogen is the mellowing yin to Franco's vainglorious yang, and the two continue to wring every hackneyed line imaginable out of the bromance template. A prolonged joke about Eminem revealing his latent homosexuality in the opening reel would have been really relevant and clever in 2001.
Upon learning that notorious North Korean dictator Kim Jong-un (Randall Park, great) is a fan of their tabloid program, the two hack journalists pursue an interview with the larger-than-life character. Their efforts are intercepted by the CIA who persuade Rapoport and Skylark to use the interview as a ruse to enter Jong-un's facility and assassinate him. Needless to say, everything that could possibly go wrong does.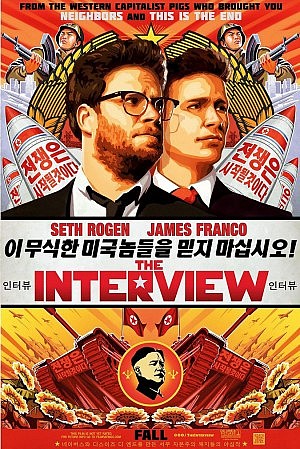 The genuine attempts at political satire are relentlessly given the backseat to an onslaught of de riguer toilet humour. South Park creators Trey Parker and Matt Stone have had this formula perfected for a decade and still manage to effortlessly lampoon politics and their grotesque figureheads weekly. Here, the intention may be to let the audience in on a lot of winking at the camera, but the results are about as fun as watching a bunch of smug millionaires high-five each other for 120 minutes.
Though, in a film comprised of endless set pieces and gags, inevitably a few of them succeed. A sequence of incompetent midnight espionage featuring a tiger, a phallic missile, and Rogen's trademark incredulous delivery — as well as Katy Perry's cloying hands-in-the-air firework driving the scenes of artillery carnage — are memorable.
It's tempting to label the film as a lot more than Pineapple Express 3, given the unprecedented furour surrounding the picture's muddled release. But, frankly, it is little more than a slightly above-average "bro comedy" (with one of the best marketing campaigns in the history of cinema) and a symbolic vehicle for much debate about the nature of free speech in a time when every word and action are documented.
If only the tempest had been conjured over a film that actually had something to say, other than column-flogging notions of censorship and armchair activism.
This vanity project pretends that Team America and Jackass didn't already write the book years ago on ironic self-indulgent male ego. But at least you'll get a more accurate sense of who the true "minimally talented spoiled brats" are.
---
The Interview Trailer
---
All photos courtesy of Columbia (Sony) Pictures