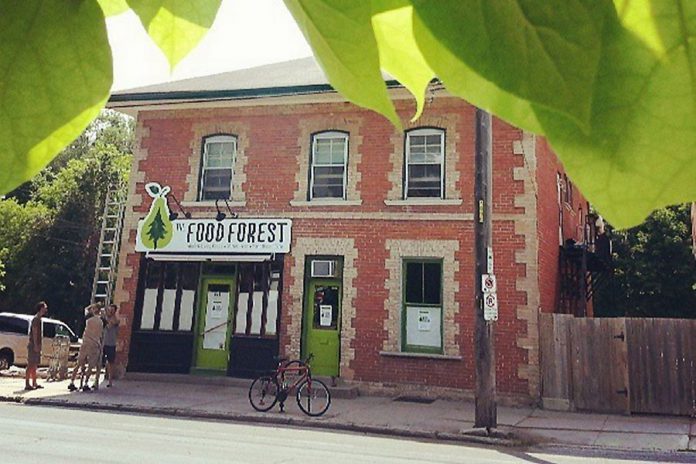 kawarthaNOW confirmed in January that The Food Forest (641 George St., Peterborough) will move into the former location of Maggie's Eatery at 135 Hunter Street in downtown Peterborough.
The Food Forest owner Adam Deck told kawarthaNOW this morning that he and co-owners Katie Tuma and Jeff Deck noticed the closure of Maggie's Eatery. They approached owner Margaret Bonighut to discuss taking over the location.
"This has all happened in just the past two weeks," Adam says. "We were looking at the equipment that Maggie's had for sale and we took a tour of the space and liked it. It's been pretty fast moving since then."
The Food Forest opened at its George Street location in August 2013, where it offers plant-based and gluten-free organic food including salads, soups, juices, and smoothies, along with organic coffee and tea and eco-friendly wines.
With its larger kitchen, the new location will meet the growing needs of the popular restaurant.
"Our space on George Street has a small kitchen and we're feeling the need to expand," he says. "We're looking forward to the centralized location and reaching new customers."
Menu expansions at the new location will include desserts, potentially more smoothies, and possibly breakfast on Saturdays. The Food Forest has been discussing brunch ideas on their social media accounts since December.
More staff will be needed to support the new location including front-of-house staff (servers), line cooks and prep cooks, and possibly a kitchen manager/supervisor.
The Food Forest hopes to be in its new downtown home by mid April of 2015.
For more information, including updates on employment opportunities, visit The Food Forest on Facebook or at www.foodforestcafe.com.