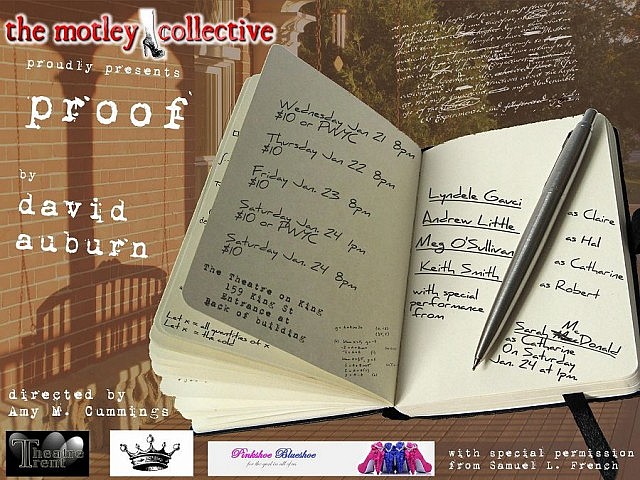 The Motley Collective, which had successes with past productions of Rocky Horror Show and The Laramie Project, seems to be going through a period of change with their latest production of Proof by David Auburn.
Changing their base of operations to The Theatre on King, director Amy Cummings has left behind the ambitious and grandiose productions that put her name on the map in the Peterborough theatre scene, and has switched to a much smaller and quieter production. The space at the Theatre on King beautifully allows for the smaller stature of the show, adding an intimate setting for Proof to come to life. The result is a wonderful marriage of place and production.
Originally staged in New York in 2000, Proof had a successful run both off- and on-Broadway where it won both a Tony Award for Best Play and the Pulitzer Prize for Drama in 2001. The show closed in 2003, but was turned into a 2005 film starring Anthony Hopkins, Gwyneth Paltrow, and Jake Gyllenhaal.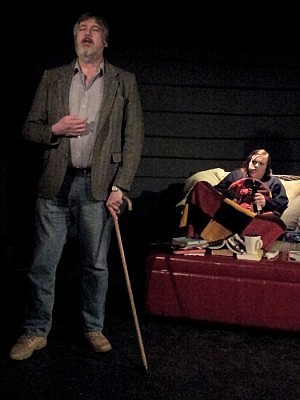 A story of grief, genius, madness, and mathematics, Proof follows the story of Catherine (played by Meg O'Sullivan), the daughter of a recently deceased mathematical genius, Robert (played by Keith Smith).
Having given up her own studies in mathematics to take care of her father after he suffers from a crippling yet unnamed mental disorder, Catherine is left at a crossroads in her life upon his death, feeling that she has watched her life fade into nothing as a result of tending to her father's well-being.
Her father, who taught at the University of Chicago, was somewhat of a legend among the sub-culture of mathematicians, prompting one overzealous professor, Hal (Andrew Little) to start scouring his notes for the "proof" of an unpublished theorem.
As Catherine deals with her own grief and depression, her older sister Claire (Lyndele Gauci) arrives from New York to try to take care of matters and make the hard decisions that Catherine seems to be unable or unwilling to make.
As Catherine's resentment towards Claire grows, Hal uncovers a notebook that will turn the world of mathematics on its head. Just what does it mean for Catherine and Claire, what does it prove, and who was responsible for it?
Now I've never understood mathematics and, in all honesty, to me a production about mathematical theory has the potential to be dull. Thankfully, Proof goes far beyond mathematics and broadens its scope to deal with subjects of depression, insanity, genius, intellectual politics, sibling rivalry, and the hardships of caring for family members with mental health issues. As a result, Proof becomes enough of a character piece to engage its audience beyond the mathematics-driven plot.
After seeing her on the stage dozens of times both in theatre and musical performances, it was a joy to see Meg O'Sullivan finally come out and take the spotlight as the star of the show. This is Meg's moment to shine and she gives a unique performance as Catherine. Cold and guarded, dour-faced and depressed and at her emotional breaking point, Meg plays a woman who is at a true crossroads, dealing with her grief while looking at the bleak unknown that faces her.
Furthermore, she fears that she is so much like her father that she may also develop his madness, and this leaves her in a crippled state of self-destruction and emotional instability. Through her interactions with the play's other characters — including acid-spitting conversations with her sister, her awkward budding romance with Hal, and some poignant and revealing scenes with her father — Meg gives a sympathetic portrayal of a woman on the edge of her own sanity.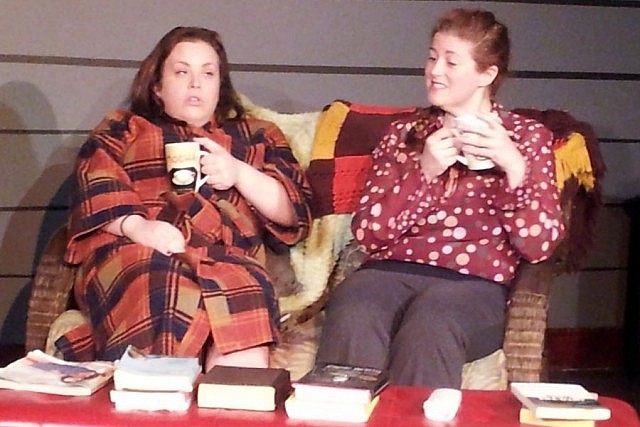 Andrew Little gives a fine performance as the romantic interest Hal, who is often the most energetic of the characters. His enthusiasm and ambition add a light to the show and eventually he is faced with his own intellectual biases, adding to the drama. In two flashback scenes, Andrew also manages to switch the personality of his character with just the addition of a pair of glasses and some nervous body language.
Although a series of raw emotions float throughout the show, a highlight is the interplay between Meg O'Sullivan and Lyndele Gauci. Lyndele plays Claire as sensible, warm, and well established, making the best of what is a bad situation. Sincerely concerned with her sister's welfare, Claire tries to do what is right but doesn't always have the right answers in front of her.
But it's Catherine's contempt towards Claire for her life going in a different direction that's so cutting and so real. Eventually it's revealed that, while Catherine put her life on hold to take care of her father, Claire made her own set of sacrifices to do the right thing in the only way she knew how. The strained relationship between the two sisters is very realistic, and the contrast offers some whimsy in a production with very few humorous moments.
While I know very little about mathematics, I do know a lot about mental illness and I feel the performance could have pushed much more on this topic. There's a sense of calm and quiet and little sign of the anguished reality of emotional illness, even during the most manic moments (most notably in Keith Smith's otherwise-fine performance). While it's sometimes hard to find that fine line between subtlety and over-the-top melodrama, madness seems to be the only emotion that is not played through or realistically explored in this production.
Perhaps part of the problem is within the script itself, which never states what Robert's illness is as much as it describes what he does. When dealing with manic insanity, the performers seem to be more emotionally removed instead of emotionally disturbed.
Proof is a different type of production for The Motley Collective, but the company maintains its alternative scripts and its quality company of performers, and Amy Cummings continues to prove herself a gifted director. Hopefully The Theatre on King will become a regular home for The Motley Collective in the future — a merger of one of my favorite companies with one of my favorite spaces.
Proof runs from January 21st to 24th at The Theatre on King. Shows starts at 8 p.m., with an additional matinee at 1 p.m. on Saturday. Tickets are $10, or pay what you can on Wednesday and the Saturday matinee. Note: During the Saturday matinee performance, the role of Catherine will be played by Sarah McDonald.