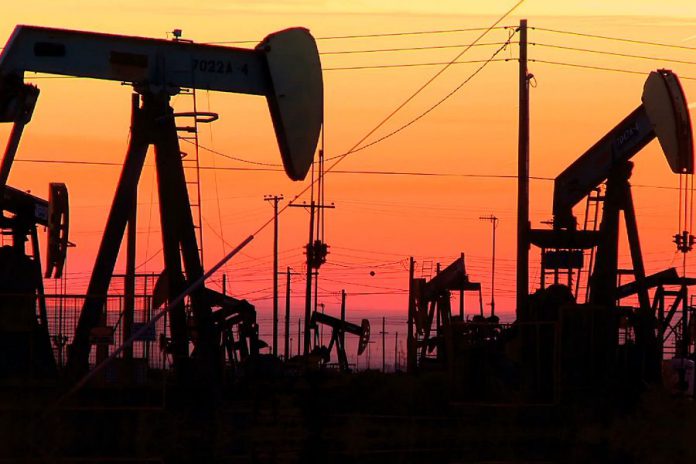 If you've been following the news over the past few months, one item that might have caught your attention was the wet weather impacting California in early and mid December.
The rainy conditions made news for a couple of different reasons, the first being that a large quantity of precipitation that fell within a short period of time. Many locations reported nearly eight inches of rain, which resulted in flooding, landslides and damage into the millions of dollars.
The other reason why this bout of wet weather was big news was due to the drought the state is suffering through. California has been stuck in a record drought for four years, causing the state's governor to go as far as issuing a state of emergency, asking residents to reduce their water consumption by 20%.
Despite the quantity of rain that fell in December, it did little to ease the drought conditions. Lakes, rivers, and reservoirs are at record lows and require long-term steady rain to recharge and return them to normal levels.
The California drought is just one extreme weather story from 2014, coming on the heels of the U.S. National Climatic Data Centre (NCDC) and NASA releasing their annual world climate report that contained some startling news — 2014 was the warmest year to date, since record keeping began in the late 1800s.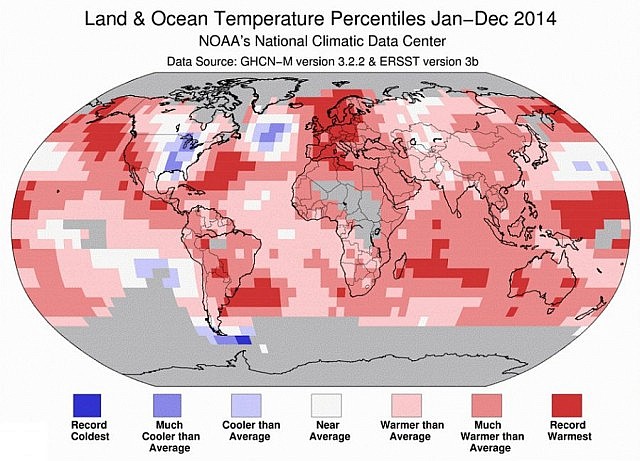 The Americans weren't alone in their findings. Japan's national weather service, as well as independent researchers at the University of California, also confirmed the results that show 2014 as being the warmest on record.
While land temperatures alone weren't record breaking, when combined with above normal sea temperatures, the average reached levels never recorded before.
According to the NCDC, this was the highest average global temperature among all 135 years of records, surpassing the previous records of 2005 and 2010 by 0.07°F (0.04°C).
During 2014, the average temperature across global land and ocean surfaces was 1.24°F (0.69°C) above the 20th century average. While that number doesn't sound significant, it can cause big fluctuations in global weather patterns and allow for more extreme weather events.
While it wasn't especially warm in southern Ontario, the record warmth was spread around the world, including Far East Russia into western Alaska, the western United States, and parts of interior South America. Other areas that saw record warmth include most of Europe stretching into northern Africa, parts of eastern and western coastal Australia, and much of the northeastern Pacific around the Gulf of Alaska.
All of this warming had a big impact on sea ice in the Arctic regions of the planet. In terms of ice coverage, in December it was measured at 210,000 square miles (4.1 percent) below the 1981-2010 average. This marked was the ninth smallest December ice coverage since records began in 1979.
In the southern hemisphere, the news was slightly better. Antarctic sea ice during December covered 430,000 square miles, or 9.9% above the 1981-2010 average. This was the fourth largest December Antarctic sea ice extent on record.
When it comes to snowpack, like ice in the northern hemisphere, the snowpack was smaller. The Northern Hemisphere snow cover extent during December was 130,000 square miles below the 1981-2010. This was the 20th smallest December Northern Hemisphere snow cover extent in the 49-year period of record.
These findings should bring and end to the claims that global warming has stopped or slowed, with the science showing the exact opposite.
"Carbon dioxide levels are increasing because we're taking carbon out of the ground, mainly as coal, oil and natural gas and we're burning it. When your burn carbon, you produce carbon dioxide which contributes to the greenhouse effect. As we continue to increase we're going to continue to see warming and more records being broken," Gavin Schmidt, director of NASA's Goddard Institute for Space Studies said in a NASA video.
"Trends in greenhouse gases are continuing, so we may anticipate further record highs in the years to come," Schmidt told AccuWeather.

There were also many anomalies around the world, which caught the attention of NCDC and NASA scientists:
Australia had its sixth warmest December on record
Warmer than average temperatures were observed in much of Russia, some by as much as 5 degrees above average
Alaska had its fifth warmest December since record keeping began in 1918
Some locations in Argentina received double their average monthly rain in December 2014.
To view the report and learn more about some of the specifics of the data, visit www.ncdc.noaa.gov.
---
2014 Warmest Year On Record – NASA