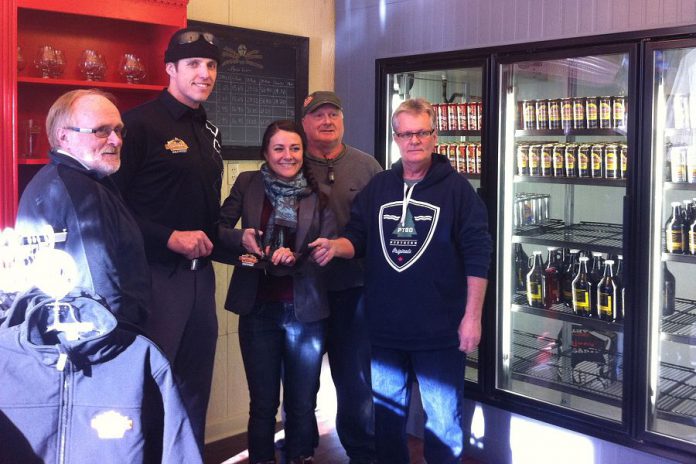 The Publican House Brewery has opened a new craft beer retail store, right beside the micro-brewery's location at the corner of Charlotte and Rubidge streets in downtown Peterborough.
The retail store marks the next phase of expansion for the premium craft brewery, which first opened its doors in 2009.
"We are working hard to maximize the brewery location and utilize the space we have in order to serve the community better," says Matt Philips, Partner at Publican House. "This is the next step in our expansion with even more exciting changes to come later this year."
The new retail store is currently open to customers and will have its grand opening on Saturday, January 31st. The store features a large and well-stocked cooler, Publican House merchandise, a tasting bar, and a seating area where customers can enjoy some of the brewery's award-winning brews.
At the tasting bar, customers can sample the different styles of beer while learning about the brewing process from friendly and knowledgeable staff.
Publican House currently has two distinct brews available year round. The award-winning Pub House Ale, the brewery's flagship brand, is a traditional European-style golden ale. Square Nail Pale Ale is a west coast-style pale ale.
Seasonal brews include High Noon (an easy and refreshing craft beer experience), Henry's Irish Ale (a full-flavoured winter ale), O'Leerie Stout (espresso and chocolate notes combine in this winter seasonal), and Eight or Better (a Belgian-style strong ale).
Pub House Ale is also available at select Beer Store locations and Square Nail Pale Ale is available at select LCBO locations. Publican House brews are also served at many pubs and restaurants in Peterborough including The Spill, The Garnet, Cosmic Charlie's, Holiday Inn Peterborough, and more.
The Publican House Brewery is located at 300 Charlotte Street in downtown Peterborough. The store is open daily from 11 a.m. (10 a.m. on Fridays and Saturdays) until 11 p.m. For more information, visit www.publicanhouse.com.