Although it seems that Peterborough has been overloaded with musical theatre this current season, The Anne Shirley Theatre Company (ASTC) has come out of nowhere to prove there's room for more. This weekend, the theatre group based at Trent University puts murder, mayhem, and meat pies on the menu with their production of Sweeney Todd: The Demon Barber of Fleet Street.
Directed by Dylan Billings and Lauren Bromberg, making their Peterborough directorial debuts, Sweeney Todd is the most unconventional of the stream of musicals that have been put on in this city and, as a result, could arguably be the most inspired and creative thus far.
Based on the famous literary character from a Victorian era penny dreadful published in 1846, the story of Sweeney Todd was an odd choice for a musical when it was adapted for the stage by Stephen Sondheim and Hugh Wheeler in 1979.
Having appeared in films and stage productions dating as far back as 1847, Sondheim and Wheeler wrote their musical around a 1973 stage production written by Christopher Bond.
The show would be nominated for nine Tony Awards during its debut run, and did a clean sweep by winning eight of them, including best musical. Sweeney Todd has been considered a Broadway masterpiece ever since and, beyond its revivals throughout the decades, it had a resurgence of popularity in pop culture when Tim Burton and Johnny Depp brought it to the cinematic screen, albeit with a number of changes, in 2007.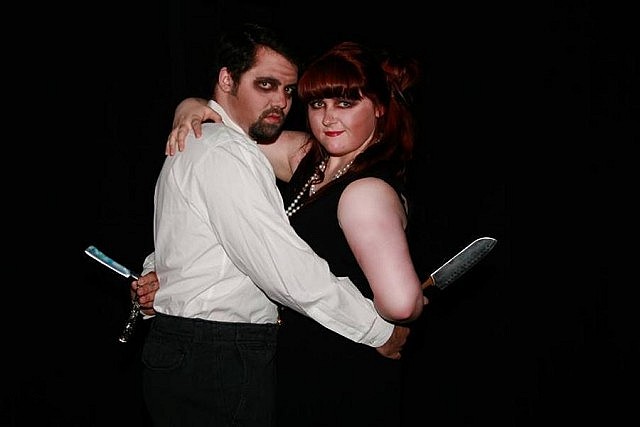 A tale filled with romance and revenge, Sweeney Todd tells the story of a disgraced barber named Benjamin Barker who was exiled to Australia on false charges by the villainous Judge Turpin, who lusted after Barker's beautiful wife. Returning years later, Barker takes the moniker Sweeney Todd and returns to his old stomping grounds of Fleet Street.
There, he discovers a restaurant now resides in his old residence, where the proprietor Mrs. Lovett — who specializes in making "the worst meat pies in London" — tells him of the grisly fate of his wife and reveals that Turpin has been raising the couple's daughter Joanna (who was just an infant when Todd was exiled) as his own.
Setting up a barber shop above the restaurant, Todd goes on his own murder spree while plotting his revenge on Turpin and planning to reunite with Joanna. She is now being courted behind the back of her lustful guardian by a young sailor named Anthony, who Todd traveled with. As Mrs. Lovett finds her own novel way of disposing of the bodies, Todd bides his time as the meat pie business booms.
Although Sweeney Todd has a splattering of romance and drips of dark humour, it's a horror story at its core — and ASTC brings on the darkness in full force.
Deliciously macabre, the production is thick with a creepy ambiance created by ghoulish makeup designed by Lana Faye De Bastian (which harkens back to the silent films of Robert Wiene and F.W. Murnau) and wonderful costumes by Dylan Billings. Like spectres on the stage, the production has a haunted feel that carries throughout the show and continues to intensify as the show goes forward.
What makes Sweeney Todd remarkable in comparison to other musicals is the complexity of the score. The cast performs, undeniably, the most difficult and intricate musical score in any theatrical production yet this season. While the songs may not be as beloved as those from Les Misérables, or as singable as those from Rent, Sondheim's score is a far more demanding one, relying heavily on multiple voices playing off one another.
Led by musical directors Justin and Mark Hiscox, the level of talent from the singers and musicians in this production is truly a triumph and pushes the envelope higher than ever before. Mark Hiscox conducts a five-piece orchestra boldly situated at the back of the stage like permanently placed props on the minimalistic set, providing the music for some of the most astonishing voices that I've ever heard.
Having thought I'd seen everything that Peterborough has had to deliver musically, the perfection and complexity of the performances was both a total shock and a delightful surprise — I was often left breathless.

Lucas DeLuca, who received a special shout-out for his vocal performance in last year's ASTC production of Spring Awakening, takes centre stage in the role of Sweeney Todd.
With a hypnotic and looming presence, it is a delight to see this actor once again, and he successfully creates a three-dimensional character out of the "demon barber." Todd is basically a serial killer and a monster, but one who gains sympathy from the audience due to DeLuca's ability to make him human. Haunting and larger than life, DeLuca brings an unlikely hero to the Peterborough stage in a powerful performance.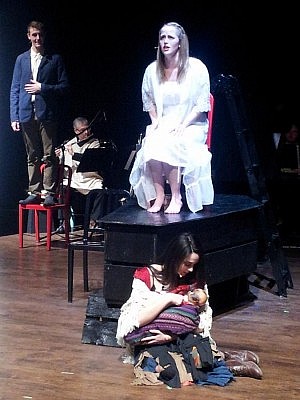 As DeLuca brings a heaviness to the stage with his power and lust for revenge, Katrina Hounam as his companion Mrs. Lovett softens the drama with her whimsical sense of comedy and romance.
The quirkiest of the characters, Hounam is wonderful playing a woman in love with a moody murderer. Hounam steals the show with her first musical number, "The Worst Pies in London", and her and DeLuca's duet of "A Little Priest" is a bold moment of comedy that leaves the audience chuckling with some of the best puns ever heard in song. However, there's much more behind Hounam's sweet smile than meets the eye, and she proves herself to be possibly the most diabolical character in the production.
While all of the performers in Sweeney Todd give vocal performances of the highest calibre, actress Sophie Robinson as ingénue Joanna gives the most astonishing vocal performances of the night.
The first time that I've seen Robinson on stage, she left me in awe and with goosebumps from her operatic arias. Shining like a radiant white light in a play filled with grime and darkness, Robinson gives a moving performance as one of the few truly moral characters in a show filled with villains. I can't even find the words to describe the voice of this performer, other than to say it was like listening to an angel.
With powerful vocals intertwined in a complex arrangement, Robinson's performance of "Kiss Me" along with Erik Feldcamp (who charmingly plays her suitor Anthony), Karsten Skeries (in the role of Judge Turpin) and Josh Butcher (who plays Turpin's minion Beadie) was the musical highlight of the entire evening. My new favorite person on the Peterborough stage, Robinson has a star-quality voice reminiscent of Sarah Brightman. She's a performer I hope to see a lot more of in the future.
Additional notable performances include those of Christina Pidgeon (who at first seems miscast as rival barber Adolfo Pirelli but makes it work with her high energy and comic timing) and Taylor Beatty (who continues to prove himself as one of my favorite actors in Peterborough with his twitchy and tender role as the young street urchin Toby).
A further shout-out goes to performer Kyla Piccin who, despite playing a small and seemingly insignificant role of a prostitute and beggar, owns the stage each time she graces it.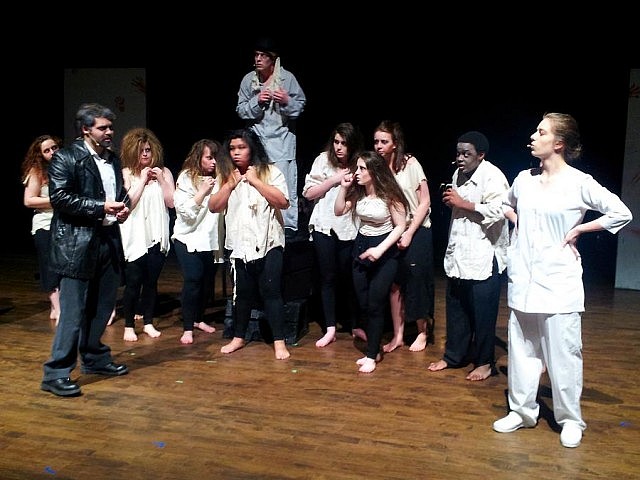 The ASTC production of Sweeney Todd: The Demon Barber of Fleet Street is not going to be for everyone. The content is dark and deals with a number of taboo subjects ranging from incest to cannibalism to serial killing.
However, artistically and musically, it's among the best theatrical productions to come to Peterborough this season. Anyone with a love for horror and dark fantasy should not miss this show, and theatregoers who can handle the material will be amazed and entertained.
Dylan Billings and Lauren Bromberg really flex their directorial muscles with this show and both are exciting new additions to the Peterborough theatrical landscape.
Sweeney Todd: The Demon Barber of Fleet Street runs for six performances from Friday, March 13th to Saturday, March 21st at Market Hall in Peterborough. Shows starts at 8 p.m. with 2 p.m. matinees available on March 13th, 14th, and 15th and a final 9 p.m. performance on March 21st.
Tickets are $18 ($15 students/seniors) and $10 for Trent students. They are on sale at ATSC ticket table outside the Wenjack Theatre during the week from 10 a.m. to 4 p.m. and at the Market Hall Box office or online at www.markethall.org. Note that a $3 service fee applies to all tickets purchased through the Market Hall.