Once upon a time, one of the most powerful corporations in the world sought to reinvent its greatest and most expressionistic animated hits as full-blooded (i.e., live action) and modernized incarnations. The results have been decidedly mixed, but Disney's Cinderella succeeds.
Kenneth Branagh's sumptuous film is a beguiling enchantment for two reasons: the simple Bill Peet screenplay of the 1950 adaptation of Perrault's classic has remained almost entirely intact, with a few inspired flourishes that embellish already coherent concepts; and the awesome power of costumes and sets made out of tangible materials by some of the best people in the industry.
Dante Ferretti's production design here almost dwarves the imperial sets he created for Fellini and Scorsese. The most famous costume change in the history of film is bestowed with appropriately enthusiastic detail. Sandy Powell's baroque clothing is almost exhaustively lush. Feats of hand-made construction that waltz past the camera in a dazzling swirl of Swarovski. In the resplendent first dance, the dress moves like water.
Uncle Walt famously considered the transformation sequence to be his favourite piece of animation his hallowed studio ever produced.
A dejected orphan with a heart of gold is forced into a life of soot and labour by her scheming stepmother. At her darkest hour, the beautiful orphan is granted a night of luminous escape via a magic spell from her guardian angel and falls in love with the prince of the kingdom. Same as it ever was. Right down to the glass slippers and curatorially inclined rodents.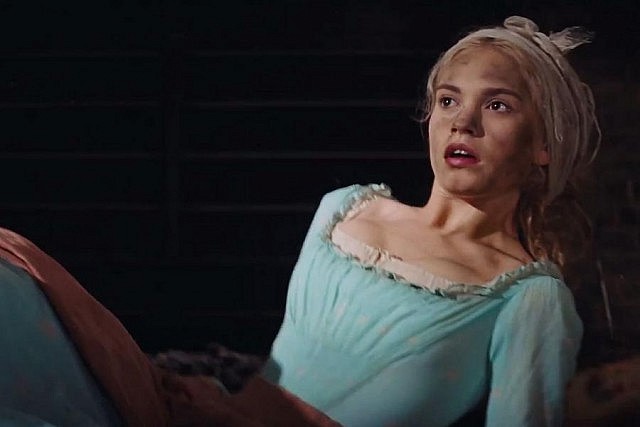 Director Branagh's style remains as winsome as ever. His evocative sense of time and place is at once familiar but unplaceable — as if the scenery were described by aliens trying to recall pastoral 19th century England. One can easily picture Douglas Sirk loving this film. The kaleidoscopic melodrama reminds us of the more subversive "Women's Films" of the late 1950s.
The primrose locales make an ideal battleground for the cheetah-printed claws of Cate Blanchett's wicked stepmother. It feels like just yesterday that she was the flame-haired ingenue of Shekhar Kapur's excellent Elizabeth, and now she is the mother of all passive-aggressive couture harpies.
It's exciting to watch such a distinguished actor have so much fun with a juicy role that lets them turn the camp up to eleven. This is Mommie Dearest and Scarlett O'Hara in one feral drag body. It's truly unfair to pit anyone against her in this film.
Blanchett's Lady Tremaine and her two deplorable daughters are very modern creatures. Nouveau Riche toxic waste whose learned trends can't replace ingrained taste. Delusion is a powerful drug and we all know people like that.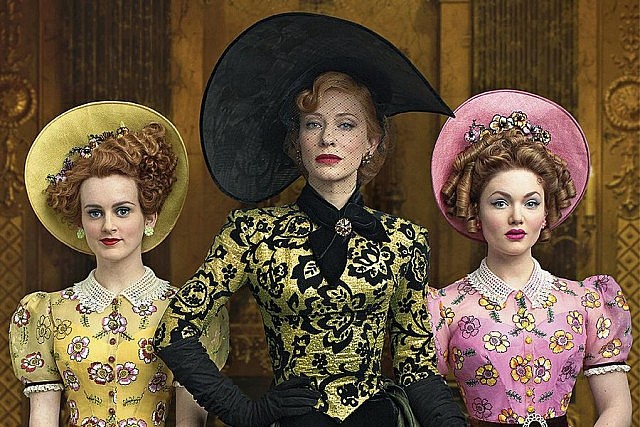 Lily James is a fine Cinderella. Her bleached blonde hair and chiseled brow bring stark definition to a famously soft image of the character. Her signature poster campaign has been criticized for a "possibly" photoshopped waistline. But, as anyone who watches the film could tell you, that is merely the magic of putting a tiny woman through some vicious corseting.
Here she is annoyingly called "Ella" and Cinderella is given as a demeaning nickname. Though, the title is given the brief but impressive explanation of names as magic spells, words as deep charms.
Richard Madden as Prince Charming serves up Robb Stark in lime-green brocade with a bulge borrowed from Labyrinth-era Bowie.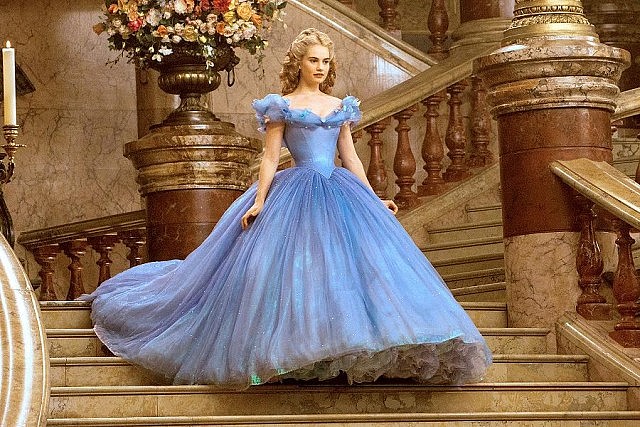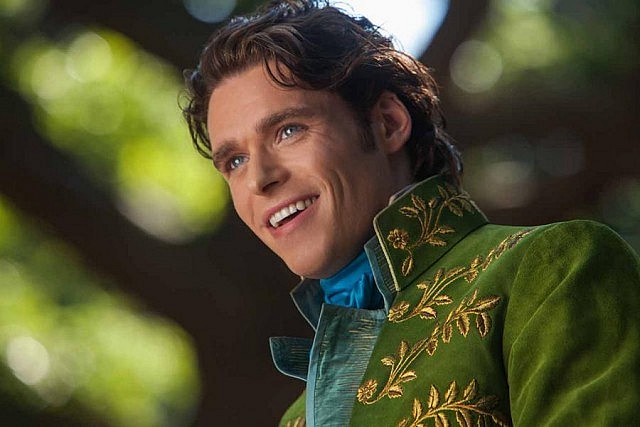 As Cinderella careens to the garden in dejected anguish, she manifests a disguised beggar woman woman to whom she shows charity. A sweet reminder that invariably someone always has it worse than you do. The woman is Cinderella's Fairy Godmother who bewitches the young girl's humble companions and possessions into a regal procession, pumpkin-coach and all (the reverse of the spell is a dizzying menagerie of effects).
Helena Bonham Carter as the magical mentor conjures up some of the rapid-fire quips she made a name with in the steely period fare of the '90s — as opposed to the Tim Burton curiosity she devolved into during the last 20 years. It's a welcome return. Bippity bop pity boo, indeed!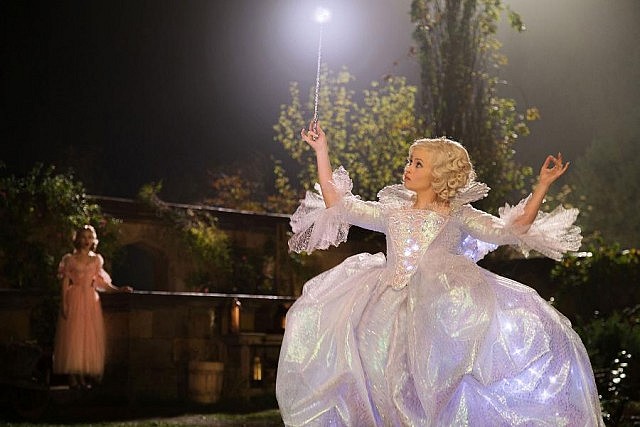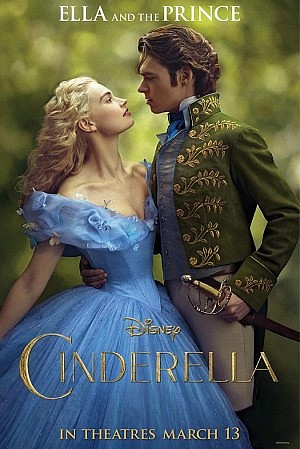 The predictable yet exhilarating climax may hold no surprises and arrives there even faster by once again pitting two women against each other, but this dusty scenario reminds us what the film is about: choices. Do you choose to be a victim or are you a survivor?
Proper motivation may be whizzed past too quickly, but then again this is the supreme fairy tale — and what are the stars of fairy tales other than the classic archetypes of good and evil?
The film acts as a digestible yin to Maleficent's empowered yang. The simple story is "refreshingly" presented at face value. No irony. No winking at the camera for parents. Sometimes a simple story can be just that: effervescent and romantic escapism.
But we should ask ourselves why that's refreshing. When such a powerful incarnation of the beloved yarn already exits, one has to wonder: what is the point of this at all?
Well, Cinderella has long been a parable for utter benevolence and the laws of attraction. Be kind and things will go your way. Other than the traditionally heavy gender roles (it is Disney after all), it's a remarkably amicable story and it's difficult to find fault with an engaging narrative that can remind us all to be a little bit nicer to those around us.
The painstaking aesthetic details will draw you in, but Cinderella's unwavering and optimistic romance will keep you there. Seriously magical stuff.
---
Cinderella Official Trailer
All photos courtesy of Disney.