What do you get when you bring together horses, drums, healthy food, a willingness to be in the moment, and several women on 189 acres of one of the best-kept secrets in the Kawarthas?
You get a certain kind of magic that can change your life forever.
Louise Racine calls her women's retreat centre in Norwood "Thirteen Moons" because the moon is a universal symbol of the feminine, the passage of time, and enlightenment — the three phenomena that come together at the 14-year-old centre.
Racine was in her mid-forties when she made some life-changing discoveries of her own. On a year-long leave of absence from her solid (and self-admittedly vibrant) government job, Racine found her life's calling: women's wellness and holistic nutrition. She went back to school and earned her credentials.
Then, along with her partner, she discovered the property that spoke to her and opened Thirteen Moons Wellness — a special haven where other women come for encouragement, inspiration, and support on their personal journey.
This spring, Thirteen Moons is hosting a new series of women's retreats, in collaboration with The Mane Intent of Indian River and In Circle with Life based in Toronto.
The four-day "Awakening Your Possibilities" retreats are being offered in two formats beginning in April, with the last one scheduled at the end of September.
Led by qualified and experienced facilitators, "Awakening Your Possibilities" will focus on enlightenment through experiences with drum making and horses.
Participants don't actually ride the horses. Instead, they experience being with this large and extremely smart animal, in an environment that is molded to nurture awakening of feelings, to provoke exceedingly powerful self-awareness.
The horse portion of the retreat is held at The Mane Intent in Indian River, which offers Facilitated Equine Experiential Learning (FEEL) — an approach to personal development that engages people in experiences with horses so they can gain insight into themselves, their emotions, their relationships with others, and more.
Jennifer Garland, owner and program director of The Mane Intent, will facilitate the exercises at the retreat along with Adele Racine Passmore from In Circle With Life. Both Garland and Passmore have their certifications in FEEL.
"We partner with horses to help us access emotions," Racine says. "If you are already open to feeling emotion, the time spent with the horses helps you learn to process emotions as information and get a better sense of who you are."

But before there's any "horsing around," participants have some work to do.
Racine says this involves setting some intentions for the retreat.
"It could be something as simple as I want to be kinder to myself," she says. She adds that the time spent at the retreat is designed to help women "figure out who they are and what they want."
And you just can't do that in the common day-to-day web most of us have woven around ourselves. Racine notes we live in a world ruled by our heads, not our hearts — and she can relate, because she did it for years herself.
The retreat time at Thirteen Moons is the exact opposite.
"The whole four days is about being in a heart space rather than a head space," she explains.
Along with the horses, an important part of the retreat is a workshop for making your own personal medicine drum, led by Adele Racine Passmore of In Circle With Life.
Racine says she is often wowed by the results she witnesses from drum making.
At first, women may wonder why they would ever want to make a drum, yet the experience leads the participants to emotional places that may be unfamiliar — and to revelations that may be life-changing.
Without disclosing all the magic, Racine describes the process of making a drum as "a process of connecting with your own heritage and ancestry and past".

"It's not a craft workshop," she says. "It definitely gets you into your heart space."
"At the end of the retreat we celebrate with an awakening ceremony, which is like a birthing celebration," she adds. "It honours the voice of the drum itself, as well as each woman and her learnings, the voice of her heart's innermost passions and desires."
Along with the work with horses and drums, there's also a tender evening of spa pampering and plenty of encouragement for the body through the culinary magic Racine works up in her organic kitchen (she's a certified nutritional practitioner and cookbook author).
Racine says the retreat will benefit women who don't feel connected to their emotions, purpose, or passion in life — and who want to explore what might be possible when they do that.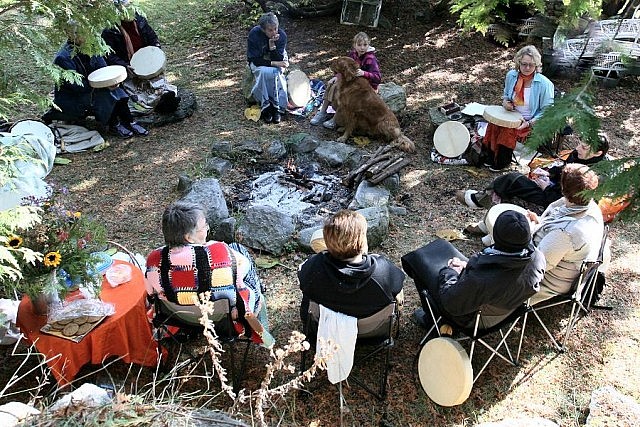 "Being on retreat gives you space to be with just with yourself, to ask the questions Who am I?, What's working?, and What's not working?," she says.
"Awakening Your Possibilities" is about expanding horizons, renewing your commitment to yourself, and tidying up your inner world. By the end of the retreat, each participant will have a new self-awareness and understanding of the possibilities in her life.
Racine describes how she can tell when a woman has finally found her true path.
"There's a level of passion and enthusiasm you can see in her face and hear in her voice," she says. "She's excited about her life; she doesn't feel there's a missing piece anymore."
For more information about the retreats, visit www.thirteenmoons.ca, call 705-652-9329 or 1-888-326-7326 (toll free), or email louise@thirteenmoons.ca.
---
Awakening Your Possibilities Women's Retreats Promotional Video
---