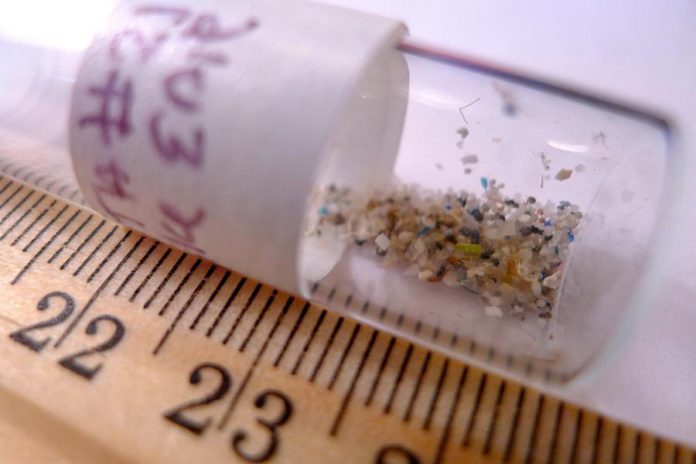 We're all familiar with the problem of plastics polluting our oceans. We've seen the images of turtles and other sea life with plastic bags caught in their mouths or wrapped around their fins or, in the case of birds, wings. It's a big problem that only seems to get worse.
There's a similar problem with plastics happening right in our own backyard, and many of us aren't aware of it simply because we can't see the effects. This environmental dilemma is focused on microbeads, tiny pieces of plastic that are found in many common household products.
Microbeads are used in some facial cleansers for exfoliating purposes, but are also in found in toothpastes, hand sanitizers, and body scrubs. Their predominant use is to make products more abrasive and add shine. The tiny plastic beads are generally made from polyethylene or polypropylene and range in size from 0.0004 to 1.24 mm.
The problem with them is that they are too small to be filtered out by municipal wastewater treatment plants and end up flowing directly into our waterways.
With microbeads being, well, micro in size, what's the big deal?
It turns out that microbeads are exceptionally good at absorption, especially once they're floating freely in bodies of water. These tiny plastic sponges absorb toxins from the water, like PCBs, and since they can resemble fish eggs, are ending up in the food chain. Related to this, since the beads are tricking aquatic life into thinking they're food, fish are filling up on them which can potentially lead to malnutrition or even starvation.
In the U.S., an organization called the 5 Gyres Institute, which specializes in the area of plastic pollution, has been doing research on the Great Lakes to determine levels of plastic in the water.
The results are alarming. The organization found that the highest concentration of plastic, often smaller than one millimeter in size, was in Lake Ontario. In a one-square kilometer area, more than one million plastic particles were found.
---
Beat the Bead
As this video from 5 Gyres Institute shows, most of the action around the problem of microbeads is happening south of the border. In Canada, the federal NDP have passed a motion to ban microbeads and, in Ontario, a private member's bill banning microbeads has passed second reading.
---
What's being done to curb the problem of microbeads? Interestingly enough, the most action around the problem is being seen south of the border. The State of New Jersey enacted legislation that bans the sale and manufacture of the beads within the state. Illinois has also banned the beads and many other states are considering similar pieces of legislation.
Here in Canada, the federal NDP successfully passed a motion in the House of Commons that could eventually lead to the ban of the beads in our country.
Within Ontario, a private member's bill was recently introduced at Queen's Park by Liberal MPP Marie-France Lalonde that calls for the ban of the manufacture and sale of microbeads in the province. The proposed ban would come into effect two years after being passed. Lalonde's bill passed second reading on March 12th, 2015.
What can we do to stop the spread of microbeads into our rivers and lakes? Thankfully there's plenty, but a lot if it comes down to what types of products you choose when shopping:
Be a well-informed shopper and read ingredient lists. Avoid buying facial cleansers, soaps and beauty products that include polyethylene (PE), polypropylene (PP), polyethylene terephthalate (PET), polymethyl methacrylate (PMMA) and nylon in the ingredients list.
When choosing products, look for types that feature natural ingredients. These can include oatmeal, ground almonds, cocoa beans, pumice, rice, apricot seeds, walnut shells, powdered pecan shells, and bamboo.
What's somewhat surprising is that those seeking bans on the beads aren't facing pushback from manufacturers that use them in their products.
In fact, companies like Johnson and Johnson are actively removing the beads form their products and going with more eco-friendly options in their formulations. The company states on its website that they are "phasing out and will eliminate the use of polyethylene microbeads in our personal care products by the end of 2017".
Unilever completed their phase out in January, and other companies like the Body Shop and Colgate-Palmolive have pledged to remove microbeads by the end of 2015.
It's encouraging news to see the personal care industry taking the issue seriously and responding to consumer demands.