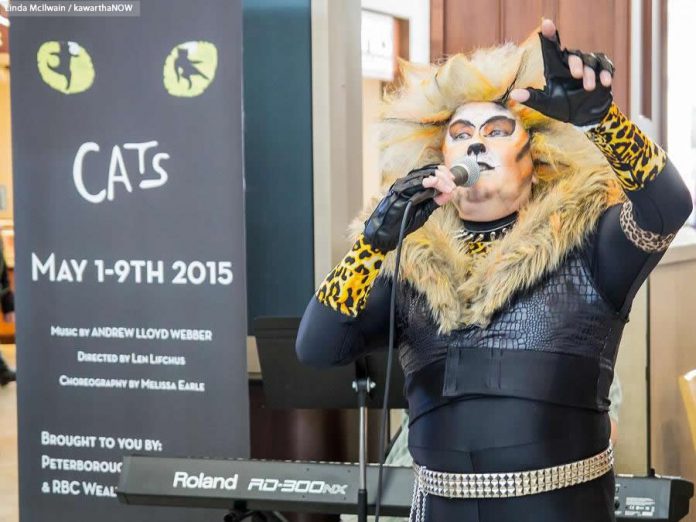 There were Cats on the prowl at Lansdowne Place in Peterborough on Saturday, April 4th, and we have the video and photos to prove it.
The company of Peterborough Theatre Guild's upcoming production of Andrew Lloyd Webber's landmark musical Cats descended on the food court for a surprise performance, to the surprise of the unsuspecting lunch-time crowd.
Danny Bronson, in full costume and makeup as Rum Tum Tugger, introduced the crowd to Mister Mistoffeles (played by Nate Axcell), with the accompaniment of the cast and crew who were dressed in the classic Cats t-shirts. Bronson performed the song "Mr. Mistoffelees" from the production.
Director Len Lifchus was also on site to invite the crowd to see Cats, which is playing at Showplace in Peterborough from May 1st to 9th.
Bronson and Axcell also took time to talk and take photos with delighted shoppers.
It was a great treat for shoppers who were in the right place at the right time.
According to Lifchus, one third of the tickets to the seven performances of Cats are already sold out, so order your tickets soon to see what promised be an incredible spectacle of costume, make up, dance. and song.
For tickets, contact the Showplace box office at 705-742-7469 or order on-line at www.showplace.org
Check out the video by kawarthaNOW's theatre reviewer Sam Tweedle and the photos by kawarthaNOW's photographer Linda McIlwain.
---
Video
This video of the Cats flash mob at Lansdowne Place in Peterborough was taken by Sam Tweedle for kawarthaNOW. Danny Bronson's performance of "Mr. Mistoffeles" starts at 1:11.
---
Photos