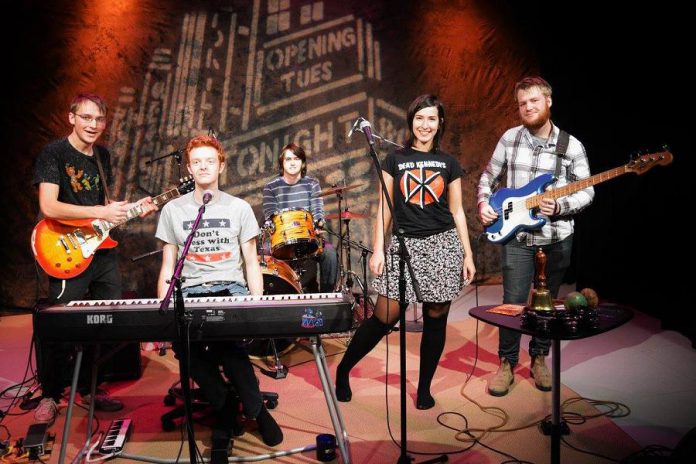 Peterborough band Television Rd is one of several bands in the Kawarthas participating in CBC's Searchlight online contest. The first round of voting, to select regional finalists from across Canada, is on now until Monday, April 13th, 2015.
CBC Music and CBC Radio One's annual Searchlight competition connects artists with fans in their community and across the country. The grand prize includes $20,000 worth of music equipment from Yamaha Canada Music, and a spot on a high-profile music showcase.
Originally formed in 2013 by a group of Trent University students, Television Rd is a young band that's been gaining momentum by playing exclusively original material. They released their debut album Character Splatters last October at the Red Dog Tavern and sold almost 100 copies of the album that night alone.
Their unique musical style combines a blend of different genres from rock to jazz to folk — but with a post-punk sensibility. Even though the band has a traditional rock line-up, they use eclectic instruments including the melodica, maracas, tambourine, wood blocks, and keyboard. CBC Radio's In the Key of C has described the band as "eclectic, female fronted alternative rock" and compared their sound to "skeletons dancing".
The band placed second in Trent's Battle of the Bands this year, although they won the Audience Choice award. They most recently performed at Peterborough's "Not Quite Music Festival" and at Trent University's Dionysus 2015.
Along with Television Rd, other local musicians competing in the contest include:
More than 3,300 bands across Canada are entered in the Searchlight contest. To see if your favourite Kawarthas-area band is participating, search for them at http://music.cbc.ca/#!/cbcsearchlight/.
The Searchlight contest kicks off with a regional round where people can vote for up to 10 of their favourite bands in each region, each day until April 13th.
The winner of each regional contest then gets entered into the national contest, with another round of voting.
In May, a panel of three celebrity judges — Montreal indie musician Dan Boeckner, PEI singer-songwriter Jenn Grant, and Toronto hip-hop artist Saukrates — will pick the best of the regional champions. CBC will announce the grand prize winner on Friday, May 15, 2015 on CBC Radio One's Q program.
Television Rd on TVCogeco