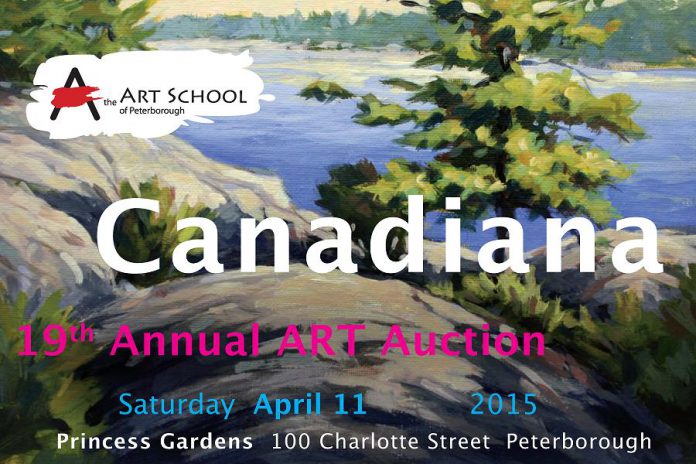 The Art School of Peterborough's annual art auction takes place on Saturday, April 11th at Princess Gardens in Peterborough. Called "Canadiana", the event features a live auction with work from well-known local artists including Victoria Wallace, Anne Cavanagh, Anne Renouf, Peer Christensen, Rob Nizen, and many more.
There will also be a silent auction that includes a painting made by local celebrities, including several kawarthaNOW writers, as well as the ever-popular "mini paintings".
This year, the event will be held in the 8,700-square-foot atrium at Princess Gardens (100 Charlotte St., Peterborough). The silent auction begins at 6 p.m. and the live auction begins at 7:30 p.m. Keith Monk will be conducting the live auction, and there'll be live music provided by Nassau Mills and hors d'ouerves donated by local restaurants. Admission is $8 in advance or $10 at the door (free for Art School of Peterborough members).
Thirty-one local artists have donated pieces for the live auction, including Victoria Wallace, George Kovacs, David Baker, Bronson Smith, George Raab, Peer Christensen, Bill Lockington, Anne Renouf, Nancy Chalut, Anne Cavanagh, Art Cunanan, Brianna Gosselin, Christy Haldane, Jenni Johnston, Judy Walpole, Jason Wilkins, Lisa Martini-Dunk, Leanne Baird, Martha Robinson, Rob Niezen, Sandy MacFarlane, Sharon Taylor, Suzanne Burden, Micky Renders, Lucy Manley, David Parson, Peter Rotter, Stephen Snider, Pete Froggatt, Brian Atyeo, and Pam Buckler.
The silent auction features artwork, local gift certificates, and other items. One of the pieces of artwork in the silent auction is a 3′ x 4′ painting comprised of smaller pieces created by a group of local celebrities at the school on March 29th.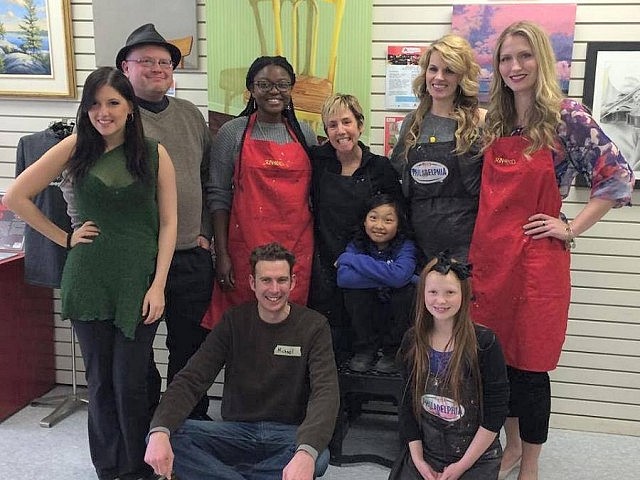 ---
In addition to the live auction and silent auction items, there will also be hundreds of "mini-paintings" by local artists available for sale. These works — painted on 4″ x 4″ or 4″ x 8″ canvases — are priced at $20 or $40 each. These affordable pieces of unique and original art are very popular and sell quickly, so make sure you arrive early for the best selection.
Funds from the event will help support the Art School of Peterborough, which is a not-for-profit organization. Fundraising efforts like the annual art auction help the school to provide programming that enriches the lives of people with financial restraints, to purchase art supplies for its youth programs, and to ensure the high quality of the school's instruction.
In addition to the many generous artists who have contributed their work and the local businesses supporting the event, sponsors for this year's auction include the Gainey Foundation, the Ontario Trillium Foundation, the City of Peterborough, the Community Foundation of Greater Peterborough, the Peterborough Foundation, and kawarthaNOW.
Without the support of the community, the Art School of Peterborough would be unable to offer its high quality and variety of visual arts instruction for both children and adults. Whether by bidding during the silent auction or the live auction, by purchasing a mini-painting, or by just paying the price of admission, you can help nuture a future generation of local artists.
---
A selection of some of the donated paintings available in the live auction
All photos courtesy of Art School of Peterborough (note: in some cases, these photos do not show the entire painting).