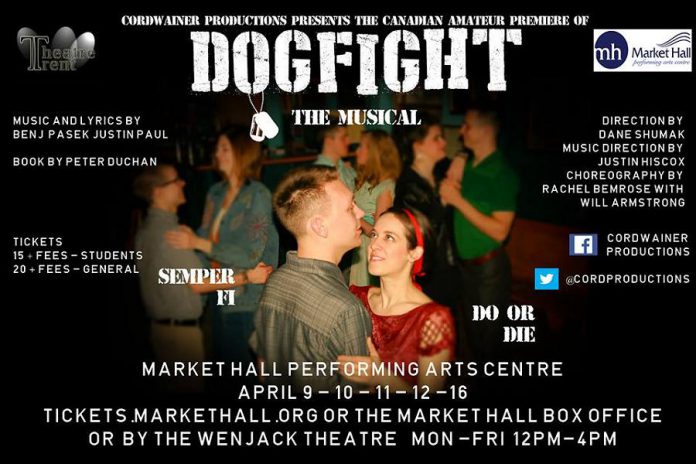 There's little doubt that musical theatre has been in style in Peterborough this season, and after an onslaught of interesting productions it looks like the trend is slowly reaching its plateau. However, before the Cats come out to play, Cordwainer Productions presents Dogfight: The Musical at Peterborough's Market Hall.
The most obscure of the musicals presented this season, Dogfight proves itself to be the rawest and possibly the most cynical of the shows so far. However, what it also brings to the stage is an amazing young cast and company made up of performers who we've seen previously in Les Misérables, Rent and Sweeney Todd.
The result is a show that's distinctly different from those that have come before it, and offers a second (and in some cases third) chance to see the amazing musical talent that Peterborough has to offer — in a production that most people probably have never seen before.
In fact, according to director Dane Shumak, Cordwainer Production's run of Dogfight is only the second time the show has been staged in Canada. In itself, that makes it a historic production.
Still a relatively new musical, Dogfight finds its roots in a 1991 film written by Bob Comfort that starred River Phoenix and Lili Taylor. Although the film wasn't a huge hit, it spawned a cult following by being one of the final films in which River Phoenix performed before his death in 1993.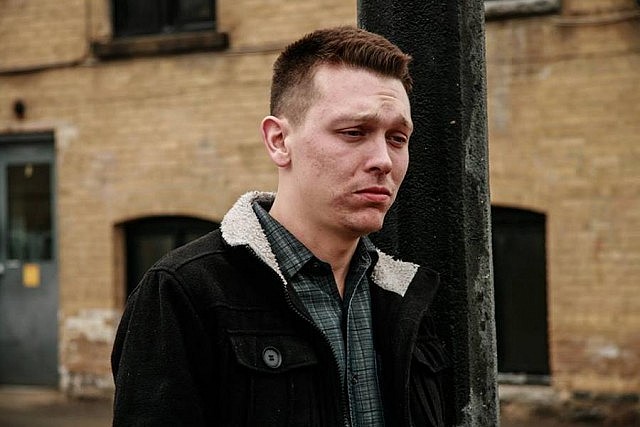 In 2012, the film was developed into a musical stage show with book by Peter Duchan and music by Benj Pasek and Justin Paul. Opening off Broadway in July 2013, Dogfight had a short run, but received strong reviews and was nominated for many critic awards. In the following years, the show was revived in a number of major cities in the United States and Europe and it continues to pick up steam as a cult favorite.
Dogfight takes audiences to the dirty streets of San Francisco circa 1963, where a rowdy group of Marines — on the eve of being dispatched to Vietnam — plan to spend their final night in America partaking in booze, women, and debauchery.
The name of the game is "The Dogfight" and the rules are simple. Each Marine puts $50 in the pot and goes out to find the ugliest girl to bring to a party as his date. The Marine with the ugliest girl wins the money.
The show focuses on Corporal Eddie Birdlace (Ryan Hancock) and his best pals Corporal Ralphie Boland (Braedon Sziklasi) and Private Dickie Bernstein (Kevin Lemieux) who partake in the cruel festivities.
However, things change when Eddie meets a tender and innocent folk-singing waitress named Rose (Bronte Germain) and invites her to The Dogfight.
What follows is a night of powerful emotions and lessons for Eddie, Rose, and the Marines. It's a night where there are no winners, but in which morals, values, humility, and humanity are explored and dissected.
Dogfight is not a love story. It's a dirty and often cruel tale filled with moments of misogyny and over-the-top male ego.
However, it redeems itself through the relationship between Eddie and Rose. The desensitization of Eddie from his military training crumbles as he discovers, through Rose's kindness and hurt, that he has a heart that eventually separates him from his comrades.
The result is a raw look at subjects ranging from masculinity, the military, American hero worship, sex, and honour.
Dogfight marks the fifth production that Ryan Hancock and Bronte Germain have appeared in together in the past year, and the fourth time they've performed opposite one another. The pair has a powerful chemistry that ensures a remarkable standout performance anytime they're on stage together.
However, this time Bronte and Ryan step out of their comfort zones by playing characters boldly different from the ones that they have played before, proving the diversity of their talents.
In Eddie, Ryan finds a crude and hardened individual who is prone to selfish cruelty. In Rose, Bronte creates the role of a shy and mousy waitress who is painfully naive.
Despite the difference of these characters from ones they've played before, Bronte and Ryan once again are able to create the poignant emotional highs and lows that they've brought to past productions.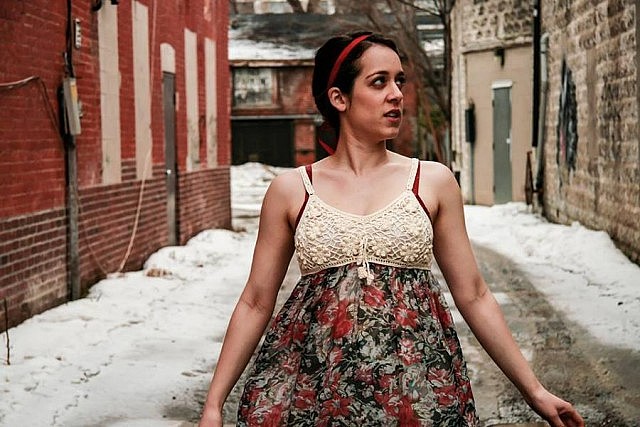 Although Caitlin Currie has appeared in a number of previous musical productions as part of the chorus, she finally gets her chance to step up in the spotlight in the role Marcie, a streetwise prostitute, giving a memorable and often show-stopping performance.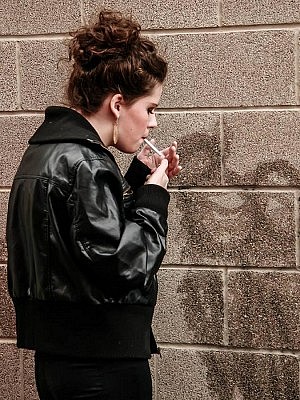 Caitlin's hardened and cynical portrayal of Marcie becomes the antithesis for Bronte's sweet portrayal of Rose. This is most evident when the pair sing together, most notably in their powerful performance of the song "Dogfight". Bronte's sweet and emotional voice and Caitlin's harsh and often straight performance form a unique musical juxtaposition.
As a fan of both performers, I was excited to hear the two of them sing together, and the result is extremely interesting.
Keven Lemieux gives his best performance to date in his jerky portrayal of Pvt. Bernstein, and Braedon Sziklasi gives a strong performance as over-the-top alpha male Cpl. Borland.
Indoctrinated by the military and buying into the American heroism that has been promised to them, the pair are shamelessly unlikeable, but have a tragic nature all their own. As they become victims of their own male egos, their characters questions the mythology of masculinity and the military.
Each member of the chorus is spot on with their musical performances and unique character performances. I can't give enough praise to each and every performance of this brilliant company.
A special shout out goes to Andrew Root who gives a hilarious performance as a snobby waiter in the second act.
With his great character piece, Andrew steals the scene and brings a moment of genuine light-hearted humour to an emotionally intense show.
I must also note the excellent six-piece band led by Justin Hiscox that acts as its own set piece. The band is flawless in its performance, and Justin has his own outstanding moments where he breaks out of his role as musical director and is given a vocal performance of his own with "That Face". A truly cool moment in the show.
Finally, Dogfight has an absolutely spectacular light show unlike anything I've ever seen in Peterborough theatre. Developed by Clayton Yeomans and Dane Shumak, and accompanied by special sound design by Chris Sharman, Dogfight has an explosive finale that outdoes itself.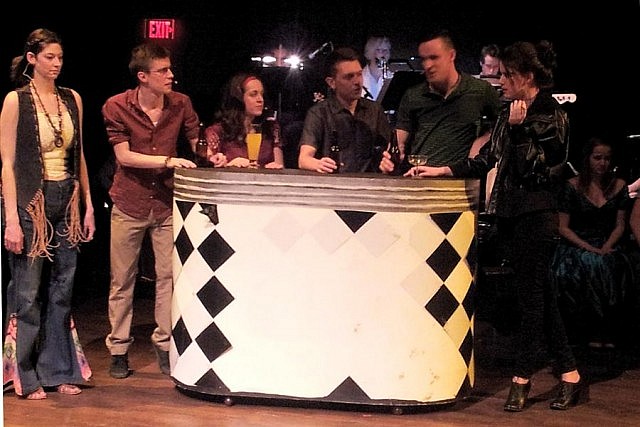 Dogfight is not the best-known musical that has been performed in Peterborough this season, but it's definitely the rawest. The story has a nasty plot, but at its centre are two well-meaning characters with a lot of heart.
The play is presented by a dynamic and talented company of young performers, musicians, and production artists who are rising new stars of Peterborough theatre.
But most of all, Dogfight is honest in its delivery and is uniquely different from all the musicals that have come before it. This is a wonderful production, and it would be a shame if you miss it.
Dogfight: The Musical runs April 9th to 12th and April 16th at Market Hall at 8 p.m. with additional matinees at 2 p.m. on April 11th and 12th. General tickets are $20 (plus a $3 fee), and $15 (plus a $3 fee) for students.
Please note the production is rated PG13 for coarse language, mature language, and sexual themes, and comes with a trigger warning for its brief portrayals of abuse and assault.
---
Dogfight: The Musical Trailer