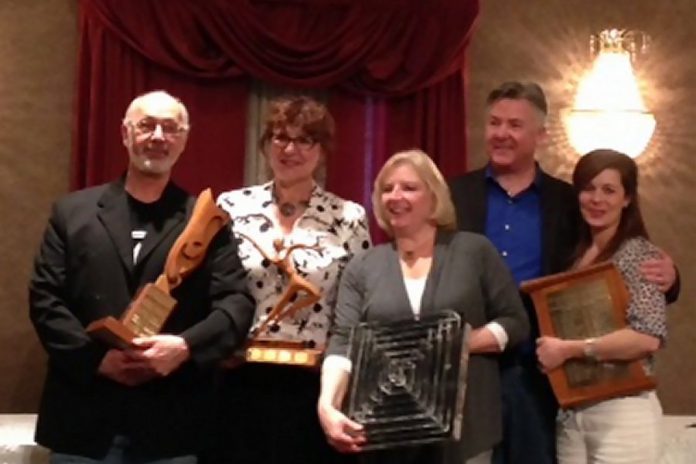 For the second year in a row, the Peterborough Theatre Guild has won the top prize at the Eastern Ontario Drama League (EODL) annual spring festival.
The company's production of Born Yesterday won "Best Production" — along with three other awards — at EODL's awards brunch in Cobourg on Sunday, April 12th, 2015.
Born Yesterday, written by Garson Kanin and first performed on Broadway in 1946, was directed by Pat Maitland and Ian Burns and starred David Adams, Mark Paton, Kellie McKenty, Chuck Vollmar, Mark Gray, Wyatt Lamoureux, Audrey Bain, Chris Lee, Anika Spasov, Dave Robertson, Ashley Gosselin, and Glennis Desrochers.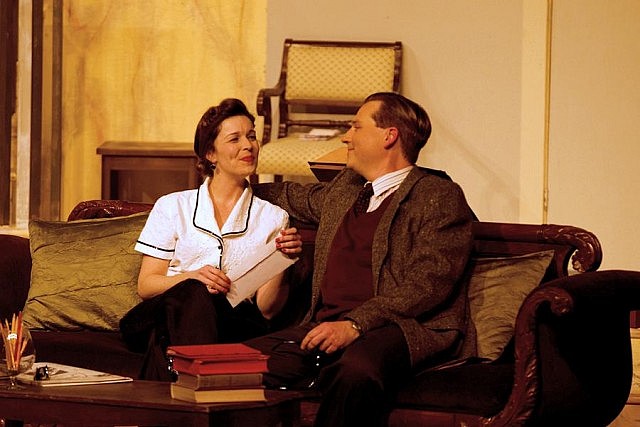 When it was presented to Peterborough audiences in February and March, kawarthaNOW's Sam Tweedle reviewed the play and called it a "wonderful production" and "among the best productions I've seen at the Peterborough Theatre Guild."
In addition to the "Best Production" award, Born Yesterday won three other EODL awards; "Best Visual Presentation", "Acting Excellence, Male" (for Wyatt Lamoureux in the role of lawyer Ed Devery), and "Best Actress in a Leading Role" (for Kellie McKenty in the role of Billie Dawn).
The Peterborough Theatre Guild was in competition with six other theatre companies in Eastern Ontario. The plays were adjudicated in their home theatres by Bea Quarrie of Peterborough.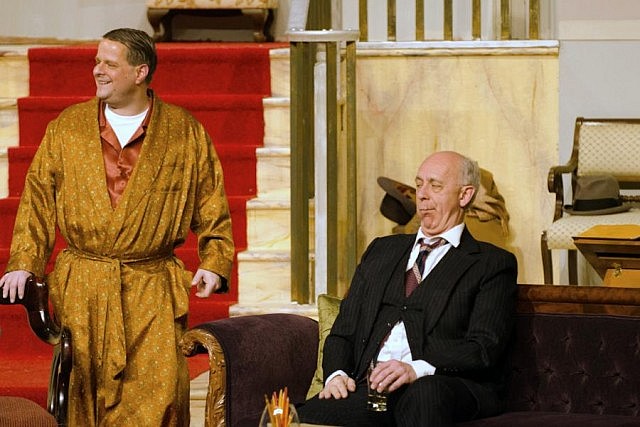 As the "Best Production" winner, the Peterborough Theatre Guild will now represent EODL at Theatre Ontario's province-wide competition from May 13th to 17th at the Oshawa Little Theatre. The guild will present Born Yesterday at the competition on Friday, May 15th.
Last year, the Peterborough Theatre Guild's production of The Beauty Queen of Leenane also won the EODL's "Best Production" award, and went on to capture three awards at the Theatre Ontario competition, including the Leonard Beaulne Memorial Trophy for "Best Actress in a Major Role", the Margaret White Award "For Acting Excellence, Male", and the top prize: the Leslie M. Frost Award for "Best Production."
The final production of the Peterborough Theatre Guild's 49th season is Cats, which opens on Friday, May 1st at Showplace Performance Centre (290 George St. N., Peterborough) for seven performances only.
Tickets are available at the Showplace box office, by phone at 705-742-7469 or online at www.showplace.org.