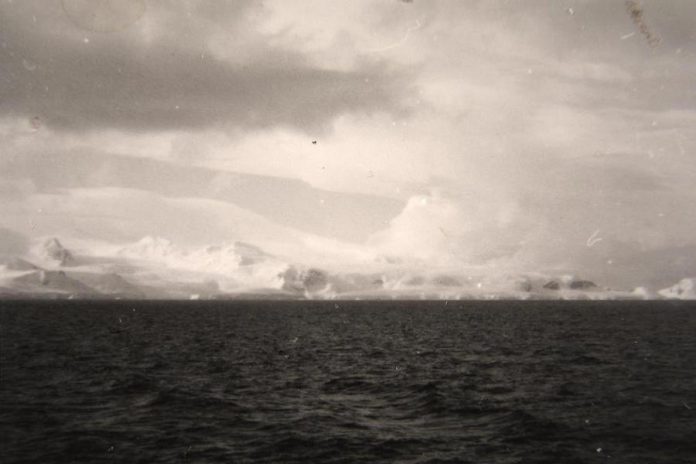 "Still Ice" by Wendy Trusler at Evans Contemporary
Ideas about life in Antarctica remain frozen in our collective memory. We imagine endless snow, icebergs, penguins, and an unremitting cold barren wilderness. Our ideas about human habitation there remain tied to history and the legends of explorers like Amundsden, Robert Falcon Scott, and Shackleton. But the truth of the matter is that those days are far behind us, and that life on Antarctica is very different that most of us envision it.
Wendy Trusler's own journey there in 1996 sheds light on the otherwise unknown realities of the austral continent. Her photographs seem like they could belong to the time of those first explorers but slowly coax us into a dawning reality of, and intimacy with, life as it exists there in more contemporary times. She and Evans curator Paolo Fortin have created not only a photographic exhibition, but a visual expedition into a place few understand and even fewer have experienced.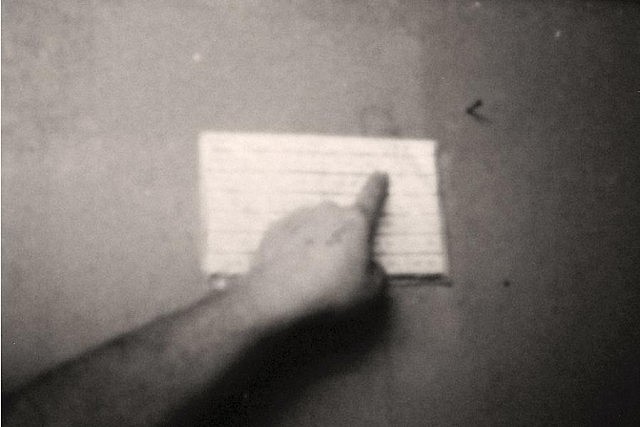 To continue your journey be sure to pick up a copy of Trusler's The Antarctic Book of Cooking and Cleaning written with fellow Antarctic explorer Carol Devine and being released for worldwide distribution by Harper Design on May 5th (www.theantarcticbookofcookingandcleaning.com). It's the best thing I've read, or cooked from, in some time.
Photos are available for sale as a limited edition of five archival inkjet prints on 310gsm acid free hahnemühle etching paper. Optional sizing is available, please contact the gallery for prices and further information.


"Still Ice" is on now until May 14th at Evans Contemporary (302 Pearl Ave., Peterborough). Exhibitions can be viewed between 5:30 p.m. to 8 p.m. on Wednesday and Thursday evenings. Viewings can also be made by appointment. Please contact the gallery at evanscontemporary@gmail.com. For more information visit www.evanscontemporary.com.
Photos by Wendy Trusler, courtesy of Evans Contemporary.
---
"Odd One Out" by Roula Partheniou and more at the Art Gallery of Peterborough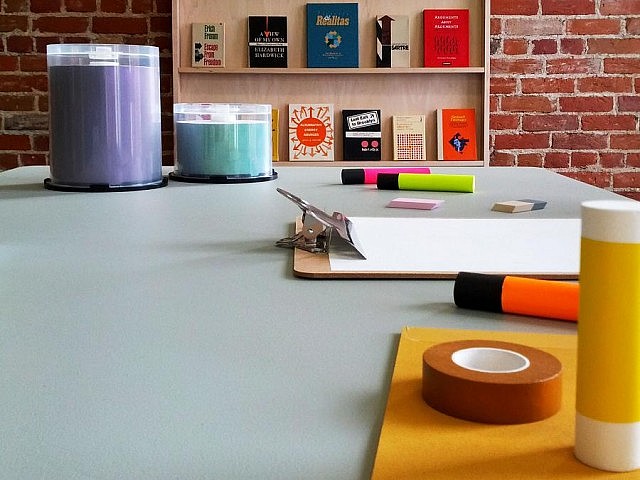 The Art Gallery of Peterborough (AGP) has settled into its new temporary location at 420 George Street North and there is plenty going on there. The space is beautiful, and they've garnered the perfect exhibition to go with the open concept environs they're currently housed in.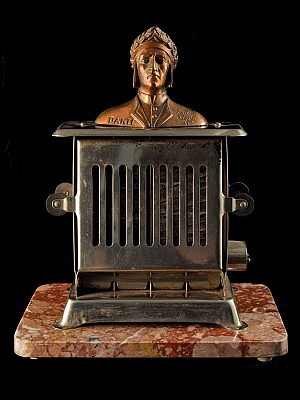 Partheniou's "Odd One Out" takes familiar objects, like office supplies, and remakes them to play with our perception of the everyday. The result is an amusing surprise at the blurring of lines between administration and exhibition.
"It's alluring and charming," says curator Fynn Leitch. "You really want to handle them".
With the move, the AGP has barely broken stride in a big year of new initiatives including a POP UP series of free talks and exhibits currently being held in partnership with the Cultural Studies Department from Trent University. Visit www.agp.on.ca for the upcoming events.
The exciting finale of the series is a must-see POP UP exhibit by The Museum of Temporary Art's Michael Poulton called "The Togetherness of Things". The display curated by Jarret Prescott will show May 8th to 10th with an opening reception Friday, May 8th from 6 to 9 p.m. Jackson Creek Press' Jeff Macklin will create a special limited edition chap book available for purchase that will document and commemorate the show.
The AGP's temporary location maintains their regular hours Tuesday through Sunday from 11 a.m. to 5 p.m. (unless otherwise noted for events and programming). Free admission as always, and they continue to offer programs and workshops.
The 250 Crescent Street location will re-open in August.
"Odd One Out" continues until July 19th, after which the AGP will pack up to repatriate their newly renovated home. For more information visit www.agp.on.ca or call 705-743-9179.
---
The 2015 Buckhorn Fine Art Festival "Chair Affair"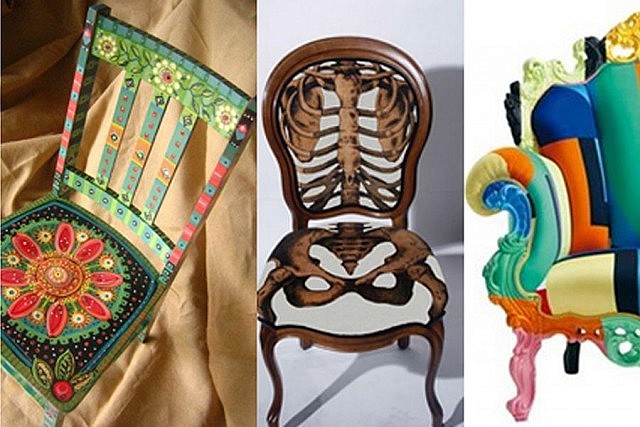 Throughout April, artists and artisans were challenged to rescue a chair destined for oblivion and turn it into something beautiful. The rehabilitated furnishings might become objets d'art, or given a new lease on life as unique and functional seating.
The more than 20 transformed chairs will be on display at Peterborough Square (340 George St. N., Peterborough) from May 13th until May 28th.
The chairs will then be auctioned off at an event at the Market Hall Performing Arts Centre on Thursday, May 28th (doors open at 5 p.m. and the auction begins 6 p.m. sharp).
Half of the proceeds of the chair sales will go to the artists and half to the Buckhorn Community Centre to fund the Buckhorn Fine Art Festival — a key event in the region for artists and artisans locally, regionally, and beyond.
Tickets to the auction event are $8 in advance, or $10 at the door.
It will be hosted by Magic 96.7 FM's Deb Crossen and Auctioneer Jason McIntosh will conduct the bidding.
For tickets or more information phone 705-657-1918 (toll free 877-300-9766) or email artfest@buckhornfineart.com.
Images courtesy of Victoria Wallace.
---
The 2015 Artspace 50/50 Gala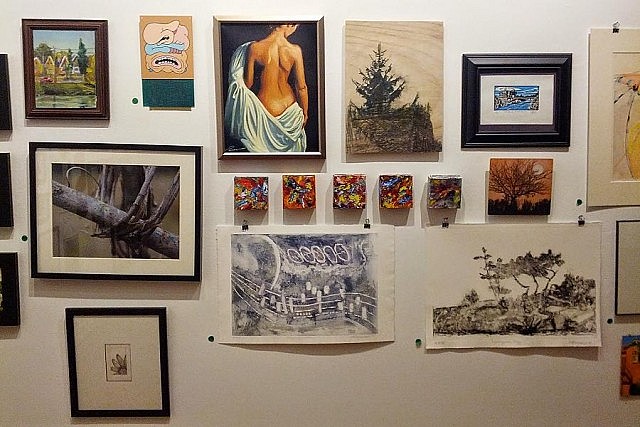 Artspace's annual fundraising event has become a perennial sign of spring. In the budding spirit of the season, it is regularly one of the most fun and enjoyable gala events of the year. As the name suggests, profits from all the art sales are shared between participating artists and Artspace.
The 50/50 draw is the primary fundraising activity for the evening and, in fitting fashion, perhaps the most fun. Draw ticket holders choose from the displayed works of participating artists in the order their number is drawn. The parade of selections creates quite the charged atmosphere as draw participants await their turn to take home a favourite work of art.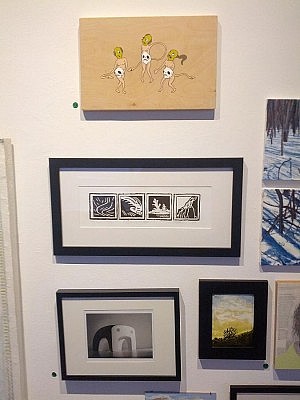 Party ticket holders will also have their chance to come away with some coveted artwork in the Fire Sale Finale and the Silent Auction. And new this year, even folks who can't attend can participate in the Silent Auction by proxy.
The participating artists include many exceptional local and regional artists, as well as artists from across Ontario, including Victoria Wallace, Lyall Brownlee, Jeff Macklin, Annie Jaeger, Michael Poulton, Laura Madera, Peer Christensen, Rob Niezen, Alex Bierk, Patrick Moore, John Climenhage, William Joel Davenport … to name but a few.
Works are on display at Artspace now and the gala event takes place on Friday, May 1st from 8 p.m. to 12 a.m. Draw tickets are $100 and party tickets are $25.
Proxy bidders register with Artspace for a $30 fee either online, or by contacting Jon Lockyer at jon@artspace-arc.org or 705-748-3883/416-986-4316. All silent auction works are available to view at www.artspaceptbo.tumblr.com/tagged/5050-auction.
Tickets and details are available online at www.artspace-arc.org, or visit in person during gallery hours, or call 705-748-3883.
Artspace (378 Aylmer St N, Peterborough) is open Tuesday and Wednesday from 12 to 6 p.m., Thursday and Friday 12 to 8 p.m., and Saturday 12 to 4 p.m.
---
"New Work from the Hamptons" by Rocky Lawrence Green, Anita Murphy, and David McIntosh at Gallery in the Attic
This exhibition is three shows in one from a talented trio of Bancroft artists who share a common thread not only in where they're from, but also in approaching their work from their personal connections with place.
McIntosh's "Return To Earth" is a series of impressionistic oil paintings using both bold brush strokes and bold colours to express the artist's (re)union with, and celebration of, the nurturing aspects of the natural world.
Murphy's "Earth and Water" follows that theme quite closely, but in quite an altogether different form. Her naturalized palette of acrylic paint and use of abstraction express the connection with nature more in a sense of engaging with flow and sensation than in depiction.
From there, Green's "Return to New Orleans" takes a considerable departure in both theme and style from his fellow Bancroftians. The muted tones and more commonplace vignettes of his paint and pencil images are much more directly grounded in the experience of a specific somewhere.
The show in its entirety pokes a bit of fun at the sometimes pretension of Bancroft's renowned artistic scene and celebrates a reality that is down-to-earth, full of energy, and not at all pretentious in the least.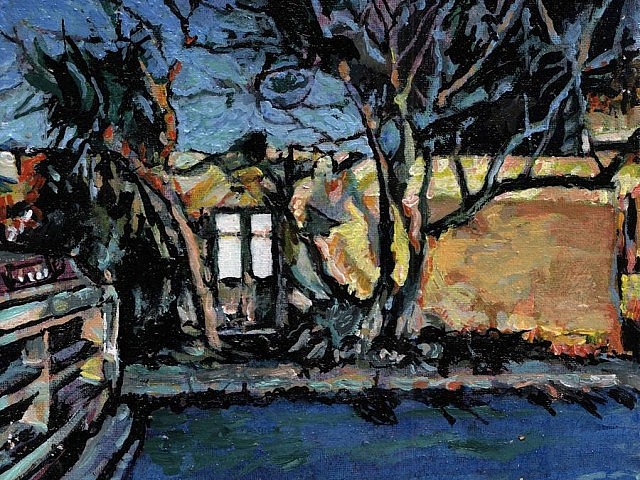 "New Work from the Hamptons" opens May 4th and runs until May 30th with an opening reception and meet the artists on May 8th at 7 p.m., with an after-party to follow at The Sapphire Room across the street.
Gallery in the Attic (140 1/2 Hunter St W. upstairs, Peterborough) is open Tuesday through Saturday 12 to 5 p.m., unless otherwise noted for events. Visit Gallery in the Attic on Facebook or call 705-868-1162.
Photos of artwork courtesy of David McIntosh.