My love for cats often precedes me. Quite frankly, I like cats much more than I even like humans. So, it was with great anticipation that I attended the opening gala of The Peterborough Theatre Guild's production of Andrew Lloyd Webber's Cats.
The final show in what has been a long stretch of musical theatre over the last year, Cats has proved to be the most ambitious and sometimes the most controversial. Often people have asked me if Peterborough can do such an unorthodox piece of theatre. Does the Peterborough Theatre Guild have what it takes to pull this off?
Well, Peterborough does have the talent, and director Len Lifchus and his massive company indeed pulls this one off.
Long before the internet was created for looking at pictures of cats, a young Andrew Lloyd Webber was given a copy of T.S. Eliot's poetry book Old Possum's Book of Practical Cats. Lovingly written in 1939 about the beloved animals, the book contained a series of poems about different feline characters and their unique attributes and became a childhood favourite of Webber's.
In 1977, Webber began to put the poetry to music and, in 1980, premiered the compositions at the Sydmonton Festival — which the author's widow, Valerie Eliot, attended. Thrilled by Webber's compositions, she gave the composer her blessing to create a musical stage show out of her late husband's works.
Cats appeared in London's West End in 1981 and quickly became a smash hit. It made its American debut a year later, where it won seven Tony Awards including best musical. Considered the most important musical of the 1980s, and arguably of all time, Cats continues to run in New York where it's the third-longest show to run on Broadway.
If you're not familiar with Cats, you should know that it's not like most musical theatre. Since the production is completely scripted on T.S. Eliot's poetry, plot is not important to the production. Yes, Cats does have a plot, but it's thin and even then a bit confusing.

Thankfully, this show is not about the story. Just like the animals themselves, Cats is eccentric and unusual and the show is mainstream avant-garde theatre. It's all about the spectacle, the dancing, the music, and the visual effects. It's about the celebration of all things cats. Instead of a strong narrative, what you get is a two-and-a-half-hour concert featuring 22 incredible performers who sing, dance, and look and act like cats.
As someone who spends a lot of time watching and thinking about cats, I found the most delightful aspect of the show to be the way the actors have managed to create the illusion of being anthropomorphized felines.
The performers look like cats and they move like cats. They crawl, stretch, fight, hiss, pounce, purr and — in one clever moment — even swat at string.
Obviously Lifchus and choreographer Melissa Earle studied the movements of the animals and encouraged their actors to do the same. After a while, you forget that the actors are even human; they become some other type of species with their elaborate costumes, wigs, make-up, and their physical movements. It's truly an astounding visual triumph.
Another thing that makes Cats interesting is that the majority of Peterborough's celebrated musical theatre performers do not appear in this show.
With a plethora of musicals being performed in Peterborough since November, many performers that Peterborough audiences have come to expect had already committed to other shows and were unavailable for Cats. So many performers who've only been in the choruses of previous productions finally have an opportunity to take centre stage, flex their musical muscles, and show us what they have. The result is new faces and and new stars.
Most notable is Darcy Mundle, who plays a black and white cat named Munkustrap, and provides many of the solos that connect the various numbers together and leads the company in "The Old Gumbie Cat", "The Awful Battle of the Pekes and the Pollicles", and — in one of the true standout numbers of the production — "Old Deuteronomy". With a fantastic voice, Mundle is a strong performer who deserves leading man status.
While Danny Bronson is a well-known and respected musician in Peterborough, audiences haven't quite seen him like this before.
Danny returns to the stage as Rum Tum Tugger, who is one of the most dominant and charismatic of the cats. Leading the cast through the song named for his cat, as well as "Mister Mistoffelees", Danny's performance is so fun that you can almost see him creating kittens on the stage with each growl and hip thrust.

Now I have seen Lyndele Gauci in many shows before. As the show's most famous character, Grizabella the Glamour Cat, she's been the most visible and photographed cast member of Cats during the production's advertising campaign for the show. However, after years of knowing Lyndele, I've never heard her sing. Lyndele rendition of the show-stopping hit "Memory" deserves to go down as one of the truly legendary musical performances in Peterborough theatre. Emotional and passionate, it's goose-bump inducing. With her triumphant performance, Lyndele's voice should no longer be related to a chorus.
With each number in the production, another cat takes the spotlight and a new musical star is born. Other musical highlights include Tim Jefferies charismatic performance of "Skimbleshanks: The Railway Cat", Brenna Goldie and Natalie Dorsett's moody rendition of "Macavity: The Mystery Cat", Gillian Harknett and Jessica Fitzmaurice's delightful performance of "Mungojerrie and Rumpelteazer", Natalie Dorsett and Paul Wilson's tender piece "Gus: The Theatre Cat", and Bill Crane's larger-than-life stage presence in "The Ad-dressing Of Cats".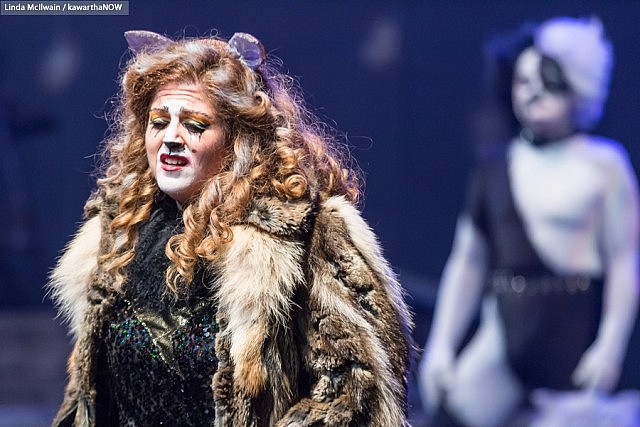 Mark Hisox, who is musical director of the show along with his brother Justin, takes a break from conducting the exceptionally good orchestra to perform as Bustopher Jones. Having these performers take the spotlight in this production gives theatre goers some new faces to see and voices to hear, which opens up the theatrical playfield even wider.
Along with the music, dance is a pivotal element or Cats and choreographer Melisa Earle has done an incredible job with this production. Feline grace is maintained as the performances mimic the movement of cats. While there's dancing throughout the production, a beautiful solo dance performance by Elizabeth Moody — who often defies gravity throughout the show — highlights the first act, and the a huge dance number at The Jellicle Ball is a true highlight of the show.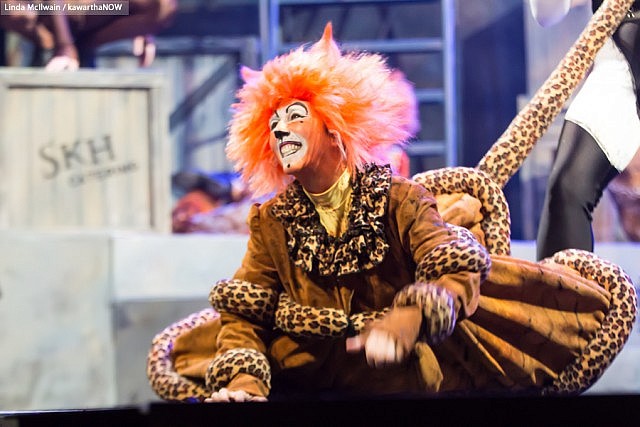 In the role of Mister Mistoffelees, Nate Axcel gives an outstanding solo dance performance in the second act. As I was told many times by people involved in the production of Cats, many of the performers have a history in dance. You can tell which ones can indeed dance (there are some incredible acrobatics in the production), but even those who may not be considered dancers take part seamlessly in the fantastic dance numbers.
Overall, where Cats succeeds is in creating a memorable spectacle. The sets, costumes, makeup, and characters are truly outstanding. The passion and thousands of hours of work from a company of nearly a hundred people shines through every moment of this show.
However, audience members who are accustomed to musical theatre with a strong narrative should be prepared to be entertained through music, dance, and song rather than story.
A remarkable labour of love from the Peterborough Theatre Guild, you won't soon forget Cats.
Cats runs for seven performances from May 1st to May 9th at Showplace in Peterborough. Tickets are $25 for adults, $22 for seniors, and $15 for students and can be purchased at the Showplace box office, by phone at 705-742-7469, or online at www.showplace.org.
---
More photos from Cats
kawarthaNOW's talented staff photographer Linda McIlwain attended the Cats dress rehearsal and took many wonderful photos of the production.