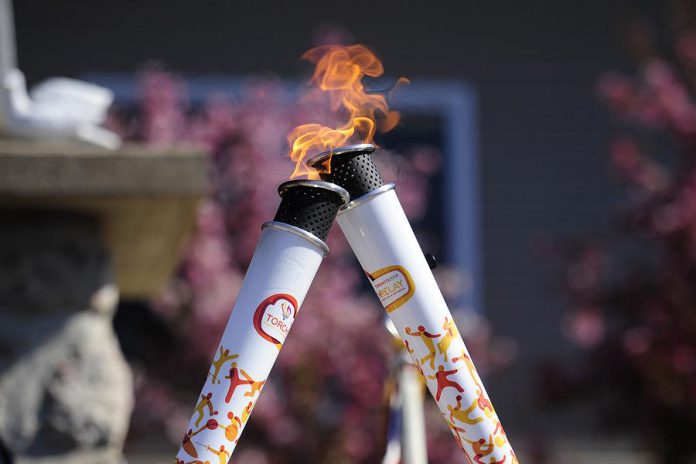 The sixth day of the 41-day journey of the Pan Am Games Torch Relay on Thursday, June 4th will see the flame travel through the Kawarthas, beginning at Algonquin Provincial Park and passing through Minden, Lindsay, and Omemee on its way to Peterborough. Community celebrations will be held at each location.
On Thursday morning, the flame departs from Canoe Lake at Algonquin Provincial Park at 7 a.m.
Minden Wild Water Preserve in Minden Hills and Minden
At 10 a.m., the Torch Relay arrives in Minden Hills at the Minden Wild Water Preserve — the venue for the Toronto 2015 Pan Am Games canoe/kayak slalom on July 18 and 19 (tickets are already sold out for the slalom).
The flame will take a ride down the rapids in a kayak paddled by torchbearer Claudia Van Wijk, owner and operator of OWL Rafting.
The flame then travels down the Gull River in a canoe paddled by torchbearer Victor Ettel to the Minden town docks on Water Street, where Victor will pass the flame to community torchbearer (and local health promoter) Susan Shikaze.
Victor and Susan will proceed together up the street to the relay celebration ceremony at 11:15 a.m. in front of the Minden post office. The celebration includes a welcome orientation as well as speeches from Minden Hills Reeve Brent Devolin, MP Barry Devolin, and MPP Laurie Scott. There'll also be a cake-cutting ceremony hosted by Canoe FM.

Victoria Park in Lindsay and Coronation Hall in Omemee
The Torch Relay convoy will then drive to Lindsay, which is holding a community celebration in Victoria Park from 12:30 p.m. until 2:30 p.m. featuring live local entertainment, sports activities and more. Canadian hockey legend Ron Ellis will carry the flame to light the community cauldron at 1:30 p.m. Community torchbearer Tim Keenan, a member of the bronze medal winning team at the 2014 Special Olympics in Vancouver, then departs for Omemee with the flame.
The flame arrives at Coronation Hall in Omemee at around 3:15 p.m., where it will be passed to community torchbearer and cyclist Bayley Simpson.
Peterborough Lift Lock and Del Crary Park in Peterborough
At 5 p.m., the flame will arrive in Peterborough. Launching at the Peterborough Rowing Club, it'll travel five kilometres down the Trent Severn Waterway in a flotilla including a rowboat with torchbearer David Christopher Leach, an historic boat with torchbearer Jim Watt, a dragon boat with torchbearer Karen Stillman, and a voyageur canoe with torchbearer Ron Whetung.
You can view the flame's progress along the waterway, with access to vantage points at the Parkhill Road swing bridge and the MacFarlane Street bridge as well as the Lift Lock.
At around 6 p.m., all four vessels will descend through the Peterborough Lift Lock, ending at the Parks Canada Visitor Information Centre. The flame will then pass from water to land at the base of the Lift Lock and be carried west along Hunter Street to Aylmer Street, north on Aylmer to McDonnel Street, west to George Street and south to Del Crary Park. Peterborough residents are encouraged to line the route to celebrate the spirit of the Toronto 2015 Pan Am Games.

While the flame makes its way through Peterborough, a free community celebration will begin at Del Crary Park in downtown Peterborough at 5 p.m. There'll be a welcoming ceremony, including an official First Nations introduction, followed by performances by the Youth Drumming Band, Strutt Models Caribbean Dances, Brok Stonefish, Rob Phillips Trio and Beau Dixon with special guests, École Monseigneur-Jamot Choir, and Jackson Delta (Alan Black, Rick Fines, and Gary Peeples).
"Try it" sports activities will be available featuring Boccia Ball, Sitting Volleyball, Kawartha Trent Synchro Club, Peterborough Fencing Club, Kawartha Gymnastics Club, and Saugeen Shafts Archery Club.
Peterborough Transit will provide free shuttle service from the Evinrude Centre parking lot and the Peterborough Lift Lock from 5 p.m. to 6:20 p.m., as well as a shuttle between Evinrude and Del Crary Park from 5 p.m. to 10 p.m.
At around 7 p.m., the flame will arrive at Del Crary Park, carried by community torchbearer Alec Denys. A Warsaw native, Alec is an accomplished athlete who is training in hopes of competing in archery in the Toronto 2015 Parapan Am games later this summer.
After the flame arrives, École Monseigneur-Jamot Choir will perform the national anthem, followed by remarks from the Toronto 2015 Pan/Parapan Am Games Organizing Committee and relay partners, and culminating with a performance by Canadian country music artist Crystal Shawanda. The celebration is expected to wrap up around 8 p.m.

On Friday, the torch relay departs at 11:15 a.m. from Queen Mary Public School, where student Katie Oickle will be the first torchbearer. The flame will travel south on Monaghan Road past Prince of Wales Public School, west on Romaine Street to High Street, south on High Street to St. Marys Street, where it will proceed west past Keith Wightman Public School and St. Alphonsus Catholic School, and then south on Goodfellow Rd. to finish at Lansdowne.
The Pan Am Games Torch Relay then proceeds on to the Bowmanville Zoo and Oshawa. After 34 more days travelling across Ontario, the flame will arrive at the opening ceremony of the Toronto 2015 Pan Am Games on Friday, July 10th, with the dramatic lighting of the cauldron in downtown Toronto.
For more information, visit www.toronto2015.org/torch-relay.