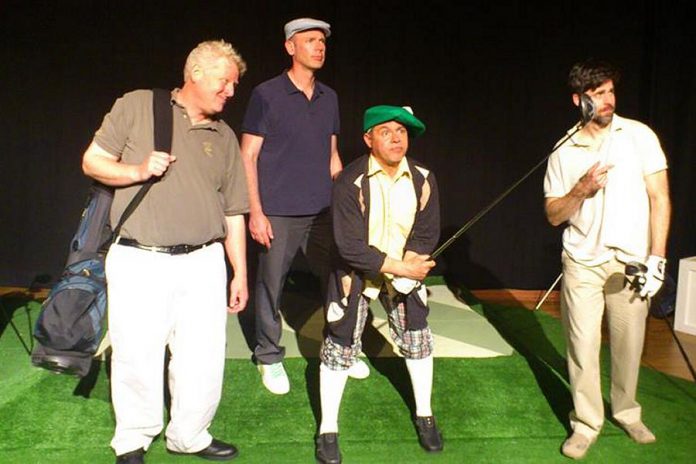 Old friends, 18 holes of golf, and five beers before 10 a.m. This is the formula for good fun as Globus Theatre opens its 12th summer season with their production of Norm Foster's The Foursome.
Directed by Sarah Quick and featuring James Barrett, Matthew Oliver, Jarret Wright and Kevin Sepaul, The Foursome is a well-crafted and truly funny comedy filled with a mixture of guy talk and potent moments, as four men approaching middle age come together for the first time in 25 years and realize just how far apart their different directions have taken them.
Set on a golf course the morning after a 25-year class reunion, The Foursome features the stories of four very different friends. Rick (Jarret Wright) is an over confident and smug bachelor who sells boats in Florida, Cameron (Kevin Sepaul) is a jerky little TV ad salesman, Ted (Matthew Oliver) is a tough cynic with a computer business (although he knows nothing about computers), and Donnie (James Barrett) is an easy-going family man who lives vicariously through his five children.
Together again for the first time in decades, the four men assemble on a golf green at 7 a.m. for a round of golf. As the male testosterone quickly begins to flow, old rivalries are reopened and small talk quickly turns to guy talk as they discuss the expected topics (university days, kids, wives and lovers, and their careers) to subjects as diverse as Buddhism, Brazilian Pepper Trees, Ted's very young wife, and vasectomies.
As the golf game continues and the men become more reacquainted, the walls eventually come down as secrets are revealed, epiphanies are made, and some of the men in the party reveal that they may not be all that they seem.
The beauty of The Foursome is how well constructed the script is. Each hole of golf is its own separate vignette, which not only features its own pattern of ongoing jokes but opens up a new dialogue between the men. Sometimes it's a new topic, while other times they return and build on a previous topic.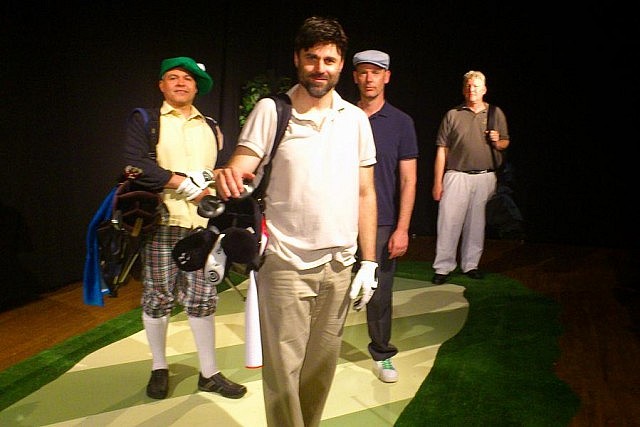 When the production opens, the audience senses a disconnect between the characters. It really seems that these men are strangers to one another. However, as the round of golf goes on, the men become more comfortable with each other and the audience becomes more invested in their stories and their personal lives. By the time revelations come to the forefront in the second act, the audience is so familiar with the way that the men think and interact with one another that characters who have seemed two dimensional become very real. Watching these characters grow organically before your eyes is an interesting experience.
Beautifully performed by all four actors, The Foursome could not be successful without their wonderful chemistry. Jarret Wright takes the lead with his charming yet obnoxious good looks, followed by Matthew Oliver as Wright's passive-aggressive rival, and joined by Kevin Sepaul as the comedic relief and James Barrett as the sweet and sound voice of reason. Despite their contrasting natures, they come together as a perfect quartet. Like all groups of friends, they have their own strengths and weaknesses, and you come to wonder just how four completely different men could have become friends in the first place.
The Foursome opens a potent discourse on the strength of friendships. This isn't your typical show about four men who want to see each other (or don't want to see each other). It's about four men who hope to spark some sort of comradery from the past, but find that time has corroded the brotherhood they once may have shared.
However, that doesn't mean that they don't know how to still push each other's buttons. There's a juxtaposition of familiarity among the men while they remain strangers at the same time. Throughout their conversations, the true strength of their friendship is challenged and you begin to wonder if this first reunion will also be their last.
The Foursome is a clever and truly funny play. Filled with great dialogue, some light but non-offensive sexual humour, and characters who become endearing to the audience, it's a show that grows before your eyes. As the show begins you really have no idea what you are in for, and the characters you think you know in the opening scenes are not exactly the same ones in the end.
It's good comedy at its finest by a talented group of performers.
With the beautiful drive to Bobcaygeon, Globus Theatre at the Lakeview Art Barn has become one of my very favourite summer destinations in the Kawarthas. At their charming first-class facility, Sarah Quick and James Barrett offer audiences some of the best theatre in the area in one of the nicest theatrical settings.
Everything — from the staff to the restaurant to the quality of entertainment — is among the best I've ever experienced. If you've never seen a Globus production, The Foursome is a good one to start with. You'll be hooked like I am.
The Foursome runs from June 10th to 27th at the Lakeview Arts Barn (2300 Pigeon Lake Rd., Bobcaygeon). Adult tickets are $29.50 for the show only, or $61.50 for dinner and theatre (if you have dinner, I recommend you stay for the bread and butter pudding — it's simply to die for).