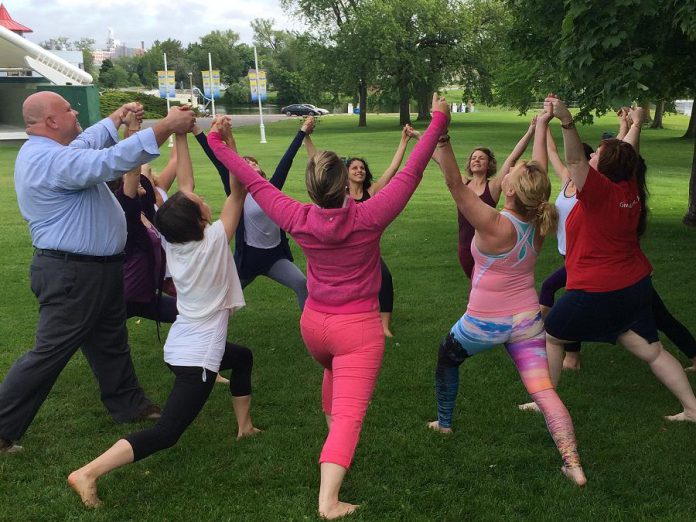 Peterborough is joining in the world-wide celebrations of International Day of Yoga on Sunday, June 21st with the first annual Peterborough Yoga Festival from 7 a.m. to 7 p.m. at Del Crary Park in downtown Peterborough. In the festival's theme of "harmony and peace", all proceeds from the event will go to the United Way Peterborough & District.
"We're really excited to be part of the first annual Peterborough Yoga Festival," says Jim Russell, CEO of the United Way. "It promises to be a wonderful celebration of community and it completely aligns to our priority of building a strong and healthy community."
The volunteer-run festival features over 25 different yoga classes and workshops, including several for men and seniors, as well as mediation and devotional music, a kids' tent with many yoga-related and other activities, and a "Healing Garden" featuring alternative health treatments and consultations. There'll also be a"Yogi Market" will be selling both whole-food meals and ethically sourced products.
"There's absolutely no previous yoga experience required," says organizer Tiffany Nicholson-Smith, who will also be instructing a class and workshop. "This is a day for everyone and all are welcome to come and discover yoga and meditation in a really down-to-earth, back-to-nature, non-intimidating environment."
Originating in India, yoga is a physical, mental, and spiritual practice that's over 6000 years old. Last fall, the Indian Prime Minister Narendra Modi addressed the United Nations General Assembly and called for the adoption of June 21st as the International Day of Yoga.
"Yoga is an invaluable gift of India's ancient tradition," he said. "It embodies unity of mind and body; thought and action; restraint and fulfilment; harmony between man and nature; a holistic approach to health and well-being. It is not about exercise but to discover the sense of oneness within yourself, the world and the nature."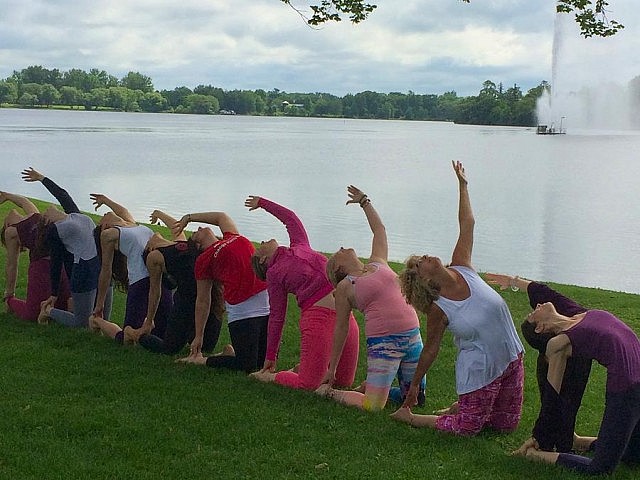 More than 177 countries, including Canada, supported Modi's proposal and the United Nations General Assembly approved a resolution establishing June 21st as International Day of Yoga.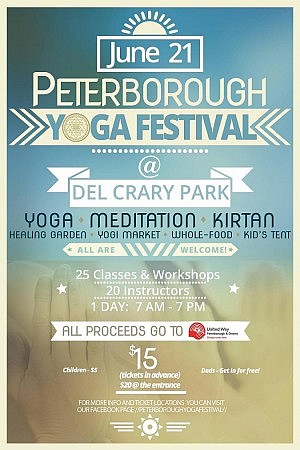 International Day of Yoga — which coincides with the summer solstice, National Aboriginal Day, and Father's Day — will see events in India as well in 192 other countries, including yoga festivals, classes, demonstrations, rallies, and more. A large live event will be held in New York's Times Square, where thousands will be led through poses by yoga guru Sri Sri Ravi Shankar.
Local organizers were inspired to create a made-in-Peterborough celebration while in India at the International Yoga Festival this last winter.
"We thought what better place than the beautiful Kawarthas to have a day-long outdoor celebration of community and mindful living, and what better way to do it than in the spirit of generosity and giving back to the community," says Nicholson-Smith.
"From this the idea was born — with the hope it can be a day of celebration and enjoyment to benefit all of the attendees and the United Way and all the work they do through their strong communities initiatives," she adds. "For the benefit of all: this is the true spirit of yoga."
Tickets are available at the entrance for $20, or in advance for $15 ($5 for children) at locations in Peterborough, Lakefield, Lindsay, and Trenton. In honour of Father's Day, dads attending the festival with at least one child get in free.
For a list of advance ticket locations and for details about the festival, including a schedule of activities and events, visit www.peterboroughyogafestival.com.
All photos courtesy of United Way Peterborough & District.
---
Namaskar – Yoga for All