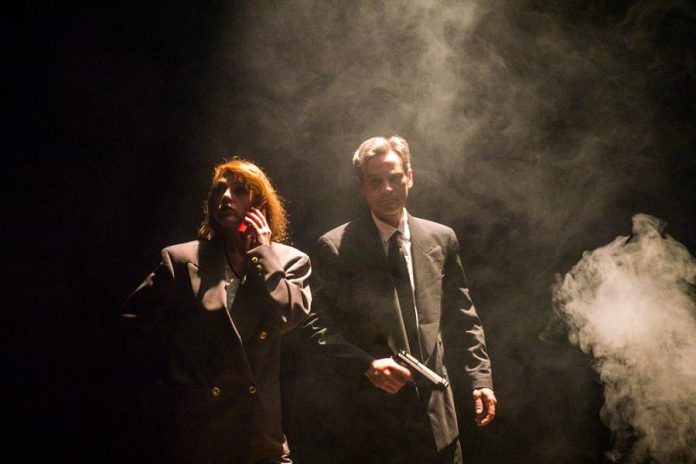 The truth is out there. In anticipation to the upcoming revival of the classic '90s sci-fi series The X-Files, The Theatre on King (TTOK) in Peterborough is reinterpreting four classic episodes of the cult favorite on four consecutive Tuesdays between June 16th and July 7th.
Audiences can relive the conspiracy, the aliens, the monsters, and the mystery in TTOK's latest serialized drama, directed by Kate Story and featuring Ryan Kerr and Sarah McNeilly as FBI agents Fox Mulder and Dana Scully.
"I think its time has come," explains Kate. "The '90s feel retro now. People in their twenties were kids when it was on and they remember it. People in our generation watched it. The people older than us watched it. The '90s are coming around again."
Created by Chris Carter, The X-Files premiered in September 1993 and quickly became one of the most watched television programs of the decade.
Starring David Duchovny as true believer Fox Mulder and Gillian Anderson as skeptic Dr. Dana Scully, the series had the duo investigating alien phenomena and a "monster of the week", while trying to unlock a government conspiracy connected to the disappearance of Mulder's younger sister.
Must-watch television for an entire generation, the series spawned a feature film in 1998 and ran nine seasons before concluding in 2002. A second film reuniting the stars, X-Files: I Want to Believe, was released in 2009.
In March 2015, it was announced that Duchovny and Anderson were revisiting The X-Files for six brand-new episodes — scheduled to debut in January 2016.
"Time and time again, people were mentioning The X-Files," says Ryan. "So I went through season one and chose four episodes. Kate and I edited them, figured out what could happen on stage and what couldn't, and cut some characters who were absolutely unnecessary."
"I was a huge fan," Kate adds. "I watched it religiously. My friend John had a TV and about 10 of us would gather together every Friday night and watch it. We had a foam brick to throw at the TV if something ridiculous happened. It was definitely a thing. I just loved it — and hated it sometimes too."
"It's really interesting to visit The X-Files now," says Sarah. "I was a kid when it first came on, so I just remember the opening song scaring the crap out of me."
When asked if they are performing The X-Files straight or as a parody, Kate and Ryan get slightly coy.
"It's a homage to Chris Carter's original intent," Ryan grins.
"There was actually a lot of humor in The X-Files," Kate adds. "Mulder is actually quite funny. He has that dry humor. There are a few moments where we push the undertones, such as the sexual tension between Mulder and Scully, a little further."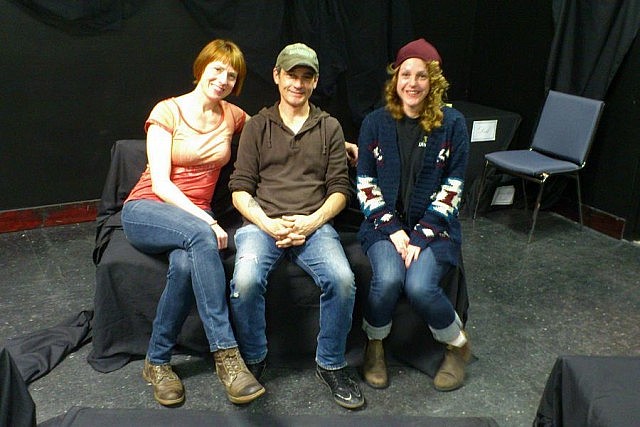 Another challenge comes in recreating characters as iconic in pop culture as Mulder and Scully for the stage.
"As an actor, you don't want to actually do what another actor has done," Ryan says. "You want to make the role your own. I'm trying to do Mulder the best that I can. He really had low affects, but at the same time he had wacky one-liners that were underplayed."
Sarah has an entirely different focus on recreating Scully.
"Growing up, I remember then thinking it was so cool that it was 'Doctor' Dana Scully, that she had guns, and she was a scientist and a doctor," Sara recalls. "And she was a ginger as well. That meant something too because, as a kid, the only role model who had red hair like I did was The Little Mermaid. So I was really enamored by that."
"I have yet to find a man who doesn't find Scully attractive, whether he's straight or gay," Kate adds. "Women find her attractive too. She's got this appeal that she's one of the boys, but she's also sexy."
Starring alongside Ryan and Sarah are Phil Oakley in the role of FBI assistant director Walter Skinner and Brad Brackenridge as the ominous Cigarette-Smoking Man. They are joined by an all-star who's who of Peterborough theatre favorites, including Dianne Latchford, Rob Steinman, Andrew Little, Sam Sayer, Meg O'Sullivan, Amy Cummings, Em Glasspool, Elizabeth Moody, Wyatt Lamoureux, and Kelsey Gordon Powell.
"For a theatre this small, we have a massive cast," notes Ryan. "What's really great is how all the actors are just excited to be a part of it, even if they're playing a small role with one line."
But what about aliens and monsters?

"We have a monster, and then we have a human-alien hybrid," Kate says. "One of the monsters is played by Andrew Little. It's fun because Andrew is a lovely guy and he has leading actor good looks, but I personally feel he's enjoying very much playing this role. He seems to be enjoying it quite a lot, because he normally wouldn't be cast as a creepy guy."
The X-Files is the fourth serial produced at TTOK. A wide range of inspired productions have been recreated with Ryan and Kate at the helm, including Pennies From Heaven, Young Frankenstein, and The 5000 Fingers of Doctor T.
"Every year, I like to have a big show," Ryan explains. "When we first started off with Pennies From Heaven, we incorporated some of the more established artists in the community with the up-and-coming artists. It created a community during that production. It's bringing a lot of different people together to do this one weird crazy project which is the challenge."
With The X-Files' broad appeal, these performances are a perfect way for those who have not had the opportunity to visit TTOK to discover their brand of creative independent theatre. A small space seating approximately 30 audience members, TTOK has become Peterborough's premier place for alternative local theatre. Always interesting and inspired, the theatre was established in 2013 by Ryan who was looking to fill the void left when the much-revered Union Theatre closed in the late '90s.
"It was inspired from my involvement at the Union, but this is a very different space," Ryan says. "The inspiration is to bring community actors together to work on each other's projects and inspire each other, as well as to be a training ground for new actors and new technicians."
"Not everything that comes out of this space is necessarily good, but everything that comes out of this space is interesting," Kate adds. "A lot of it is good and some of it is fantastic. I'm always excited to see what is next. There is a lot of great theatre in Peterborough, but only in this place will you see people being truly experimental."
Ryan echoes Kate's sentiment.
"Even if it fails, you've already succeeded and hopefully you'll continue doing shows and you'll continue to grow and learn," he says. "But by putting a show on you've already succeeded. You've done more than most of the population will ever do."
"I'm thrilled by everything that happens here," Ryan continues. "The fact that people want to use this space and the fact that people want to see the shows and that we can sell out a house at least once per show. That's really exciting for me."
Come revisit The X-Files in one of Peterborough's most exciting performance spaces. TTOK presents a different "episode" of The X-Files every Tuesday from June 16th to July 7th, with performances at 8 p.m. and 9:30 p.m. Admission is $10 at the door. The theatre is located in Suite 120 at 159 King Street in Peterborough (in the parking lot behind Fresh Radio/The Wolf).
---
The X-Files – Episode 1 (Pilot) at TTOK