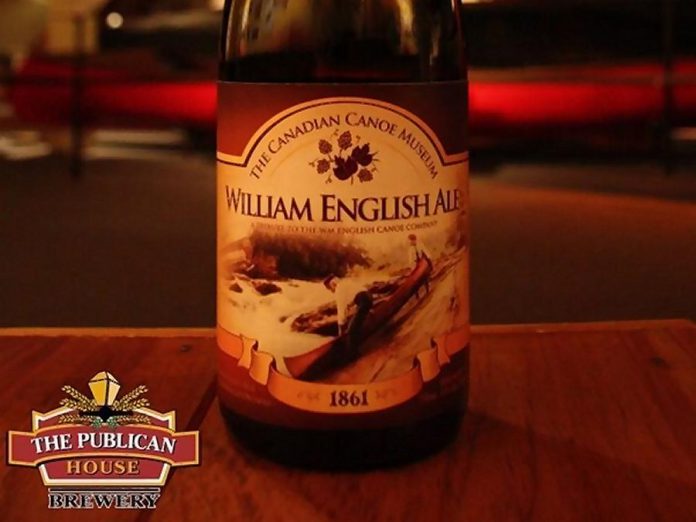 The Canadian Canoe Museum and Publican House Brewery have joined forces to develop and market a museum-branded series of craft beers. The first beer in the Canadian Canoe Museum Beer Series — William English Ale, named after the founder of the English Canoe Company — will be launched at noon on Saturday, June 20th, at the Kawartha Craft Beer Festival in downtown Peterborough.
The new ale will be available in 750ml bottles at Publican House Brewery (300 Charlotte St., Peterborough). A portion of the sales of William English Ale and future beers in the series will be donated directly back to the Canadian Canoe Museum to support the expansion and continued growth of the museum, which will be relocating to the historic Peterborough Lift Lock.
"The Canadian Canoe Museum is very excited and proud to be part of this innovative community partnership with The Publican House Brewery," says Richard Tucker, the museum's Executive Director. "William English Ale will support the Canadian Canoe Museum in its efforts to tell its stories about Canada and what it is to be Canadian through Peterbrough's local and national icon — the canoe."
The Canoe Museum Beer Series will feature unique names and custom-developed labels that will highlight the role of the canoe in Canada's history, the various styles of canoes throughout that history, and the importance of canoe makers from the Peterborough area. New beer and labels in the series will be released seasonally throughout the year.
"The combination of a locally made craft beer with the Canoe Museum that highlights the art and craft of canoe making seemed like a perfect fit," says Matt Philips, Partner at Publican House. "We felt strongly about wanting to contribute to the vibrancy of the Museum and the role that it plays in Peterborough."
Crafted with a high wheat malt and gently accented with hops, William English Ale is described as a thirst-quenching 4.5%-alcohol-by-volume wheat bear with crisp and refreshing citrus notes and a natural hazy hue.
The label pays homage to the English Canoe Company, founded in 1861 by William English and later operated by his brothers Samuel and James. The company's factory was located at 182 Charlotte Street in Peterborough and employed six people.
A smaller competitor of both the Canadian and Peterborough Canoe Companies, William English was one of the earliest innovators of canoe manufacturing in the Kawarthas. The company was noted for its basswood, cedar, and butternut wide board and cedar strip designs, as well as cedar rib canoes. The English Canoe Company ceased operations in the early 1920s, when it was purchased by the Peterborough Canoe Company.