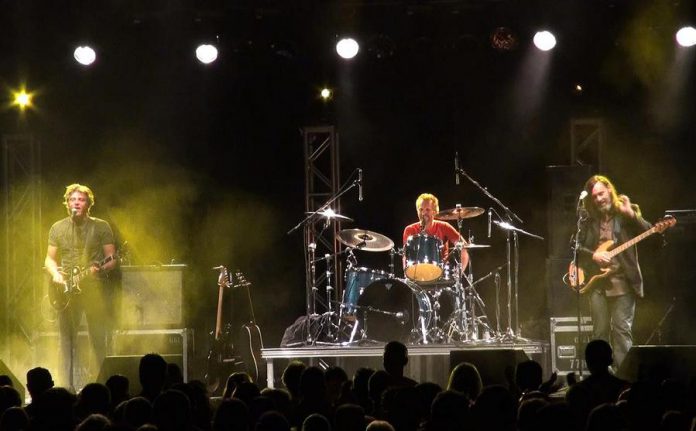 One of the best-selling Canadian rock bands of the late '80s and early '90s, The Northern Pikes are performing at Peterborough Musicfest at Del Crary Park at 8 p.m. on Wednesday, July 22nd, 2015.
Currently touring as a power trio with Jay Semko (vocals/bass), Bryan Potvin (guitars), and Don Schmid (drums), The Northern Pikes were originally formed in 1984 in Saskatoon by high school friends Semko and Potvin. Semko and Schmid, along with former Pikes member Merl Bryck, had previously played in the punk/new wave band The Idols in 1979.
In the early '80s, The Northern Pikes — with original members Semko, Potvin, Byrick, and Glen Hollingshead (who Schmid replaced in 1986) — toured the club circuit in Saskatchewan and developed a cult following across the prairies. By 1985, they had released two self-financed independent albums, The Northern Pikes and Scene in North America.
The band's well-received independent releases and live performances eventually attracted the attention of Virgin Records Canada, which was then in the process of expanding and looking for Canadian acts. In 1985, the band signed a six-album deal with Virgin, and released their major-label debut Big Blue Sky in 1987, which included the singles "Dancing In A Dance Club", "The Things I Do For Money", and their first hit, "Teenland."
That same year, The Northern Pikes became the opening act on tours by Duran Duran, David Bowie, and The Fixx — bringing them international attention and success.
In 1987, they released Secrets of the Alibi. Although that album wasn't a success, British pop star Robert Palmer thought the band showed promise and gave them the opening slot on his 1989 North American tour.

The Northern Pikes saw success again with their third album, Snow in June, in 1990. That record resulted in three Top 40 hits, including "Girl with a Problem", "Kiss Me You Fool", and their biggest hit, "She Ain't Pretty", which charted in the U.S. With guest performances by Garth Hudson (The Band) and John Sebastian (Lovin' Spoonful), the album received four Juno nominations and would eventually go double platinum.
Over the next three years, the band would release two more albums (Neptune and the live album Gig) but they couldn't repeat the success of Snow in June. So, in 1993, the band decided to break up.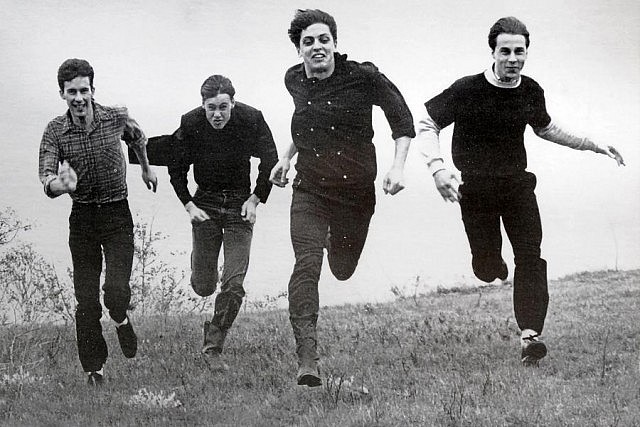 Members of the band went on to other work, most notably Semko who ended up writing music for the internationally syndicated TV series Due South.
"Working on Due South was the first thing I did after The Pikes broke up mid-1993," Semko says. "They were doing a pilot movie and were interested in having The Pikes possibly write a theme song for it. I talked to the guys and nobody was interested. We were at the point where nobody wanted to hang out with each other with the band splitting up. When you go through any relationship that breaks up, you get into a situation where you need time apart, even if you remain friends."
Fast forward six years later, when Virgin Records contacted band members of the band for input on a "greatest hits" package — the last record as part of their six-album deal. When the band decided to reunite for a short promotional tour after the release of Hits and Assorted Secrets 1984-1993 in 1999, they rediscovered their musical chemistry and realized they enjoyed the flexibility of working independently of a major label.

"We hadn't all been in the same room together in six years, so we did it and it was a lot of fun," Semko explains. "We forgot how great it was to get out there and play. It didn't stop after that."
"The break was important, but none of us had really worked with other people in that way until we split," Schmid adds. "There's good and bad with anything. You realize that chemistry between musicians is something that just happens, or else it doesn't. And we realized what we had was pretty special, because you can't just go out and find that."
Reunited, The Northern Pikes began touring again and have since released three independent albums (Truest Inspiration in 2001, It's a Good Life in 2003, and Live in 2000). In 2005, they collaborated with filmmaker and blues harmonica player Les Stroud (Survivorman), did a few concerts with him, and released the six-song EP Long Walk Home in 2007.

In 2012, The Pikes were inducted into the Western Canadian Music Hall of Fame in Saskatchewan. Although Merl Bryck had left the band in 2007, he joined the other three members for the induction ceremony, where they also performed.
While The Northern Pikes continue to tour, they aren't giving up their day jobs quite yet.
Semko works as a music composer for television and film; Potvin works in Toronto for an Australian cell phone company where he negotiates and secures music rights for ringtones; and Schmid is a photographer who also runs a video editing company.
"Too be honest, since we got together, we haven't committed 100 percent to The Pikes," Semko says. "We can't say 'This is all we're going to do.' I don't think anybody wants to do that. We're still scarred from our previous experiences of putting all our eggs in one basket."
Don't miss your chance to see The Northern Pikes perform their classic tunes and more on Wednesday at 8 p.m. at Peterborough Musicfest at Del Crary Park in downtown Peterborough.
---
"She Ain't Pretty" – The Northern Pikes
"Girl With A Problem" – The Northern Pikes
"Teenland" – The Northern Pikes
---