The popular outdoor dance festival Dusk Dances returns to Peterborough with family-friendly performances every evening in Rotary Park in Nicholls Oval from Thursday, July 23rd to Sunday, July 26th.
Local performer and actor Brad Brackenridge (who recently appeared in The Theatre on King's The X-Files serial) will be the host each evening, which begins at 7 p.m. with music by Peterborough's own award-winning recording artist and songwriter Kelly McMichael and The Gloss, followed at 7:30 p.m. by four 10-minute dance performances.
This year's dance performances are "L'Eau", "Photuris Versicolor", "Kaha:wi, Four Directions, Young Woman's Dance", and "Bella." Brackenridge will lead audience members around Rotary Park from one performance to another.
"L'Eau", a new work developed by Peterborough choreographer Rachel Bemrose (Art for Awareness) especially for Dusk Dances, will feature 10 young dancers. "L'Eau" focuses on the element of water and its relationship with people, set against the backdrop of Peterborough's Otonabee River.
Another new work, "Photuris Versicolor" features critically acclaimed dance artists Sylvie Bouchard and Marie-Josée Chartier as twin fireflies separated at birth. After a journey apart, they find each other once again amid a cluster of trees at Rotary Park.
Children will especially enjoy this performance, which features vivid costumes and live "insect-o-sonic" sounds.
Originally premiering at Dusk Dances in 2009, "Kaha:wi, Four Directions, Young Woman's Dance" by choreographer Santee Smith will be performed in Peterborough for the first time this year.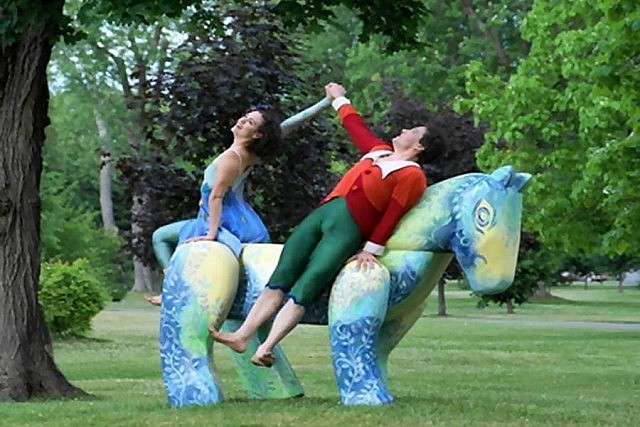 Dancers Jordana Deveau, Mami Hata, Molly Johnson, and Meredith Thompson will honour the Konkwehon:we (Iroquois women's) connection to Grandmother Moon, birth, and the plant world. With the dancers' feet stomping into Earth, undulating spines, and outstretched arms embracing Sky, the performance embodies the feminine force and its indigenous roots are sure to inspire a feeling of celebration in all.

Another returning work is choreographer Danny Grossman's "Bella", which originally premiered at Dusk Dances in 2007. Performers Michael Caldwell and Meredith Thompson dance a charming love duet inspired by the opera music of Puccini and the art of Marc Chagall. Designer Mary Kerr took her inspiration from Chagall's images to create a beautiful painted horse as the centerpiece for this unique and whimsical duet.
New in 2015 are the free dance and performance classes being offered from 6 to 6:45 p.m., prior to the opening music. In these classes, participants of all ages can learn different dance techniques from guest artists and teachers.
Thursday's workshop is "Circus Arts" with Victoria Wood, Friday's is "Maanoo (Let It Happen)" with Hilary Wear, Saturday's is "Muscle/Bone – Mind/Body" with Bill James, and Sunday's is "Hip Hop" with Nicole Kelly.
This is the fifth year that Public Energy has brought Dusk Dances, now in its 21st season, to Peterborough. Dancer and choreographer Sylvie Bouchard originally created Dusk Dances in 1993, using the natural beauty and magic of Toronto's Trinity-Bellwoods Park to present a dance performance. It has become wildly popular since then, with performances over the years in Toronto, Vancouver, Kingston, Chatham, Guelph, Deep River, Ottawa, Peterborough, Haliburton, and more.
Everyone is welcome bring their chairs and blankets to this family-friendly event. It's "pay what you can", but a minimum donation of at least $10 is suggested to help fund more great dance and performance from Public Energy and Dusk Dances.
Note that Dusk Dances rarely cancels a show in advance of the start time due to poor weather. Artists and volunteers will be at the park even if it's pouring and, if the rain stops and it's safe to perform, the show will go on. If a show must be cancelled, an announcement will usually be made at the park between 7 and 7:30 p.m.
---
An excerpt from "Kaha:wi, Four Directions, Young Woman's Dance"