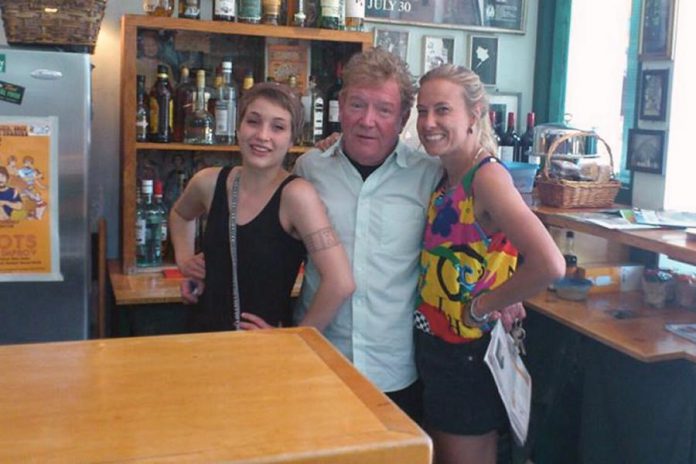 Jerome Ackhurst sits at a table on the front patio of The Only Café in downtown Peterborough. He's working on some paperwork, with a few bites left out of one of The Only's famous sandwiches on a plate beside him.
Giving me an intense look over the rim of his glasses, he says "I don't usually do this. I don't do interviews."
"Then why did you agree to do an interview with me?" I ask, stumbling for the right words to say. Although I've been a regular at The Only for over 20 years, this is the first time I have ever sat down to talk with Jerome. I may be just a little bit nervous.
Jerome thinks for a moment and carefully answers, "I thought it'd be interesting."
Eccentric and larger than life as The Only itself, Jerome put his stamp on Peterborough when he opened one of the city's legendary drinking establishments 25 years ago. Famous for its unique décor, alternative beer selection, and an original menu of sandwiches, traditional pub food, and breakfast selections, The Only has become not just a beloved business in Peterborough, but also an important cultural hub of the community.
From the downtown business lunch customers, to the university night life crowd, The Only has maintained a mythic reputation for 25 years. Songs have been written about it, paintings have been done of it, and poems have been written in it. There is something timeless about the walls, with the thousands of photos that never change, that makes you forget if it's 1990 or 2015. There's a familiarity that is endless, and while the city may change around it, The Only never does.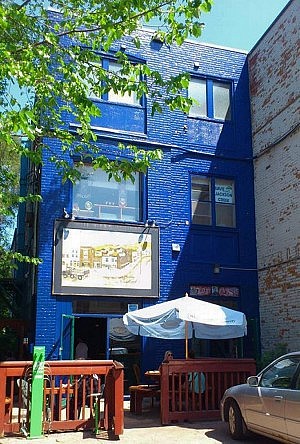 To thousands of regular patrons, both past and present, The Only reminds them that they are back in Peterborough. They are home.
As one friend once told me, after an extended stay in Europe, "No matter how far you go away, something always calls you back to The Only. It's probably something that they put in the coffee."
"Why does everybody go to The Only? Because everybody goes to The Only," Jerome says. "It's very much like an English pub. You always go to the same pub because you know you're going to see your friends there."
Although The Only is thought of as an important Peterborough landmark, its origin began in Toronto in 1984 when Jerome — having returned to Canada after five years in Europe — purchased a café on the Danforth that was known as a local hangout for Greek high school students.
"It was called the Eastern Sandwich Bar, but it wasn't doing very good and I was really suffering," Jerome admits. "So I asked a friend of mine, who was a costume designer for theatre and film, 'What am I doing wrong?' She said 'You need to put your personality on the walls and change this place and make it your own.'"
Taking her advice, Jerome began to cover the walls with people and paintings he identified with. An eclectic mix of images, this became the décor that's The Only Café's identifiable trademark.
"What you see is my personality on these walls," Jerome says. "There are themes to where some things are placed. There's a lot of rock 'n' roll stuff. When you look around this place, you see a piece of me."
Next Jerome got a liquor license and decided to give the place a more unique and enigmatic name.
"I actually stole the name from a place in Vancouver called The Only Seafood Restaurant," Jerome confesses. "I nicked The Only and tacked on café."
After about three years, Jerome had turned his Toronto-based business around and was doing fairly well, when his fate brought two Trent University students to his bar.
"Two 20-year-old girls came in one night from Trent," Jerome remembers. "They were friends of one of the bartenders, and they said 'Wow this place is amazing. If you opened one of these in Peterborough it would do extremely well.'"
This struck a deep chord with Jerome, who had a strong family connection to Peterborough. His mother was from Peterborough and his father was a former employee of GE. Furthermore, his family still owned a cottage in the area which he wanted to get closer too. So, with the two Trent students' suggestion in mind Jerome, travelled to Peterborough in 1989 to take a look.
"I came up to Peterborough one day and took a tour of some of the local drinking establishments and I concluded that the girls were quite possibly right," Jerome says. "I kind of noticed that people were there, but they had the expressions on their faces that they wanted to be somewhere else — but there was nowhere else to go."
Deciding to make a move to Peterborough, Jerome planned on renting an establishment but his real estate agent gave him a different suggestion which secured The Only's success.
"The real estate agent who was taking me around said 'I know you want to rent but I have this building for sale'," he tells me.
The agent brought Jerome to the old abandoned Rusland's Auction House at 216 Hunter Street West in downtown Peterborough.
"I walked in, and having five years in Toronto of running a pub, I knew that with the western exposure the sun hits the place at noon," Jerome explains. "It had waterfront property at the side. It had windows, and a creek going by. It was just perfect. I got halfway through the building and I said 'I'll take it.'"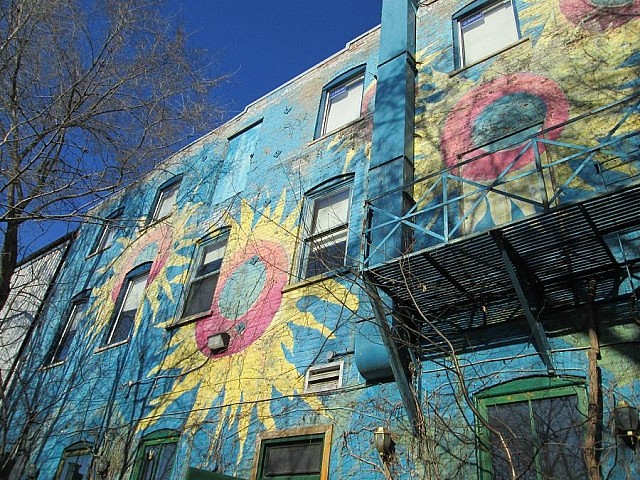 The Only Café opened its doors in July 1990. At the time, Peterborough didn't have the same diversity of night spots it does today. Filled with blue collar drinking establishments, meat markets, and biker bars, there wasn't anything at all like The Only.
"Unlike the experience in Toronto, from the beginning people swarmed the place," Jerome recalls. "My wife, Charon, said at the time that it was like they were waiting for us."
The Only quickly became identified as a meeting place for artists, actors, and musicians. According to Jerome, a large part of that had to do with its close proximity to the former Union Theatre, which was located just inside the Hunter St. municipal parking lot.
"The Union Theatre was down the street and they went mad for this place," Jerome says. "They were mad already. All of them. But they just made The Only their home."
Jerome also concludes that his practice of hiring local artists on his staff also had a large part of creating The Only as a cultural landmark.
"One bartender once said to me 'You hire artists and actors and musicians to work here'," Jerome reflects. "Naturally, that is who you are going to attract. I did it unconsciously."
A large part of The Only's appeal upon its opening, which continues to this day, is the unique culture that seems to have grown organically from it. Jerome believes part of that started from their unique beer selection and food menu which was extremely different from anywhere else in Peterborough in 1990.
"You have to do something different," Jerome explains. "Everybody is selling chicken wings and French fries and Molson Ex. I spent five years in England soaking up pub culture, so I naturally chose different beers. That was part of being different."
"Somebody came in early on and he had come from Mississauga who had been in the restaurant business all of his life," Jerome continues. "He came in here and he studied the place for an hour or two and he came up to me and said 'You don't break some of the rules. You break all of the rules.'"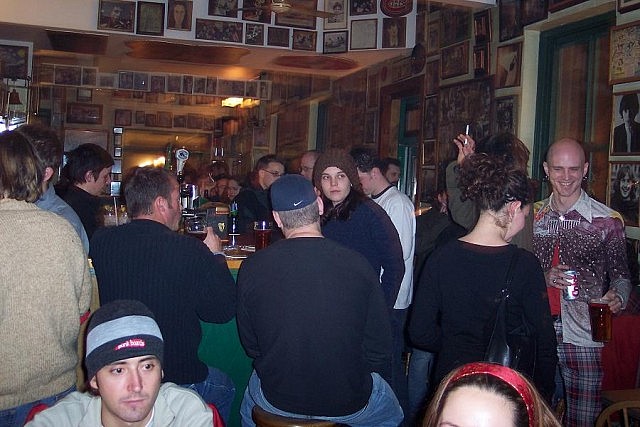 The Only has also become famous for its alternative customer base, which includes people from all walks of life, and has had many reputations over the years, increasing its legendary status. When asked how he sees the character of the bar as an insider looking out, Jerome balks a little.
"One guy came in here one night and said 'Oh, it's a country and western bar,'" Jerome recalls. "Then one guy came in and said 'Did you paint all these pictures by yourself?' Another guy comes in and says 'It's a rock n' roll bar.' Then, of course, we've been known for being 'the gay bar.' People always want to label places, but I don't think you can."
Part of The Only's appeal is that it caters to everyone.
"You are allowed to be yourself here," Jerome continues. "The Only is a safe place to go. It's inclusive. We don't discriminate."
As Peterborough changes, The Only never seems to. So I ask Jerome just what has changed in the 25 years since The Only first opened.
"I'm not 35 anymore," Jerome answers. "The 35 year olds and the 20 years olds still have as good of a time as we used to have … and we had a really good time."
"This is a place for fun," he continues. "We had some really wild nights. But I didn't even make it to the end of The Only 25th Anniversary party — I went home at 10 p.m. But from what I hear, the rest of the night was absolutely wild. A guy that works here was actually crowd surfing. It was a wild party."
The influence of The Only on Peterborough's culture is undeniable. From being the pioneer establishment of the Hunter St café district, to being an early inspiration for many of the unique bars and restaurants that have made downtown Peterborough a dining destination, The Only continues to attract an eclectic devoted customer base and is still one of the most popular night spots in Peterborough.
All photos by Sam Tweedle for kawarthaNOW except where noted.