When you think of Europe, you probably don't think about American roots music like bluegrass. The Kruger Brothers will change your mind when they perform at Peterborough Musicfest in Del Crary Park at 8 p.m. on Saturday, August 15th.
Born in Germany and raised in Switzerland, brothers Jens and Uwe Kruger — along with American Joel Landsberg — are highly regarded within the world of acoustic music in North America, especially by other musicians.
The late, legendary Doc Watson once said, "The Kruger Brothers are just about as fine a band as I've ever played with … I love to play music with them."
While The Kruger Brothers began by playing the traditional American folk and bluegrass repetoire, they have since turned to original songwriting and composition to reflect their personal experiences, and have infused the music with elements of other genres such as classical and jazz.
Before Jens and Uwe Kruger came to the U.S. in 1997, they developed their musical skills while growing up in Switzerland in post-WWII Europe.
Part of a very musical family, they began started singing and playing instruments when they were very young. They would place a guitar on the floor between them and play it together, with one brother taking the upper three strings and the other the lower three.
"My mother was a kindergarten teacher and she had a song for everything," Uwe recalls.
"We sang a lot at home. We mainly sang old German folk songs. She was from Germany—East Prussia. My dad was from Northern Germany. For them, music was a way of keeping our culture alive. In Switzerland, German music was not very highly regarded."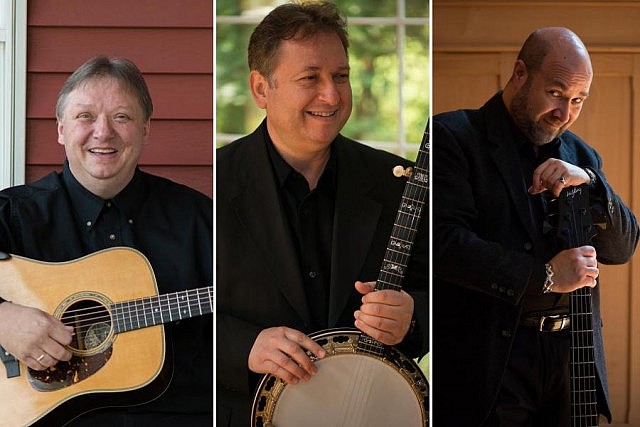 Their father, who would bring folk music records when he returned to Switzerland from business trips to the United States, introduced them to North American folk music. They were particularly inspired by recordings of Doc Watson, Flatt and Scruggs, Bill Monroe, and other American country, bluegrass, and folk musicians. Jens took up the banjo and Uwe the guitar.
"When you're a boy of eight, nine, or ten years old, you think Western," Uwe says. "The American West was a dream world for us, a place where everything was better. So, we learned to play American folk music. The melodies sounded really like German music to us, but with different words. One of the first songs I learned was 'Tom Dooley', the Kingston Trio version."
Then the two brothers discovered bluegrass and there was no turning back.
"The first time my brother heard 'Foggy Mountain Breakdown,' he went nuts," Uwe explains. "He started spinning around like a Tasmanian Devil all around the living room. He said, 'That's what I want to do!' He was playing a tenor banjo then, so he put a thumb-screw on it and added a fifth string so he could play bluegrass."
By the time they were 11 and 12 years old, Jens and Uwe were performing regularly. They began busking on the streets of cities throughout eastern and western Europe. When they were still teenagers, they secured a recording contract with CBS Records and soon were hosting a radio show on Switzerland's public broadcaster. In the early 1980s, Jens went to the U.S. to study with bluegrass musician Bill Monroe.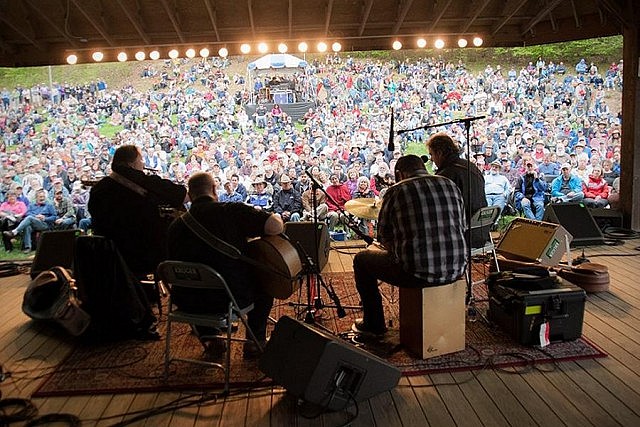 Several years later, the two brothers teamed up with bass player Joel Landsberg, a native of New York City who began playing classical piano and then turned to bass. He moved to Switzerland in 1989 to perform with various country/rock and jazz groups based throughout Europe, where he met the two brothers.
The Kruger Brothers began performing as a trio in 1995 and then moved to the United States in 2002. They settled in Wilkesboro, North Carolina — the home of MerleFest, an annual fundraising music festival in memory of Doc Watson's son, the late Eddy Merle Watson.
In the trio, Uwe performs on guitar and lead vocals, Jens on banjo and harmony vocals, and Joel on bass and harmony vocals. Their musical style is perhaps best described as "new" American folk music — roots music enhanced with new and innovative compositional and thematic elements.
There are a few important hallmarks of The Kruger Brothers' sound. One is the honesty of their songwriting and another is Jens' melodic banjo playing and composition. While it originates from three-finger style popularized by musicians like Earl Scruggs, Jens' playing has a more complex compositional style, often borrowing from jazz, classical and world music themes and techniques.
"Composers have been incorporating elements of folk music into classical compositions for over 150 years," Jens explains. "As a musician and composer, I have always admired how masters such as Bartok, Smetana, Brahms, Dvorak, and Tchaikovsky incorporated folk music into their classical compositions."

Since they began performing as a trio in 1995, The Kruger Brothers have released 17 records. Most recently, their music has ventured even further into the themes and forms of classical music, such as in their 2011 record Appalachian Concerto.
In September 2013, The Kruger Brothers appeared on The Late Show with David Letterman with the Kontras Quartet and Steve Martin, who played clawhammer banjo. Jens subsequently received the Steve Martin Prize for Excellence in Banjo and Bluegrass Music.
In addition to performing, The Kruger Brothers are strong proponents of musical education. They've instructed thousands of students through individual instruction, workshops, and master class presentations. In 2011, they launched The Kruger Brother's Music Academy, which hosts a weekend of master class workshops held each spring in North Wilkesboro.
If you enjoy innovative but unpretentious acoustic roots music, you'll want to see The Kruger Brothers perform this Saturday night at Del Crary Park in downtown Peterborough.
---
"Forever and a Day" – The Kruger Brothers
Steve Martin and the Kruger Brothers on The Late Show with David Letterman
"Carolina in the Fall" – The Kruger Brothers
All photos courtesy of The Kruger Brothers