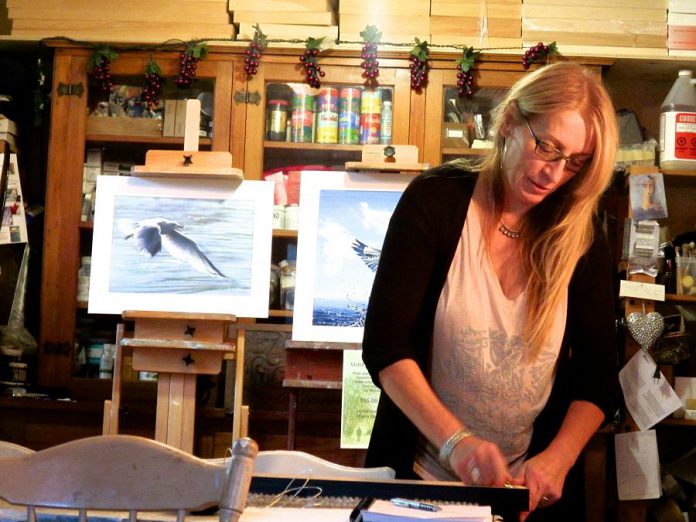 Kawartha Autumn Studio Tour
September is a time of great activity and abundance. It's harvest time and artists everywhere are opening up their spaces and showing off the fruits of their labour as well. Ontario is awash with autumn studio tours and the Kawartha region boasts one of the finest and longest running tours, thanks to the careful ministrations of the Art Gallery of Peterborough.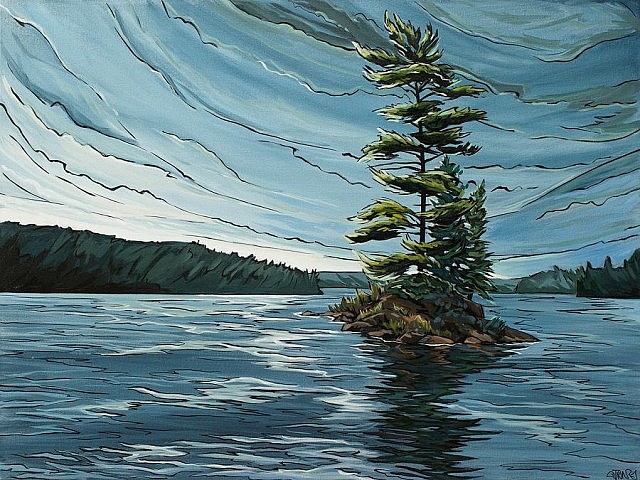 This juried showcase features 34 artists working in every imaginable medium throughout the region westward from Millbrook and Bailieboro, east to Keene and Indian River, and northward through Warsaw on up to Stony Lake.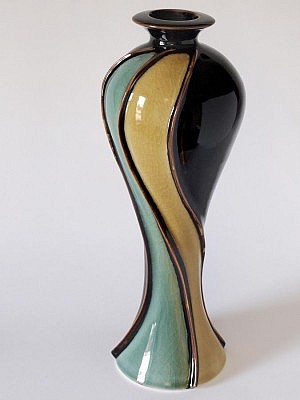 More than a chance to see and purchase exceptional works of art, this is an opportunity to witness and better understand the creative process and meet some remarkable and extraordinary people.
You might be welcomed into places as disparate and wonderful as oil painter John Climenhage's backyard studio/jam space to chat about European expressionism or quantum physics, or discuss Antarctic exploration and environmentalism with Wendy Trusler. Jeff Macklin could take you through the history of print making as readily as you might discuss his love of Canadiana or compare notes on your record collections.
Beyond the city limits you might discover the world of Zimbabwean sculpture at ZimArt's Rice Lake Gallery, swap stories about the beauty of Northern living with Peter Rotter or Jenny Kastner, or watch some sparks fly as you get into some metal work with David Hickey.
One could hardly pick a better antidote to the hustle and bustle of early September than planning for a weekend getaway to enjoy beautiful scenery, see remarkable works of art, and meet these exceptional people.
The 31st Kawartha Autumn Studio tour takes place on Saturday, September 26th and Sunday, September 27th, with studios open from 10 a.m. to 5 p.m. each day.
For all the details, visit the Art Gallery of Peterborough website at www.agp.on.ca, call 705-743-9179, or pick up a studio tour guide throughout the region. To plan your stay visit www.thekawarthas.ca, call 1-800-461-6424 or 705-742-2201, or stop by the Peterborough & Kawarthas Tourism Centre at 1400 Crawford Drive just off of Highway 115 in Peterborough.

All photos courtesy of the Art Gallery of Peterborough.
---
Apsley Autumn Studio Tour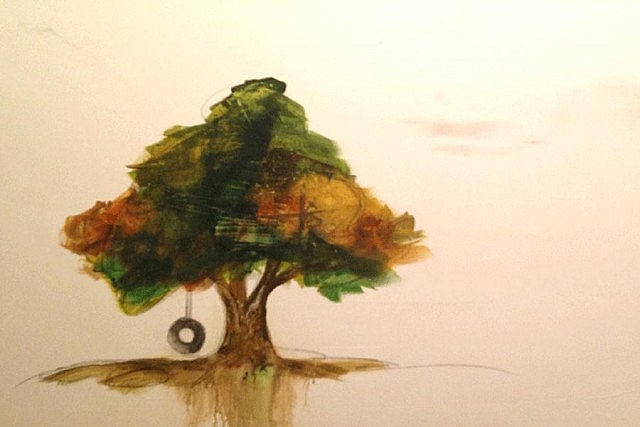 Just a half hour northward on Highway 28, beyond the northern limit of the Kawartha tour at Young's Point, lay the charming town of Apsley. The town and area is a prized getaway for locals who journey there to enjoy the beautiful rugged landscape and a place untouched by toursity affectations. Some would probably prefer that I let it remain their little secret.
It would be a shame to repress the experience of enjoying all that the many artists and artisans that make this area their home have to offer however. Talented painters, jewellers, glass artists, potters, wood turners, furniture makers, fibre artists, and sculptors totalling 24 artists and 15 studios make this tour well worth the self-guided journey. Studio tour brochures are available from many local shops, or the tour map can be downloaded from www.apsleystudiotour.com, where you can also view selected works from each of the participating artists.
Among them is acrylic painter, collage, and mixed media artist Molly Moldovan. Despite my allusions to the relatively undiscovered country, the Apsley Autumn Studio Tour has for years attracted many visitors from near and far, as Molly explains:
"Every year since 1994, I've been delighted to greet the hundreds of art-lovers who visit my studio during the Apsley Autumn Studio Tour. Studio tours present a rare opportunity to engage the artists in conversation about those pieces of their work that interest you, finding the deeper meaning. As an artist, I'm always curious as to why something catches a person's eye and how it might affect them emotionally."

If the many treasures of the wide variety of art and fine craft are unknown to you, then perhaps it is high time that you paid a visit.
The Apsley Autumn Studio tour runs from 10 a.m. until 5 p.m. on Saturday, September 19th and Sunday, September 20th. All the participating studio locations are marked with distinctive black and white "Studio Tour" signs. For more information visit www.apsleystudiotour.com or contact Molly Moldovan at 705-656-3883 or molly.moldovan@xplornet.com.
As Molly says: "Our tour is renowned for the quality of the artists working in a variety of disciplines, with many of our studios tucked away amid the scenic beauty of the Kawarthas. Definitely worth the drive!"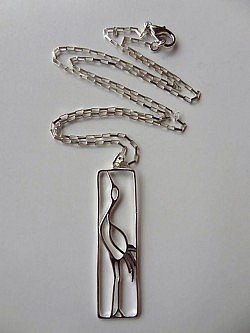 Photos courtesy of the Apsley Autumn Studio Tour.
---
Bancroft & Area Autumn Studio Tour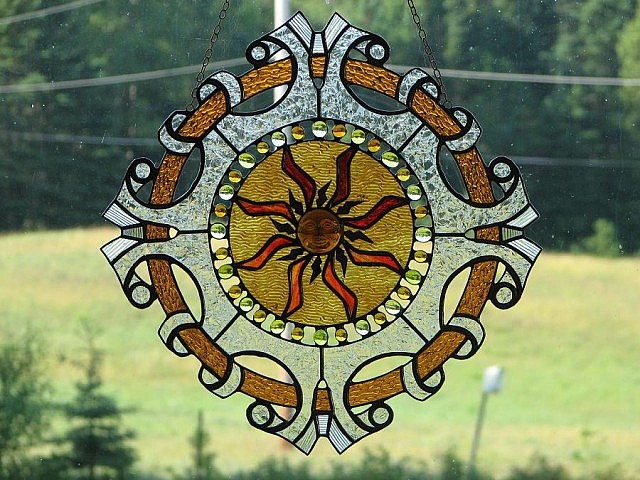 A little farther north still up the ol' 28 highway is the town of Bancroft — a renowned haven for artists and artisans. Their 23 years of showcasing the exceptional art and craft of their area artists is a longstanding art lovers Mecca.
Their two-weekend showcase occurs at the same time as the Kawartha and Apsley tours, so the truly intrepid arts aficionados out there could conceivably visit locations at two, or even all three, tours if you venture out both weekends.
Look for their distinctive pine tree logo directional signs and pick up the tour brochure from local area businesses, the Bancroft & District Chamber of Commerce, or from the artists themselves.
If you tend to be swayed by the trappings of modern media, don't be dismayed by the older web design at www.bancroftstudiotour.org. You'll find descriptions of the 22 varied artists at 17 locations under "About Us". Take this as an indication they've been doing this for some time and that they're focused on what is most important; mainly the art itself.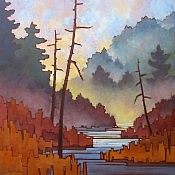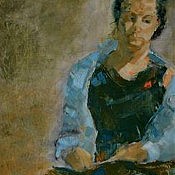 The familiar self-guided tour and 10 a.m. to 5 p.m. open studio hours format applies here also: Saturday, September 19th and Sunday, September 20th, and Saturday, September 26th and Sunday, September 27th.
You can also get all modern and check out more photos and things on their Facebook page.
Photos courtesy of the Bancroft & Area Autumn Studio Tour.
---
Highlands East Plein Air Arts Festival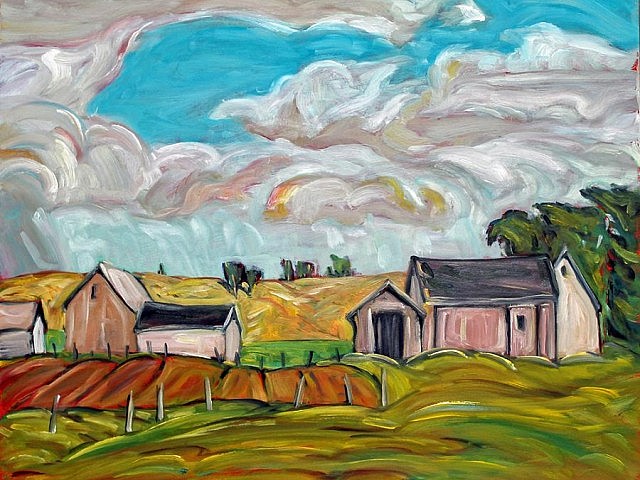 Heading north on the other side of Kawartha Highlands Provincial Park, you can take part in something a bit different than the studio tour scene.
Artists Victoria Ward and Gary Blundell from Hotspur Studio (www.hotspurstudio.com) have organized a new four-day festival all about painting outdoors. If you are an artist, then you can register to paint at any of 14 different plein air sites carefully chosen for their natural beauty, historic qualities, and variety of subject matter.
If you're a curious onlooker, then this is a great opportunity to plan a getaway to this beautiful area and see artists working directly in their inspirational milieu. The festival runs from Thursday, September 10th to Sunday, September 13th, with a participant exhibition and sale on the Sunday from 12 tp 4 p.m. at the Lloyd Watson Centre in Wilberforce.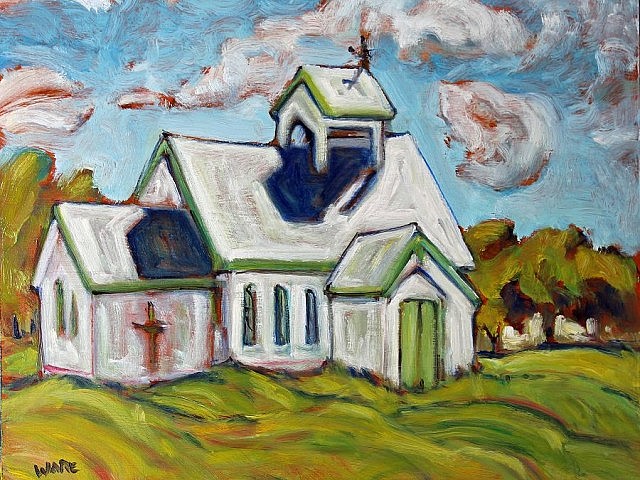 The festival coincides with Doors Open Ontario (www.doorsopenontario.on.ca) so there will be plenty to see and do in the area.
For complete information, artist registration, accommodations, and brochures, visit highlandseastpleinair.wordpress.com, contact the Municipality of Highlands East at 705-448-2981 or info@highlandseast.ca (subject: Plein Air Arts Festival), or email Event Coordinator Gary Blundell at garyandvic65@yahoo.com.
Photos courtesy of Highlands East Plein Air Festival.
---
Artsweek Peterborough 2015

And now for something completely different: spanning 10 days across the City of Peterborough is the annual multi-disciplinary exhibition of creativity that began as part of the City's Centennial Celebrations in 2005. Since then, the annual event has seen several different incarnations and continued to bring art and performance to broad audiences.
This year will mark the first year that Artsweek is produced by the recently formed Electric City Culture Council (EC3). EC3 is focused on its mission to expand the event by providing additional structure for projects and raising awareness of the positive and powerful effects that the arts and culture have in shaping a vibrant and prosperous community. The festival supports the creation of original work by local artists.
One of the central goals of Artsweek is to offer opportunities for anyone to engage with and appreciate what art has to offer; no matter what their age, and everywhere on the spectrum of deeply interested in art to not generally aware of it at all.
Artsweek program coordinator Laurel Paluck waxes poetic in painting the contrast between "hot" participatory events like the performances and "cool" events that can be happened upon by chance.
"I'm always excited when art can be approached by people — in the dead of night, on their own — as a singular intimate experience. I think that's where that 'coolness' shines a bit, becomes a little poignant."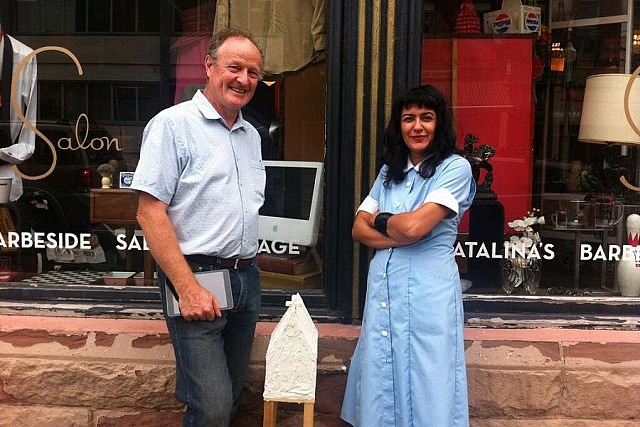 This may be the festival's most ambitious offering yet, with four unique programs that feature dozens of artists commissioned to create works of art in a variety of mediums and settings all across the city.
"BLINK" is a signature event designed to re-imagine the city's retail spaces in the café, fashion, and entertainment districts by transforming storefronts through art.
The roving theatrical adventure that is "ALLEYWALTZ" returns in its storied history with five top-secret stages and each of their casts of extraordinary performers.
"The Jackson Creek Project" celebrates art in Jackson Park and the creek's winding course through the city with a collaborative design charette from Lett Architects, video and photographic projections from Lester Alfonso and Esther Vincent throughout town, and a special "Sunday in the Park" arts celebration.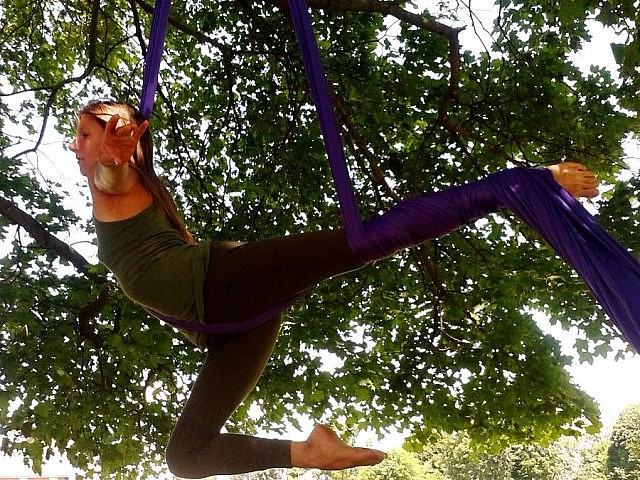 A series of different and unique "POP-UP ARTS" including Porchapoloza, Mysterious Entity's Queen of the Kawarthas, The Healing Art of Kintsugi, Trent Radio broadcasting Live & Local, Write on the Street, and #eCityLit will be engaging folks everywhere throughout the festival.
Stay tuned for an upcoming feature article on all that Artsweek Peterborough 2015 has to offer.
For more details, artist profiles, dates, times, and locations please visit www.artsweekptbo.com, or catch all the buzz on Facebook and Twitter. Or get in touch with the Electric City Culture Council (EC3) at (705) 749-9101 or admin@ecthree.org.
Photos courtesy of Artsweek Peterborough except where noted.