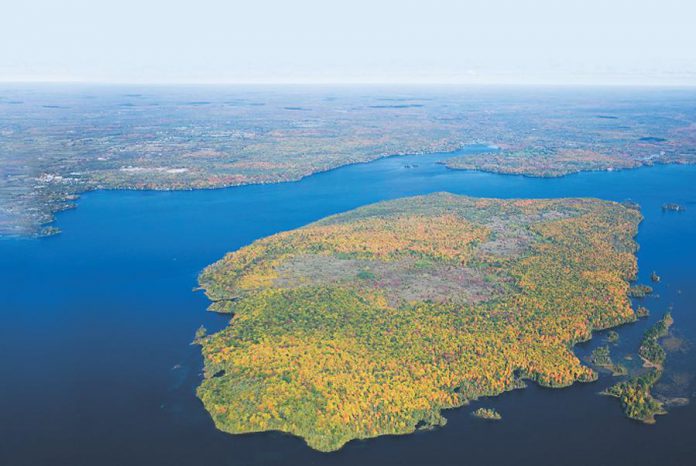 With a pledge of $75,000 from the Municipality of Trent Lakes, Kawartha Land Trust (KLT) is almost halfway to its goal to raise $1 million by November 30, 2015, to save Boyd Island from future development.
"Trent Lakes council is totally behind the Boyd Island acquisition," says Bev Matthews, Mayor of Trent Lakes. "It's an opportunity of a lifetime and for future generations."
While the island is located in Trent Lakes, the mayor said preserving the land would benefit all surrounding municipalities. She has challenged the municipalities of Selwyn Township and the City of Kawartha Lakes to match or exceed the amount.
"We're thrilled by the outstanding leadership shown by Mayor Bev Matthews and the Trent Lakes Council to preserve one of the regions most significant jewels," says Mike Hendren, Executive Director of KLT.
Located in Pigeon Lake just east of Bobcaygeon, Boyd Island — sometimes called Big Island — is one of the largest and most significant undeveloped islands in Ontario. With more than 1,000 acres and 10 kilometres of natural shoreline, the island is home to unspoiled wetlands, wildlife, and a wide variety of plant species — including a number of species at risk.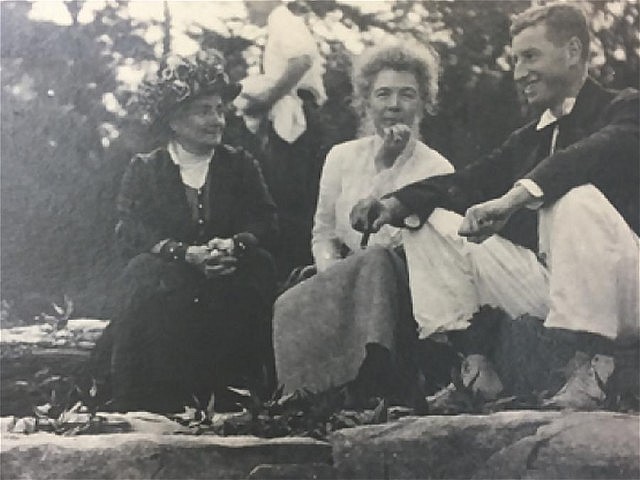 In the late 19th and early 20th century, the island was owned and farmed by the Boyd family, one of the first and most important settlement families from Bobcaygeon. A succession of prviate owners have tried to develop the island for residential and commercial purposes, with the most recent plan being to create 95 residential lots.
In August, the current owner generously offered to donate the island to KLT, contingent on the organization maintaining the island in its natural state in perpetuity. The landowner's offer expires on November 30, 2015.
KLT's board of directors has determined that it will need a stewardship fund of $1 million to maintain the island in perpetuity. The funds are required to cover up-front costs and to generate interest revenue for basic stewardship of the land (approximately $30,000 annually).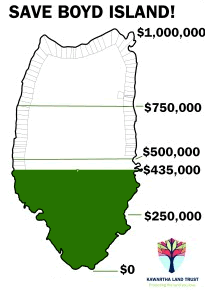 To date, KLT has raised over $400,000 in donations and pledges for the Protect Boyd Island fund. If the organization doesn't meet its $1 million goal by November 30, 2015, it will review the funds raised and decide whether to accept the land or decline the landowner's offer.
However, with more than six weeks left in the fundraising campaign, both Hendren and Mayor Matthews are confident KLT can meet the $1 million goal.
"We must be progressive in our thinking and think into the future," Matthews says. "What we do today shapes the future. It's going to happen … we can do it!"
If KLT does accept the offer to manage the island, it plans to allow people to use the island freely for low-impact recreational activities such as hiking, walking, cross-country skiing, and fishing. Trails, picnic areas, and a dock may also be options. The island would also be used for research and educational programs.
At this time, KLT has no plans to allow overnight camping, snowmobiling, or hunting on the island. Any future uses would be evaluated against the organization's conservation mandate and determined through community input.
In addition to its environmental value, Boyd Island has compelling historical and cultural value. First Nations peoples used the island as a meeting place more than 10,000 years ago. KLT has had discussions with Curve Lake First Nation, which supports preserving the island in its natural state in perpetuity.
For more information about the Save Boyd Island campaign and donation and pledge forms, visit www.kawarthalandtrust.org. You can also make an online donation. Tax receipts will be issued for all donations.
---
Boyd Island – Preserving Our Past, Protecting Our Future – Kawartha Land Trust
All photos courtesy of Kawartha Land Trust.