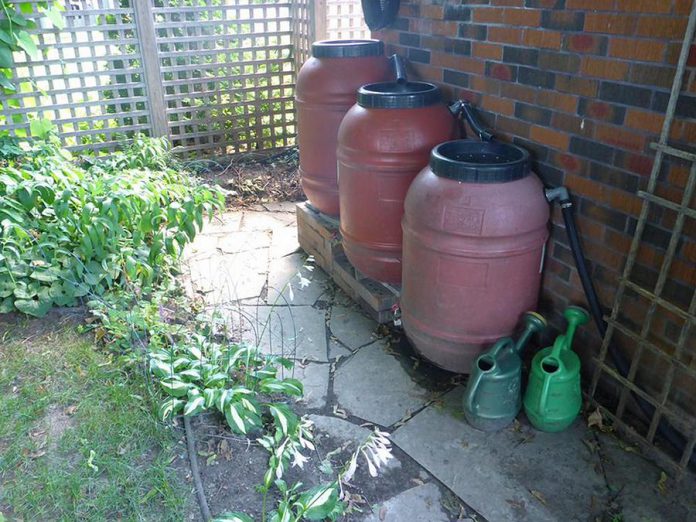 GreenUP is developing a new recognition program to celebrate the creative ways Peterborough residents are using water wisely outside their homes, and we need your help. We want you to tell on your neighbours.
We know many citizens across the city are quietly conserving water and bringing their gardens to life in creative and thoughtful ways. Do you know any of them? Maybe you are one of our quiet water champions yourself.
Putting water to work on your property is a wise way to get every last drop of value from our most essential resource. Encouraging water to stick around and do some chores not only helps to protect the amount of water available to us, it also decreases contamination of waterways and can have a favourable impact on your wallet.
The installation of water meters within the City of Peterborough is helping us to more fully understand the costs associated with treating and distributing tap water, another reason to celebrate those who are using water well.
Working with our partner the Peterborough Utilities Group we are searching for people who:
use rain barrels and tanks to catch and save rain
have designed gardens to catch rather than let rain runoff
use drip irrigation and water timers
have replanted lawns with perennials and drought-friendly native plants
are doing something else we haven't thought of yet.
All of these actions help to save water. Do you have a neighbour who is embracing wise water use and making a real extra effort? That could involve doing a few of the things in the list above or doing any one of them in a big way!
We hope to bring some of these back and front yard experimenters together to hear their stories of how they have used water wisely. Wouldn't it be interesting if this gathering led to the establishment of an informal group that could help recognise others? That's one thing we would like to see happen — but there are also many other things such a group could do.
We want to help build a group of neighbourhood experts.
You don't need to have a degree in engineering to be the go-to person in your community for connecting rain barrels. If someone has never connected a group of four rain barrels to water their garden efficiently, then talking to someone who has is just what they need to get started.
If you have installed a drip irrigation system in your yard, you are further ahead of your next door neighbour who is thinking about doing the same but is lost somewhere on the internet trying to find the best next step.
Have you created your own rain garden in your front or back yard? We want to talk with you.
We are not interested in reinventing the wheel, but we have noticed an information gap in the city. GreenUP wants to encourage people to get together and talk about wise use of water in their gardens and yards.
Your story will make it easier for others to try something similar or to put their own spin on something you have done. Let's spark a creative and fun conversation about water use in our gardens and yards.
Ultimately, we want to recognise and celebrate the made-in-Peterborough efforts people are making to conserve water. Water-wise neighbours will get a chance to showcase their projects both large and small on social media. There will also be a special marker created that identifies those yards that have been recognised.
So take a peek into the backyard next door, and let us know if you spot any wise water users. Strike up a conversation and see what you can learn.
GreenUP is happy to work with the Peterborough Utilities Group, the people who have been treating and distributing water to homes and businesses since 1882 (133 years!). GreenUP has spent 22 years helping people use resources wisely.
Reducing waste, saving money, and reducing your impact on the environment are important parts of building a more sustainable community. We believe that by working with our neighbours is a powerful way to build that community.
So if we have your attention and you are interested either in sharing your thoughts or getting together with others, contact Heather Ray at GreenUP at heather.ray@greenup.on.ca or Peter Hughes at peter.hughes@greenup.on.ca.