This weekend, Curve Lake First Nation is hosting its annual Pow Wow, a two-day celebration of native culture, tradition, and heritage. This year's Pow Wow, which takes place at Lance Wood Park in Curve Lake on September 19th and 20th, will honour survivors of residential schools.
The Pow Wow is open to all members of the community — more than 7,000 people attended last year's celebration.
According to some sources, the term "Pow Wow" derives from powáw in the language of the Narragansett, an Algonquian tribe, from many hundreds of years ago. It means "he who dreams", referring to a spiritual leader.
For Native American peoples, "Pow Wow" has come to refer to a special gathering or celebration. Traditionally, a Pow Wow was an annual event held after the winter snows had melted. Families — who had to travel great distances to find enough game to feed themselves throughout the harsh winter — reunited in the spring and celebrated with dancing, drumming, singing, and feasting.
Pow Wows also provided an opportunity to hold naming ceremonies and other traditional honouring ceremonies.
---
2008 Curve Lake Pow Wow – TVCogeco Peterborough
---
Curve Lake First Nation people are Anishnaabeg (pronounced "uhnish-nahbe") from the great Mississauga Nation. Pow Wows continue to be an important part of the lives of many Anishinaabeg (which includes the Odawa, Ojibwa, and Algonquin peoples) and are held on weekends from early spring to late fall throughout Canada and the United States.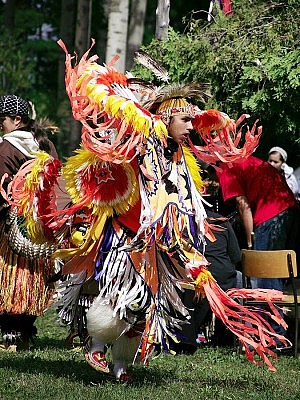 The Curve Lake First Nation Annual Pow Wow begins with a sunrise ceremony at 6 a.m. on both Saturday, September 19th, and Sunday, September 20th, with a light breakfast afterwards.
On both days, there will be a Blessing of the Grass at 11 a.m., followed by a dance out of new regalia and dancers at 11:30 a.m. At noon, the Grand Entry introduces all dancers, and is followed by regalia exhibitions and special songs throughout the afternoon.
A shuttle bus will be available between the Pow Wow grounds and various parking areas throughout Curve Lake First Nation from 10 a.m. to 5 p.m. each day. Golf carts will also be available at the admissions gate to take seniors and those with mobility problems to and from Pow Wow grounds.
Admission to the Pow Wow is $8 for adults and $5 for children (ages 6 to 12) and seniors (60 and over), and free for children 5 and under.
There will be also be lots of craft and food vendors available on the Pow Wow grounds.
The Pow Wow is an important cultural and heritage celebration, and ceremonies and dances have special meaning. If you've never been to a Pow Wow before, here are some etiquette tips:
Certain dances and ceremonies are not to be recorded or photographed. Please listen to the Master of Ceremonies for photo opportunities. If in doubt, ask permission.
Respect the privacy of all participants, including dancers, singers, craftspeople, and spectators. Ask permission before you photograph or record people.
Absolutely no drugs, alcohol, or pets are allowed on the Pow Wow grounds.
Everyone must stand (and men must remove their hats) during Grand Entry, Flag Songs, Invocation, Memorial, Veterans songs, and Closing song.
Do not touch the dancers' regalia. These have special meanings and the handmade regalia, which can cost thousands of dollars, are cherished and often made by a respected family member.
Unless you are wearing regalia, you may dance only during social songs. The Master of Ceremonies will announce these dances and invite all to join.
Remember to bring your own lawn chairs. The arena seating is reserved for the dancers and other participants.
For more information about the ceremonies, songs, drums, dances, and etiquette of the Pow Wow, make sure to read the Curve Lake First Nation Annual Pow Wow Brochure (PDF, 1MB).