The first Cultivate festival of food and drink took place this past weekend at Memorial Park in downtown Port Hope. kawarthaNOW's events editor Angela Johnson was there on Saturday and took a few photos.
In addition to food and drink, there were workshops on food, craft beer, beekeeping, and gardening, and musical performances by popular Canadian bands like Wintersleep, The Strumbellas, and Gentlemen Husbands.
There was also lots of local talent, with performances by Jimmy Bowskill, Dan Fewings, Kate Suhr, Melissa Payne, Catfish Willie, Kim Doolittle, The Wolfgang Brothers, and more.

Sunday featured the "Long Table Brunch", a buffet-style breakfast with food from partner farmers. The menu featured Osland Farms peameal bacon and sausage, Red Fife pancakes with PuddleDuck maple syrup, Wicklow Way hashbrowned potatoes, Burnham Farm apples, Yellowcake Bakery pastries, Electric City Bread Company bread, Cedar Hedge Farms sauteed tomatoes with garlic, and farm fresh eggs.
This weekend's festival was the kick-off event for Cultivate, a food tourism initiative designed to bring chefs, farmers, food producers, and brewmasters close together to ensure a local impact on restaurant menus.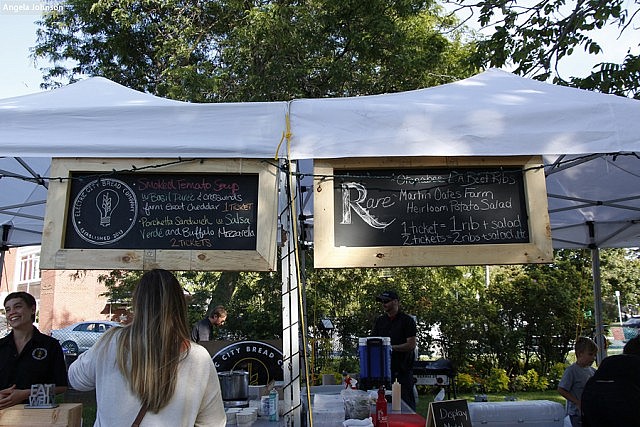 Cultivate has plans for other food tourism events through the year, including hosting farm dinners, organizing food tours, bringing more small festivals to the region, and more.
Cultivate is a not-for-profit organization operating under the umbrella of Local Food for Local Good, a charitable organization based in Cobourg that launched earlier this year. Local Food for Local Good is committed to helping communities develop a sustainable path to food security through education, fundraising, and project coordination.
For more information and to get involved in Cultivate, email info@cultivatefestival.ca. You can find out more about Local Food for Local Good on Facebook.
Photos from Cultivate
All photos courtesy of Angela Johnson.