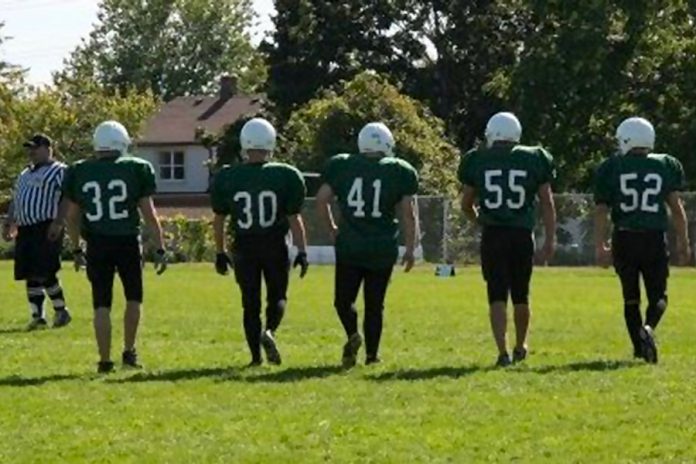 This Friday (October 2nd) sees the return of the Team 55 Friday Night Lights football game, a fundraiser to raise suicide awareness and support local mental health programs.
Team 55 is named in memory of Mitchell Pogue, a young man who took his own life in August 2013 (55 was Mitchell's football jersey number when he played for Adam Scott Secondary School). Within two months of Mitchell's death, his parents Dave and Heather had formed the "Team 55 Tackles Suicide Awareness" group.
"Despite our grief, we realized that we had a little momentum here and that we needed to capture it," Dave Pogue says. "Suicide is a horrible thing, so we'd better wake up and start talking about it."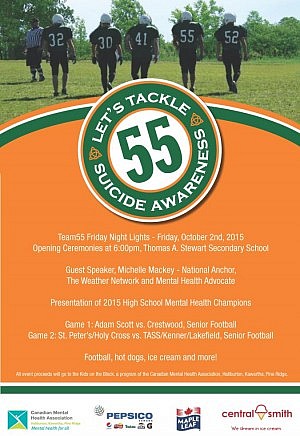 The third annual Team 55 Friday Night Lights takes place at the athletic field at Thomas A. Stewart Secondary School (TASS) with opening ceremonies at 6 p.m., where Pogue will provide an overview of "That's What Kids Can Do!", a new high school mental health challenge. This will be followed by presentations by local high schools Adam Scott, Crestwood, Holy Cross, Kenner, Lakefield District, St. Peter, and TASS — all vying for the 2015 High School Mental Health Champion Award.
The presentations will be followed by guest speaker Michelle Mackey, national anchor with The Weather Network, who became a mental health advocate after breaking her silence about her own struggles with mental health. The 24-year-old Mackey, a native of Peterborough who attended Adam Scott Collegiate and Vocational Institute and Trent University, will speak about mental health challenges during her late teens and early twenties, including anorexia, anxiety disorder, and depression.
The senior football double header gets underway at 7 p.m., when Adam Scott and Crestwood take to the field. The second game happens at 9 p.m., where combined teams St. Peter's and Holy Cross will take on TASS, Kenner, and Lakefield.
At half time, there will be an announcement by Gabe Robinson, retired defensive end for the Toronto Argonauts and TASS graduate, announcing the 2015 High School Mental Health Champion.
Admission to Friday Night Lights is by donation to the Team 55 Let's Tackle Suicide Awareness program. Team 55 t-shirts and wrist bands will be available for sale. During the evening, hot dogs, ice cream, and coffee will be provided by local sponsors Central Smith Creamery, Maple Leaf Foods, and PepsiCo, with proceeds to the cause. As well, Adam Scott will be running a 50/50 draw in support of Team 55.
All proceeds from the night will be donated to the Kids on the Block Program of the Canadian Mental Health Association Haliburton Kawartha Pine Ridge (CMHA HKPR). Kids on the Block uses puppetry to address important issues affecting the mental health of children through shows in elementary schools on learning disabilities, bullying, and living a balanced life. Last year, donations from Team 55 enabled over 1,000 local children to experience a Kids on the Block presentation.
Representatives from CMHA HKPR will be available during the evening to answer any questions.

Funds raised through Team 55 have also helped train 700 people in suicide prevention through the safeTALK (Suicide Alertness For Everyone) course. This three-hour course trains people to recognize the signs of suicide and teaches them how to respond and help lead people to professional support. Team 55 pays for the cost of materials for each participant, leaving the cost of registration at only $20 per person.
"It's three hours of your life to save someone else's," Pogue says.
The next safeTALK course is on Thursday, November 5th from 6 to 9 p.m. For more information about this and other CMHA HKPR programs, contact Jack Veitch at CMHA HKPR at 705-758-6687 ext. 1015 or jveitch@cmhahkpr.ca.
You can connect with Team 55 on Facebook at www.facebook.com/Team 55tacklessuicide and on Twitter @Team55Tackle.
---
Crestwood Secondary School's "No Stigma" video challenge to Jimmy Fallon
Crestwood Secondary School students plan to wear green tape on their ring fingers during the Friday Night Lights football event, as part of their video and social media campaign directed at late night talk show host Jimmy Fallon to reduce the stigma associated with mental illness.
The Jimmy Fallon No Stigma Challenge

In July of this year, Fallon explained on his show how a fall in the kitchen turned into a severe hand injury, requiring emergency surgery and 10 days in a hospital. He profusely thanked the doctors for their successful efforts to save his finger.
In their video addressed to Fallon, Crestwood students ask him if his story would have been told so freely had he been hospitalized because of mental illness, and challenge him to "Give Stigma The Finger". They are encouraging people to view and share the video with the #GiveStigmaTheFinger hashtag on social media.
---
All photos courtesy of Dave Pogue, except where noted.