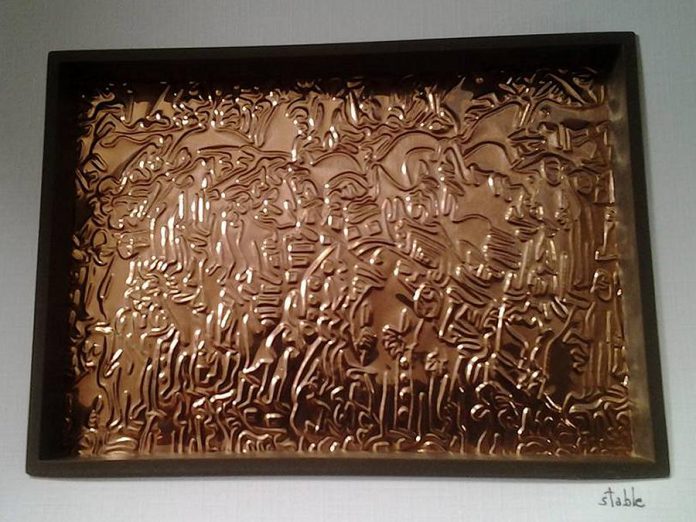 Chasing copper repoussé with Joe Stable at Gallery in the Attic
Cueing from recent experimentation with line drawing on a tablet in his "Picasso Series", Joe Stable has carried right on playfully delving into the possibilities of these swirling figures. If you caught his BLINK exhibit at St. Veronus for Artsweek, you'll have seen those drawings transferred to "stained glass" appliqués adorning its windows. In this exhibit, Stable takes these suggestive curves to yet another medium in copper repoussé.

The technique involves taking copper or any other malleable metal and ornamenting it by hammering or applying pressure on the reverse side to create a design. Stable has used this form to create a field of jumbled visually ambiguous figures interspersed with some more deliberate shapes and characters that jump out at you from the chaotic background. The effect is something akin to cloud gazing or the equivalent to a game of "peek-a-boo" — another example of Stable's puckish whimsy.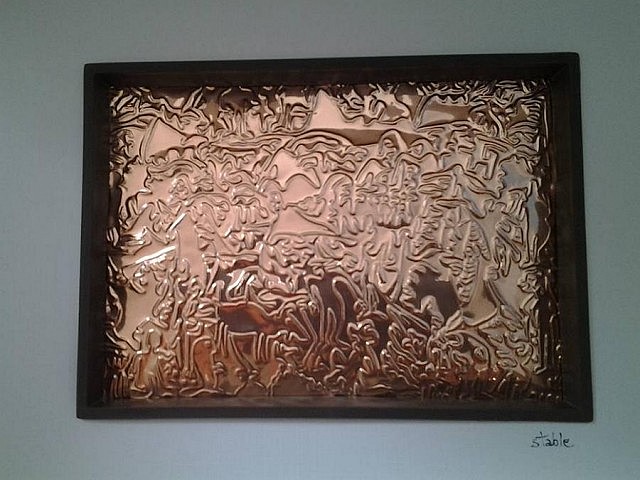 His new show will begin at Gallery in the Attic (140-1/2 Hunter St. W., Peterborough) in mid October and continue through the month. Stay tuned to Facebook for further details. For more information, email galleryintheattic@gmail.com or phone 705-868-1162. Gallery in the Attic is open Tuesday through Saturday from 12 to 5 p.m.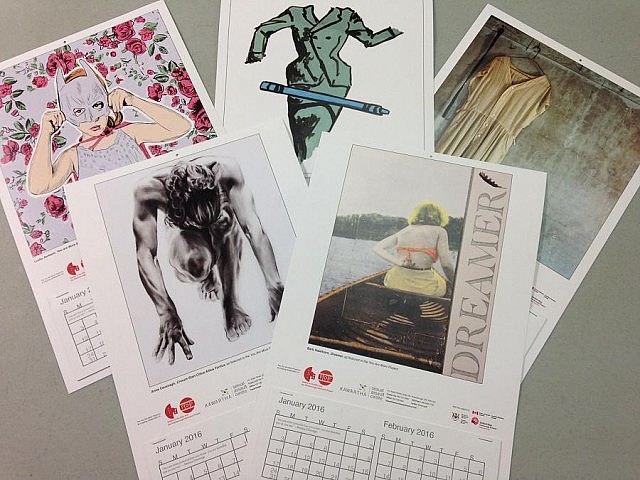 The "You Are More" calendars, featuring work from local artists, also continue to be available at the gallery. Proceeds from the sale of the calendars benefit local artists and the Kawartha Sexual Assault Centre. They are also available at Hi Ho Silver and the Community Butcher Shop, just around the corner on George Street.
Photos of his works courtesy of Joe Stable. Calendar photo courtesy of the Kawartha Sexual Assault Centre.
---
"Lustre and Ground" by Sarah Jane Gorlitz at the new Evans Contemporary
This latest exhibition is a fitting beginning for Paulo Fortin's grand new gallery at 129-1/2 Hunter Street West (just across the street from Gallery in the Attic). The invocation to "let there be light" has been heeded. The dizzying expanses of the new gallery space's wall-to-wall and floor-to-ceiling whiteness have been given over to Sarah Jane Gorlitz's interpretations on the transformative effects of light.
In speaking with Gorlitz at the opening, she recounted a time when she awoke one morning to piercing shafts of light streaming through a window during a stay abroad at the Bayswater Hotel. The combined effect of waking up in a strange location and the rather mystical way the light was streaming into the room left an impression on her. She would find out later that the layering of two sets of curtains was responsible for the effect. One set was pierced with a number of holes.
She takes this broad idea of the interplay between light and objects as the basis for the works in this show. In some cases, it is the continuation of that experience of light piercing through selectively from behind an object. In others, Gorlitz makes use of different mediums to explore how crystals refract light and colour, or how the suspension of an image in glass changes the way we perceive it.
"Lustre and Ground" continues at Evans Contemporary (129-1/2 Hunter St. W., 3rd Floor, Peterborough) until October 31st. The gallery is open for viewing Saturday from 12 to 6 p.m. or contact Paulo Fortin at evanscontemporary@gmail.com or by calling 705-874-6932 for a private viewing.
All photos courtesy of Evans Contemporary.
---
Pastel memories on display from Bill Batten at the Blackhoney Café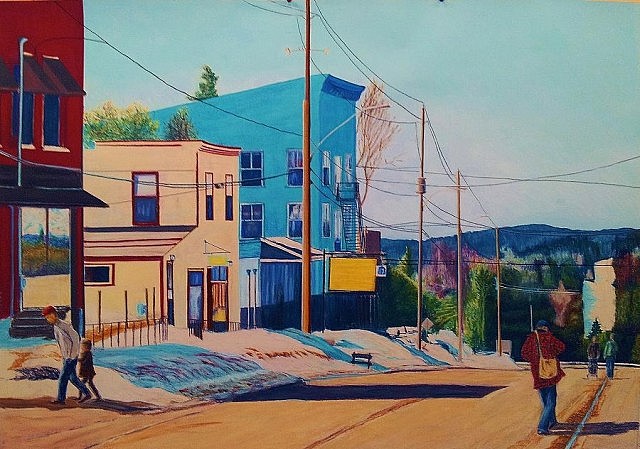 If you are familiar with the local art scene or have a history of patronage at The Only Café in Peterborough, then you will have already been acquainted with
Bill Batten
. The charming and disarming Batten is much loved and has been very much missed in his absence of shows over the past few years.
I was glad to discover some of his brightly coloured works in pastels had made it to the walls of Blackhoney just in time for this year's Artsweek. The show itself is a nostalgic journey featuring some local haunts, and at least one other local personality, that many will recognize.
These arrestingly simple and vivid scenes are approachable works with a broad appeal that many would be glad to display in their homes. For those who relate to some of the specific bits of nostalgia, they present themselves as soon-to-be cherished works of art.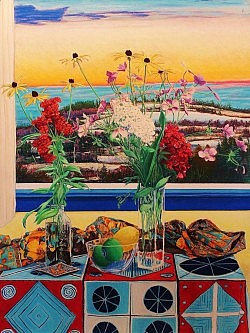 This exhibition of Batten's work continues until mid October at Blackhoney Café and Desserts (217 Hunter St. W., Peterborough). The café is open Monday to Thursday 8 a.m. to 10 p.m, Friday 8 a.m. to 11 p.m., Saturday 10 a.m. to 11 p.m., and Sunday 10 a.m. to 6 p.m. Brunch is served Saturdays and Sundays 10 a.m. to 3 p.m. For more information visit www.blackhoneydesserts.com or call 705-750-0024.
All photos courtesy of Lisa Dixon.
---
New Paintings from Meredith Bingham and Janet Read at Christensen Fine Art
Recently when I spoke with Peer and Lori Christensen, I learned that Janet Read has been showing works at their gallery since 1989. It's that kind of dedication to their relationships with artists that make their gallery so special. In the coming new year, they will be celebrating their 30th anniversary in downtown Peterborough.
October's show there featuring Read and Meredith Bingham is one of similarities and contrasts. Both these artists are accomplished abstract painters, so the sweeping lines of colour and indeterminate forms tie them together — but the marked difference in the style and personality in their pieces really sets them apart.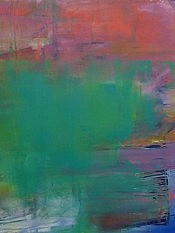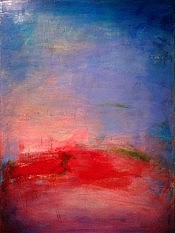 Read is a meditative painter whose long evolution of developing pieces brings to mind the tranquil environs of shorelines and sunset horizons. Bingham on the other hand is impulsive and bold, with flashing strokes and animated figures. The complimentary nature of seeing them side by side may have a few collectors looking to take one of each home with them so that they can keep them that way.
The October show at Christensen Fine Art (432 George St. N., Peterborough) opens with a reception on Friday, October 2nd from 6 to 9 p.m. and runs until October 24th. The gallery and store is open Monday to Friday 10 a.m. to 5:30 p.m. and Saturday 10 a.m. to 4 p.m. Visit www.christensenfineart.com or call 705-876-9623 for more information.
All photos courtesy of Christensen Fine Art.