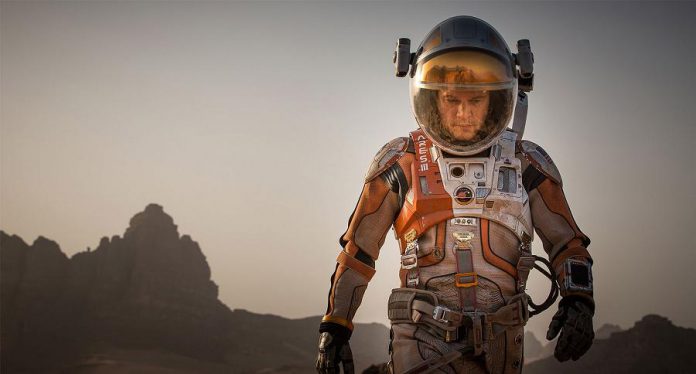 It's been a banner week for the Red Planet. NASA announced the confirmation of transient liquid water on its surface and rapidly draws closer to convening its first landing site selection workshop based primarily on human exploration.
What better natural promotion could there be for a big budget film based upon the triumph of the human spirit set against the expressive canyons and craters of Mars? Unfortunately, Ridley Scott's The Martian (based upon Andrew Weir's 2011 novel) is merely the latest in a series of orange-hued discount bin fodder.
What what you do if you were left for dead on the most hostile environment accessible to man 55 million miles away from Earth?
The promotional imagery may conjure up memories of Robinson Crusoe on Mars, but this soap is much more akin to Castaway in Space. Highly disappointing given the elegant pedigree of recent space adventures such as Interstellar and especially Gravity and, more gravely, that the man at the helm was responsible for the most frightening, claustrophobic science fiction film of all time, Alien.
It should have been such a successful match: Weir's exceptionally technical research into the design and execution of practical, scientifically accurate solutions to his protagonist's plight, and Scott whose fantasy films are renowned for taking moments of discovery and making them immortal. Though, one gets the sense that we're just watching an extended teaser for the new Prometheus film(s).

Matt Damon is Mark Watney, a botanist on a manned mission to Mars lead by the disco-loving — this informs much of the film's music — Commander Lewis (Jessica Chastain, wasted). Watney is lost in a flash sand storm, presumed deceased, and left behind by his former crew.
Watney, now a Martian in the literal sense, uses his knowledge of botany to ensure his food supply is renewable, as it will be at least three years before any aid could reach him. He quickly locates the derelict Pathfinder probe and builds a physical hexadecimal alphabet to communicate with NASA. You know it won't be long before Damon and Chastain are embracing.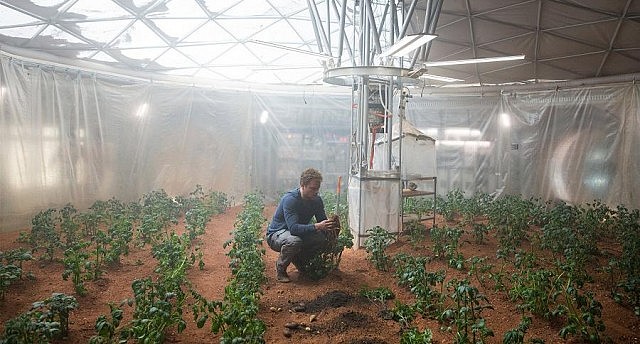 The deserts of Jordan (once again filling in for the sands of Mars) set to a strange Donna Summer soundtrack should be riveting, but the end result is considerably less than the sum of its parts. Instead, it is in the rare moments when we can enjoy the silence amidst the stunning amber scenery that the film actually invokes some wonder.
"Every morning I go out and look at the vast horizons just because I can," muses Watney. He is the first person to be alone on an entire planet. Everything he does is being done for the very first time. If only there was more of this stoic isolation to combat the flat, relentless attempts at humour.
So many dreadful kiss-off lines such as "I'm going to science the shit out of this!" and "Be careful out there … in space" make you wonder what they are going for with this.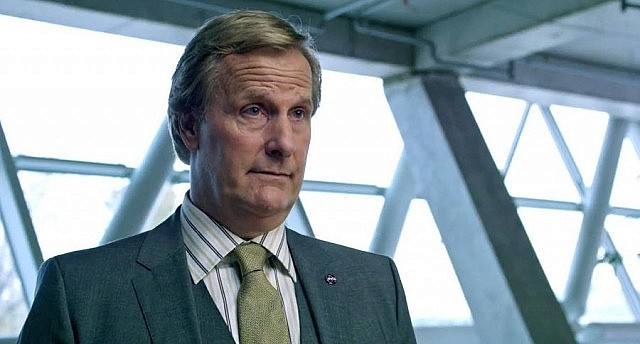 And that is the chief flaw of The Martian: Drew Goddard's badly balanced screenplay. Far too much of the film is spent on didactic explanations and problem solving back on Earth.
This may have worked for the novel, but on film it feels like two halves of a screenplay fighting for dominance — and neither half is interesting enough to be its own film. There is no sense of urgency for a situation that should be utterly suffocating.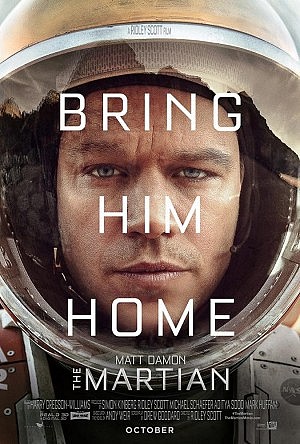 Jokes about naming a new rescue strategy after the Council of Elrond made to Sean Bean nearly breaks the fourth wall and continues to diminish any shred of emotional investment achieved at what should be the critical three-quarter point in the narrative.
Redundant subtitles introduce bland new characters spouting Sorkin-lite buzz jargon delivered by a pointlessly elaborate ensemble cast (Jeff Daniels, Kristen Wiig, Chiwetel Ejiofor, etc.) The over-qualified players fight for screen time like they were adults in a Harry Potter film, dragging and over-enunciating every fleeting line they have. Still, it is attractive subject matter at times.
Many good actors in small parts, and one movie star in the lead role. Damon, though likeable, does not possess the chops to ground the film emotionally and the frenetic narrative continually reminds us of this. Ironically, his recent appearance on the damage control hour formally known as Ellen — where he sought to clarify his controversial remarks about actor's achieving believability by maintaining their personal privacy — has only diminished his everyman credibility.
The "twist" solution can be spotted within the first five minutes, which makes this unfunny and boring film finally anticlimactic. Even the belated and obvious use of David Bowie can't inject any life.
The true alien here is any sense of fun or suspense. "The whole world is rooting for you!" I certainly wasn't.
---
The Martian Official Trailer
All photos courtesy of 20th Century Fox