Ron James is one of a rare breed: a successful comedian who chose to stay in Canada to pursue his dream. On October 25th and 26th, Ron will be performing two shows at Showplace in Peterborough as part of his "Pedal to the Metal" tour, and both will be recorded for a New Year's Eve special to air on CBC Television.
Most of us know Ron from his work in television, whether from Blackfly, Made in Canada, The Ron James Show, or his seven one-hour comedy specials. Ron has won two Canadian Comedy Awards, a Gemini Award for writing on This Hour Has 22 Minutes, and a Genie Award nomination for best supporting actor.
He's also made guest appearances on TV shows and in movies, done voice work for animated shows, and he's even writing a book to be published next year by Random House.
But all that belies his many years of hard work as a stand-up comedian. As he tells me in a telephone interview from his home in Toronto, he built his career in this country "one kilometre at a time".
Born in 1958 in Glace Bay in Cape Breton, Ron's family moved to Halifax while he was growing up. After graduating from Acadia University, he moved to Toronto in the early 1980s where he joined Second City. In the early 1990s, he moved to Los Angeles to pursue an acting career. After three years in California, he returned to Toronto where he stayed to raise his two daughters while touring the country to earn his reputation as "the funniest man in Canada."
I ask Ron whether growing up in the Maritimes gave him an edge in his career as a performer.
"I came from a very humorous tribe," he says. "They were great storytellers, my relatives. On my father's side were Newfoundlanders and on my mother's side were Cape Bretoners. As kids, we were always encouraged to stand on a chair and sing a song or tell a story."
"That's where I was funny: in the kitchen or in the classroom or in the schoolyard. I came from that world of black-and-white TV with one channel, so TV wasn't a predominant force then — which is ironic because I've made my living from it."
Despite his innate talent for comedy, Ron's family didn't encourage him to become a comedian.
"Thirty five years ago, becoming a comedian wasn't something that was encouraged, trust me," he laughs. "I might as well have said that I was joining the circus to become a fire-eater."
Perhaps that's one reason why Ron chose to study political science and history at Acadia University in Wolfville, Nova Scotia.
As it turns out, he was fortunate to have studied at Acadia during the tenure of the late Evelyn Garbary, a Welsh-born theatre artist and writer. Garbary, who was the university's Director of Drama at the time, was known for instilling the love of theatre arts in her students and she inspired many of them to pursue professional careers in the field.
"She encouraged me," Ron says. "I got into theatre and did a couple of plays. I had this ability to riff and to perform. I'd have these verbal jam sessions in the evening."
---
The Ron James Show – Ron talks about pest control and zombies
---
When I suggest that history and political science are the polar opposite of comedy, Ron disagrees.
"The arts are all about expression, the arts are all about satire — they all come from that place", he says. "My political science and history degree were very important for what I ended up doing. It's all about tipping the apple cart. Satire is always about looking up. You never look down and satirize, you always look up. It's about speaking the truth to power."
During our conversation, Ron keeps coming back to the idea of the comedian tipping the apple cart. He characterizes this as the "rebel soul", and his own soon emerges when the conversation turns to the federal election.
"We've never been under a stronger Orwellian jackboot than we have been for the last eight years," he says. "Just look at how the election has polarized this country. But you can't chastise Stephen Harper for not being honest. He said 'You won't recognize this country when I'm through with it.' There's a politician who told the truth. Because he did, and he changed it irrevocably."
"You have to make a decision. What do you want? Five CUPE members arguing about changing a light bulb in Mulcair's office or five Tory stormtroopers in short pants reading your email?"
While Ron clearly has strong opinions on the matter, he doesn't see his function as a stand-up comedian to be primarily political.
He tells me that American comedians — like Dennis Miller as the voice of the right or Bill Maher as the voice of the left ("the condescending voice of the left, quite frankly") — can afford to alienate half of the U.S. population and still appeal to 160 million people. Not so in Canada, with its population of 33 million.
"Something I've learned on the road is to get the room on the same page," he says. "You try to find subjects that can make everybody feel that we're in this game together."
"It's the comedian's job to negotiate the minefield of opinion and polarities and connect the dots in the chaos we're all walking through, in the language of funny. For the two hours somebody is in my audience, it's my job to make them feel at home, not to make them feel alienated."

Like many Canadian performers before him, Ron did leave the country at one point to pursue the elusive American dream. In the early 1990s, he moved to California to become a cast member in My Talk Show, a daily parody talk show created by members of Second City.
But the dream didn't last long: the show was cancelled after 59 episodes and Ron found himself living the cliché of a struggling actor trying to make it in L.A.
"To make a long story short, our picture was in Newsweek on Tuesday, we were cancelled on Thursday, and on Monday I was pulling a tree out of Robert Ulrich's front yard with my buddy's pool-digging company."
While Ron did find other acting jobs while in L.A., it was a struggle both professionally and financially. After a year, he decided it was time to pack it in and return with his family to Canada.

"It took a long time to shake it," he recalls. "Sometimes in the cold days of February or March when I'm travelling the flatlands of the Prairies and it's minus forty with this windchill coming down from the Arctic, I remember California."
"But there's a price to pay for paradise. I didn't want to raise my daughters there. My kids started calling George Bush's wife their grandmother. I said no, you're grandmother is a sweet little lady who lives in Halifax. We're going home."
Still, the historically aware comedian has respect for the United States when it comes to the rebel soul.
"America was sired from two revolutions, the Revolutionary War and the Civil War, as well as a myriad number of contentious civil rights movements," he says. "It's a country of contention and it's a country where the rebel soul has a place."
"Canada had one rebel, Louis Riel, who the Conservatives hunted down 140 years ago. Neither the Liberals nor the Conservatives have ever pardoned the man. You know you've got to be doing something right when Ottawa hates your guts that long."
I ask Ron whether he thinks a comedian's job is easier or harder these days, given how blurry the line has become between satire and reality.
"It's harder to a certain degree, because there's just so much information out there," he replies. "People have so many choices on how to spend their time and money. When it comes to the world, I'm just as confused as the next person. There's so much information coming down the pipe, I expect to look out the front window and see one of the horses of the Apocalypse having a dump on my front lawn."
"What I'm looking for, like anyone, is some semblance of sanity and quiet amidst the cacophony of voices coming down from that Tower of Babel called cyberspace."
Ron relates what his friend, the late author Farley Mowat, once told him about satire.
"I used to visit him when I was down in Peterborough," Ron recalls. "He was a cantankerous sage who did not suffer fools, so I felt honoured he would let me sit and have lunch with him and his lovely wife Claire. I talked to him one day and he said, 'Ronnie, Canadians don't trust satire. So you gotta sneak in the back door and be sitting at the kitchen table before they even know you're in the house.'"
---
The Ron James Show: Wii Fit
---
I ask Ron why he chose to record his New Year's Special at Showplace Performance Centre in Peterborough.
"It's the theatre in the country that gave me a hat trick of sold-out shows," he explains. "It's a wonderful, intimate room where I've always heard the soul note singing."
"Because of the content of this show, there's going to be an intimacy. What Lynn Harvey and her company [Enter the Picture Productions Inc.] and the set designers and the production team are going to do at Showplace with visuals is going to knock your socks off."
"Peterborough is a great town," he adds. "It has the best demographic: it has rural close by, it's got Trent University, and it's got a downtown core. I've always had great shows there."
Ron tells me that his performances at Showplace will cut a wide swatch through contemporary culture.
"We've got everything, from whatever's going to happen in the election to the experience of Canadians during the election," he says. "They call it the election of the century, and that's appropriate because it's taken that long. It's about my experiences in the land and the country — I rafted through the Yukon in the summer, down the Firth River to the Beaufort Sea, surrounded by Americans who couldn't say enough good things about the country."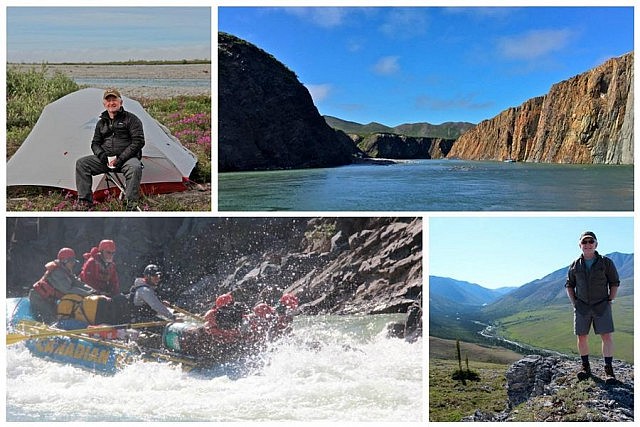 "We look at the American election, too. We dive into the Middle East. We take a look at the fraudulence of celebrity culture, and about the state of the country as a whole. It hits mid life. I tip my hat to the Me Generation as the future."
On the last point, Ron refers to his own two grown daughters.
"My eldest runs a human rights film festival in Glasgow," he says. "She got her masters in film and television. My youngest is at Guelph. They're such wonderful young women. They're inclusive, proactive, enlightened. This generation gets short shrift as being entitled from condescending Baby Boomers — the most entitled generation of all time. We spent the best years of our youth toked up and coked out while boogieing beneath a disco ball in a perm and super-wide flares and platform shoes."
As well as the rebel soul, Ron says the show is about embracing change.
"It's about moving forward, taking a look at the right things, and shirking fear," he says. "You don't want to be defiantly walking backwards to the wrong side of history, proud of your ignorance. But I want people leaving my show with a spring in their step and a smile on their face, rather than thinking the world has gone to hell in a handcart."
---
Ron James: Road Between My Ears (computer rant)
---
My final question for Ron is what motivates him to keep touring, now that he's in his late fifties.
"A mortgage, alimony, and the life force," he laughs.
"I'm so fortunate to actualize my calling in a country where I chose to make my living. I built a career in the country one kilometre at a time. I didn't do it chasing the American dream. I found it here in primal corners of the country. Whether it's around the tip of Lake Superior when some freight train of a wind chill is rattling across the Canadian Shield, or in corners of Victoria B.C., or up in Newfoundland, face to face with 1200 kilos of nostril-drooling ungulate in Gros Morne National Park."
"Or in Peterborough in winter, when I looked out the Holiday Inn window and saw a clown dancing on the sidewalk on a minus thirty day. I watched that clown for a half an hour and I thought 'Ronnie, sure the road can get tedious, but you have no room to complain.'"
But his true motivation is the reaction of the audience as he embraces his rebel soul.
"I love looking down at the front row and seeing three generations of one family laugh at the same joke," he says. "That's an achievement, and I'm proud of it. It's my job to bring them all together. At the same time, you've got to tip the apple cart. You can't be all things to all people. It's important to embrace the rebel soul without losing the room."