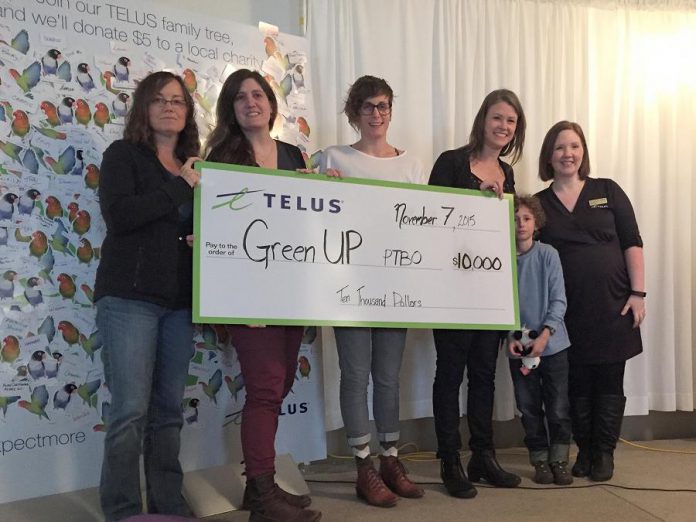 The TELUS Care-a-Van has been travelling across the country for months now, making a stop in Peterborough last week. The TELUS team arrived with an immense amount of energy, a truck full of gifts, and the desire to give back to their customers and greater community.

The TELUS Care-a-Van program strives to build healthy, strong, and sustainable communities and believes that, in order to do business, the company must "do good" in the communities where they live, work, and serve.
The program reflects the company's philosophy that the best way to thank customers for their support is "to pay it forward for their whole community by lending a helping hand on community projects and inviting neighbours to connect."
TELUS worked with GreenUP to achieve our mutual goals of inspiring and empowering environmentally healthy and sustainable action.
The campaign kicked off through social media, promoting awareness of GreenUP and TELUS Care-a-Van to more than 2,000 users while raising $10,000 for GreenUP's programming.
The funds from TELUS will help GreenUP to continue its exciting work with pollinators — including monarch butterfly rearing, tagging, and release — as well as the development of Peterborough's first community bee-keeping program that will launch later this month.
Donations also support water programs like Depave Paradise where, together with community partners, GreenUP removes large sections of asphalt, replacing them with beautiful rain gardens filled with native plants and shrubs.
The project demonstrates how these areas can more effectively filter runoff in urban spaces, while at the same time enhancing the health and beauty of our community.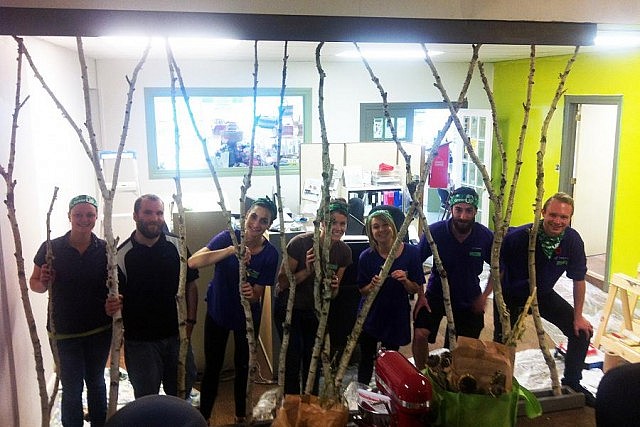 GreenUP's educational programs reached nearly 10,000 youth last year, in communities from the Lake Ontario shoreline to the far reaches of Peterborough County and the City of Kawartha Lakes.
These programs inspire and empower young people and their families to be active, responsible citizens through improving skills for safe cycling; raising awareness about reducing waste, recycling, and composting; as well as developing a greater appreciation of the natural world.
As part of their "pay it forward" mandate, members of the TELUS team volunteered their time to help the GreenUP staff with a DIY office rejuvenation project.
Together they built a room divider out of birch branches that has created a new reception and communal workspace area in the GreenUP office. This area will allow staff, volunteers, visitors, and partners to easily foster collaboration and healthy productivity.

The TELUS Care-a-Van team also spent the week surprising their customers with gift boxes to show appreciation for their loyalty. They showed up at two downtown coffee shops — Turnbull Café and Dreams of Beans — to buy everyone coffee, and they surprised families by paying public skating fees at Northcrest Arena.
The GreenUP team, including our board of directors, staff, volunteers, and supporters, would like to extend a heartfelt and sincere thank you to TELUS for an exciting, invigorating, and fruitful week full of community projects, social media connections, and new friends. We are very grateful for their generous donation.
For more information about volunteering, corporate sponsorships, and supporting GreenUP, please visit our website at www.greenup.on.ca or contact Karen Halley, Communications and Marketing Specialist, at karen.halley@greenup.on.ca or 705-745-3238 ext 202.
All photos courtesy of GreenUP.