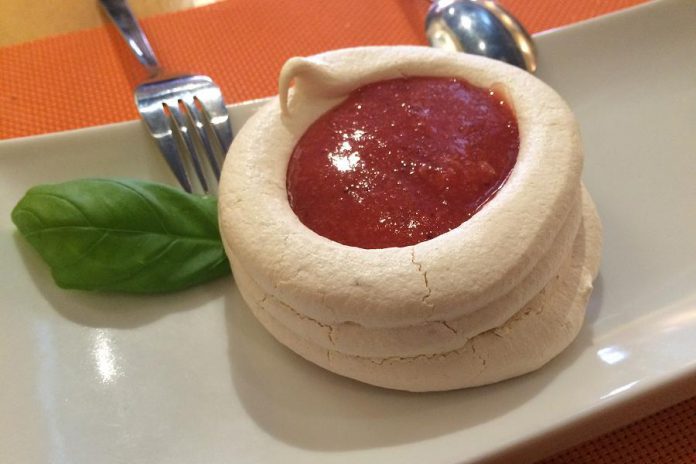 This month, our new food writer Eva Fisher features Dreams of Beans, Cross Wind Farm, Entomo Farms, BE Catering, food-related winners of the 2015 Kawartha Chamber of Commerce & Tourism Awards of Excellence, and Sam's Place.
---
Dreams of Beans lunch menu
Dreams of Beans Cafe (138 Hunter St. W., Peterborough, 705-742-2406) has recently launched a lunch menu. Created by chef Monica Silva, the menu features elegantly presented open faced sandwiches, soups, salads and desserts.
Owner Jatin Chanana attributes the success of the new menu to sampling. Customers are offered bite sized portions of menu items while they choose their meal. Jatin says "it has really taken hold. People are recognizing that it is made in house all fresh to order."
A graduate of Alambique in Madrid, Monica previously worked as a caterer in Spain. Her husband Alvaro de la Guardia says that she has cooked for clients including the Spanish royal family. Her recipes have been featured in well known publications including Elle España and Terra Muja. The Dreams of Beans menu features the food that Monica cooks at home for her five children. Many of the menu items have been made using recipes handed down from generation to generation in the Silva family.
The lunch menu is available Monday to Friday from 11 a.m. to 3 p.m. and features vegetarian, vegan and gluten free options. Dreams of Beans staples like freshly roasted coffee, baked goods, and the boureka are still available.
---
Cross Wind Farm celebrates their fifth anniversary with grand champion win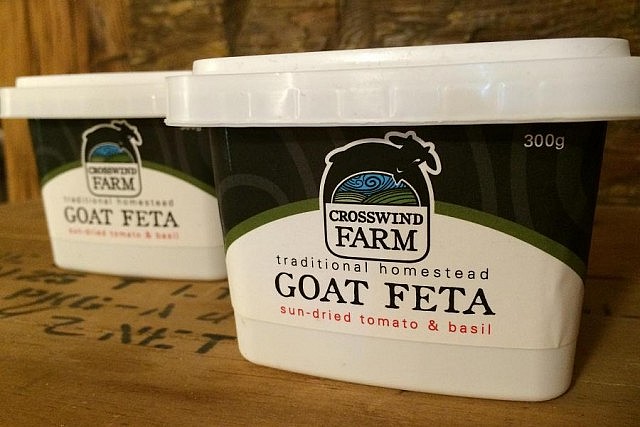 Cross Wind Farm (1616 Villiers Line, Keene, 705-295-6049) is celebrating their fifth anniversary with two big wins at the Royal Winter Fair. The Keene cheesery was named grand champion in the variety cheese category for their sun-dried tomato and basil goat feta, and has won second place in the unflavoured fresh cheese category for their original chèvre.
The feta is creamy, not overly salty and wonderfully seasoned. The chèvre is velvety and incredibly fresh tasting. It comes in a variety of flavours including Toasted Garlic, Cranberry Orange and Stinging Nettle. Crosswind Farm also offers a plain feta, a crottin style bloomy rind cheese and a four month aged goat cheddar.
Cindy Hope, owner and cheesemaker at Cross Wind Farms, attributes their success to a manageable rate of growth. "Throughout the past 5 years we have been faced with many opportunities that could have allowed us grow very fast, but we have stayed true to our original vision: to produce quality fresh products by keeping in touch with our customers everyday. For us this works. We have been able to grow gradually without compromising our quality and true farming values."
Cindy and her husband and business partner Kevin Hope are currently renovating their space to make room for additional vats, a move that Cindy says "will allow us more time for creativity."
Cross Wind Farm cheeses are available at a number of local stores, at the Peterborough Farmer's Market or at their farm gate at 1616 Villiers Line, Keene.
---
Entomo Farms: we are the insect farm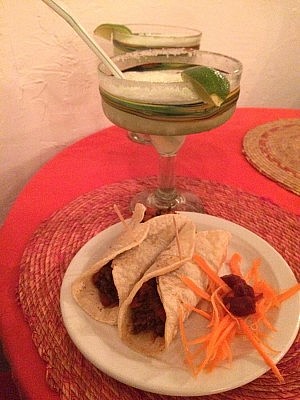 Norwood's Next Millenium Farm, the largest producer and processor of insect protein in North America, has rebranded and renamed itself Entomo Farm.
Brothers Jarrod, Ryan and Darren Goldin wanted there to be no doubt about their company's focus. Jarrod notes that the name change "gives us residence over the space. We are the insect farm."
Roasted crickets offer a satisfying crunch and a pleasant and mild savoury taste. You can try Entomo Farms crickets in Peterborough at La Hacienda (190 Hunter St. W., Peterborough, 705-742-1559), where you can order "Tacos de Grillo" (cricket tacos).
Although still relatively uncommon in Canadian cuisine, crickets are broadly enjoyed in many other countries including Mexico. La Hacienda server Leticia Cordova described several dishes including crickets served on a tortilla with chicharrón, which is a fried skin of pork, served with guacamole.
Crickets also offer health and environmental benefits: they are between 60-70% protein, very rich in fibre, about 30 times higher in vitamin B12 than beef and very high in iron. Crickets are an environmentally sustainable source of protein, producing almost no methane and requiring very little water, food or space to grow.
Entomo Farms launched their new website at www.entomofarms.com on November 2nd. They offer cricket powder, whole roasted crickets, and a "Bug Bistro" line of seasoned crickets and mealworms for purchase, as well as recipes, a food and water footprint calculator and more.
You can also follow their Twitter account @entomofarms where you can watch Governor General David Johnston eat a cricket.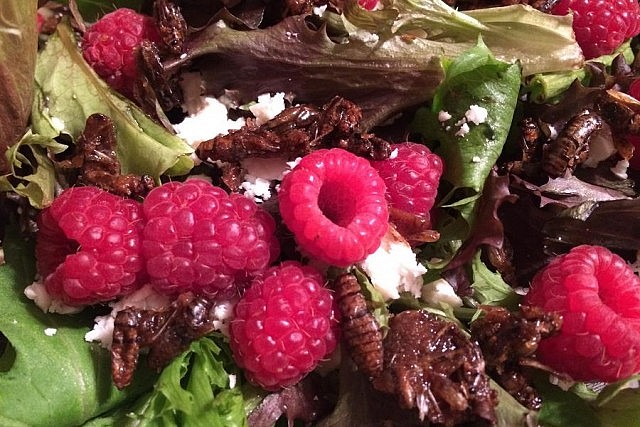 ---
BE Catering launches Luncheonette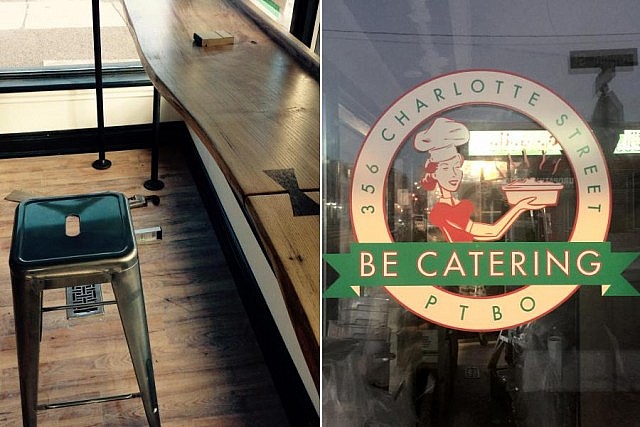 If you love fresh local food and a great cup of coffee, you may want to start spending more time at the corner of Park and Charlotte. Bonnie Kubica, chef proprietor of BE Catering, is currently overseeing the final stages of renovations that will turn the flatiron building at 356 Charlotte Street in Peterborough into Luncheonette, a coffee bar and lunch restaurant.
The building has been renovated to include a full kitchen, an indoor grill, and an artisanal lunch counter. Culinary gardens will take root at the front of the building.
Bonnie describes a menu "focusing on fresh, local and seasonal. A lot of our menu will depend on what we bring in from our growers."
True to BE Catering's eco-friendly ethic, the restaurant will also feature Ocean Wise fish, which has been sustainably caught. There will be ready made sandwiches and salads for those in a hurry as well as an expanded selection of casseroles to take home for dinner. On Saturdays they will offer brunch.
Luncheonette will be licensed. Bonnie is planning to carry local cider from a small batch cidery, one beer on tap, and a selection of drinks — including Caesars for brunch-goers.
Luncheonette is slated to open in mid November.
---
Kawartha Country Wines, Canoe & Paddle Pub, and Beachwood Resort honoured at Kawartha Chamber Gala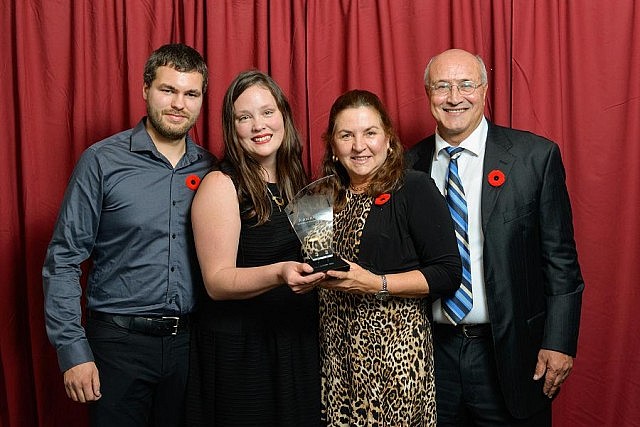 Several food industry businesses were honoured at the Kawartha Chamber of Commerce & Tourism 16th Annual Awards of Excellence Gala, which took place at Viamede Resort on Friday, November 6th.
Kawartha Country Wines (2452 Peterborough County Rd 36, Buckhorn, 705-657-9916) was named Retailer of the Year. Judges awarded the winery points for its knowledgeable staff, its sustainable environmental practises, and its broad range of innovative products. The winery makes hundreds of products on site in Buckhorn, including unusual offerings such as Pumpkin Wine, Raspberry Chocolate Dessert Drizzle and Balsam Fir Jelly.
The Canoe & Paddle Pub (18 Bridge St., Lakefield, 705-651-1111) was honoured with the Commercial Development or Renovations Award for their renovation of the former Hamblin's Restaurant and Ice Cream Parlour. The renovation includes a handcrafted bar built with a nod to classic canoe construction, complete with a canoe hanging above it.
Beachwood Resort (3043 Beachwood Dr., Lakefield, 705-657-3481) received the Tourism or Hospitality Excellence Award. Owned for generations by the Morgan family, the resort is home to the restaurant Frederick's at Beachwood. They offer cooking classes and "Beer vs Wine" dinners, where guests are offered wine and beer pairings with their meal and asked to vote to decide which beverage triumphs.
Other nominations from the Kawartha food sector included Church Key Brewery for Entrepreneur Innovation, Stoney Lake Market & Grill and Nuttshell Next Door for Customer Service Excellence, Canoe & Paddle for Tourism/Hospitality, and Beachwood Resort for Outstanding Business Achievement.
---
Eat Like Ron James at Sam's Place
Comedian Ron James was spotted this month at Sam's Place "The Best Dan Deli In Town" (188 Hunter St. W., Peterborough, 705-876-1900).
He ordered a B&E Sandwich, which features locally sourced bacon, fried egg, mayonnaise, lettuce, tomato and old cheddar cheese. Want to eat like Ron? When he eats like that, of course you do.
Sam's Place is open Monday to Friday from 10 a.m. to 7 p.m. and Saturday from 10 a.m. to 5 p.m.