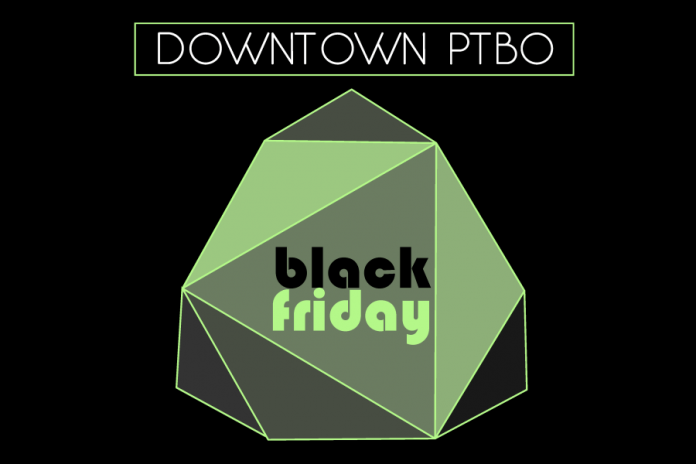 For the third year in a row, businesses in Downtown Peterborough are participating in a Black Friday promotion, with big discounts on many items and services on Friday, November 27th.
Most participating Downtown Peterborough businesses are opening early on Black Friday, at 8 a.m., so customers can take advantage of door-crasher offers and longer shopping hours. Look for businesses with the Black Friday poster in their windows and Black Friday balloons.
Black Friday — the day after American Thanksgiving — is an import from the United States, where it's considered the beginning of the holiday shopping season.
In 2009, Canadian retailers began adopting Black Friday as a way to encourage people to spend their shopping dollars in Canada. Downtown Peterborough launched its first Black Friday promotion in 2013 and the event has continued to grow in popularity. That first year, 66 businesses participated; this year, more than 100 businesses are taking part in the promotion.
"There's more selection than ever this Black Friday in downtown Peterborough," says Terry Guiel, Executive Director of the Peterborough DBIA. "That means there are more opportunities for great deals on unique items, services and food while shopping local."
While Boxing Day remains the biggest sale day in Canada, shopping on Black Friday has a couple of distinct advantages: you can avoid the chaos of Boxing Day crowds while finding a better selection of products, since retailers are fully stocked for the holiday shopping season.

And shopping in Downtown Peterborough on Black Friday has even more advantages.
While you can expect to find deep discounts on big-ticket items like furniture and electronics, you can also find deals on clothing, jewelry, toys, sporting goods, unique gift items and collectibles that you just can't find at the malls and big box stores, and savings on personal services at beauty salons, spas, gyms, and more.
And because downtown businesses are opening so early on Black Friday, you can even get some shopping done before you head to work.
Even if you aren't shopping, you can still head to Downtown Peterborough on Black Friday for special promotions and giveaways offered by participating restaurants, cafes, and pubs.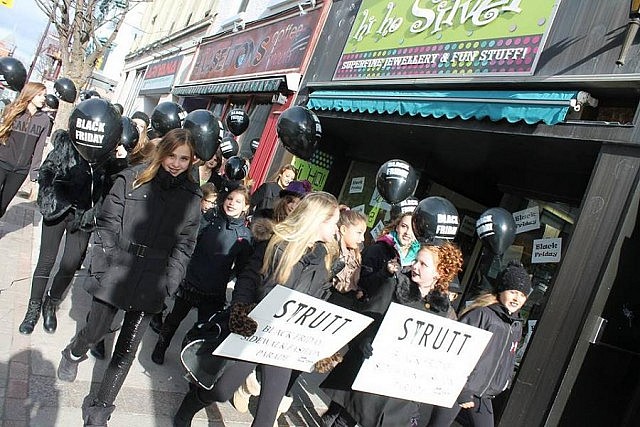 There's also the added benefit of the Holiday Shopping Passport program in Downtown Peterborough, which is running now through the holiday shopping season. (See our story for a map and list of all the businesses participating in the program.)
Get your passport stamped for every $10 you spend at a participating business on Black Friday (or any day until January 5th). Once you have 20 stamps, your completed passport gets entered in one of four draws for up to $2,500 in gift certificates.
If you're driving, you can also park free for two hours in Downtown Peterborough beginning on Black Friday and continuing until the end of December — and any money you put in the parking machines will be donated to Kawartha Food Share.
Finally, shopping in Downtown Peterborough on Black Friday will also make you feel good — not only because you'll find unique gifts while saving money, but because you're supporting the small locally owned businesses that drive the economy.