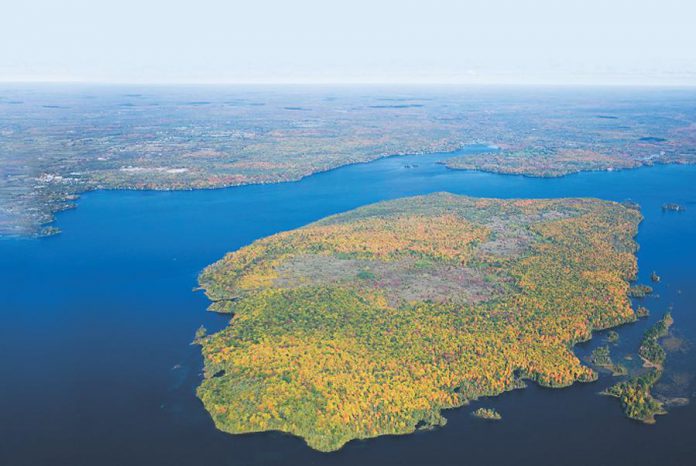 On Monday, November 23rd, Bobcaygeon's Kawartha Dairy committed to a pledge of $10,000 toward the Kawartha Land Trust's campaign to save Boyd Island.
Along with a pledge of $10,000 from British Empire Fuels on November 16th, the campaign has now reached $872,883.
Community support has been a key factor in getting the Kawartha Land Trust closer to its goal of raising $1 million toward the securement and preservation of Boyd Island by November 30th, 2015.
Kawartha Dairy also added "a very generous additional amount" in memory of Jack and Ila Crowe, who founded the company in 1937. Many other businesses in the area have stepped up as well, wishing to see Boyd Island preserved.
"The whole community is behind this project," says Mike Hendren, executive director of Kawartha Land Trust. "Given the generosity and support we've seen so far, I am highly confident we will make our goal on time."
As the largest undeveloped and unprotected island in southern Ontario, Boyd Island is home to unspoiled wetlands, diverse and old growth forests, wildlife, and a wide variety of plant species.
First Nations peoples used this Island as a meeting and harvesting place thousands of years ago and today it has compelling cultural value to them and to many others in the area. At Curve Lake, some refer to the Big Island as Chiminis.
The current landowner intends to generously donate the island to Kawartha Land Trust, provided that the registered charity can raise the funds necessary to manage the property in a natural state in perpetuity can be raised before November 30th, 2015.
The goal is to raise $1 million, which will generate sufficient annual income to support basic stewardship activities on the Island.
For more information about the Save Boyd Island campaign and donation and pledge forms, visit www.kawarthalandtrust.org. You can also make an online donation. Tax receipts will be issued for all donations.
---
Boyd Island – Preserving Our Past, Protecting Our Future – Kawartha Land Trust
Photo courtesy of Kawartha Land Trust.