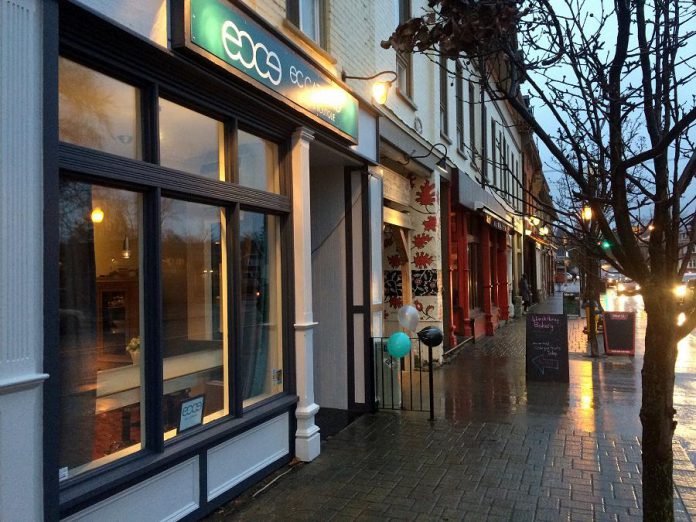 This month, food writer Eva Fisher checks in to EC Catering's new location, explores the world of barrel-aged cocktails, and discovers the ultimate local food gift.
---
EC Catering returns home to the Hunter Street Cafe District
EC Catering (213 Hunter St. W., Peterborough, 705-768-2474) has opened a new location in the heart of the Hunter Street Cafe District. They offer full service catering, fresh takeout, and ready-made meals.
Owner Emma Cox started EC Catering in 2014 from what was formerly Parkhill on Hunter Restaurant. The decision to return her business to Hunter Street just felt right.
"We loved being downtown in the 'Cafe District' with our great neighbours," Emma says. "Being downtown is where we feel most at home."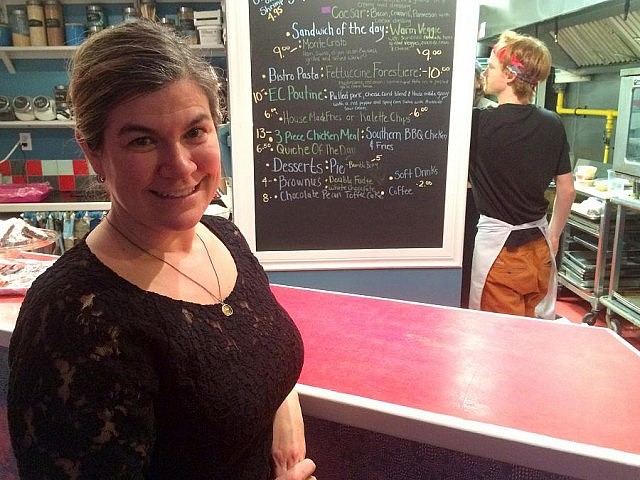 Their November 27th launch included a lunch menu featuring (among other options) pulled pork poutine with red pepper and spicy corn salsa and avocado sour cream, and a mixed green salad with cranberries, almonds and mandarins, and a passion fruit dressing.
They also offer a well-stocked fridge with osso buco, beef short ribs, lasagna, dips, oven-roasted root vegetables, and more — all in microwave-safe containers for easy reheating. The menu will change regularly, but high quality food and local ingredients will be mainstays.
EC Catering is open Tuesday to Friday from 11 a.m. to 3 p.m. for bistro lunch. You can grab a ready-made meal from Tuesday to Friday from 10 a.m. to 6 p.m. on Saturday from 11 a.m. to 2 p.m.
---
Roll out the barrel with barrel-aged cocktails from Le Petit Bar
You've probably had a barrel-aged wine, but have you ever tried a barrel-aged cocktail?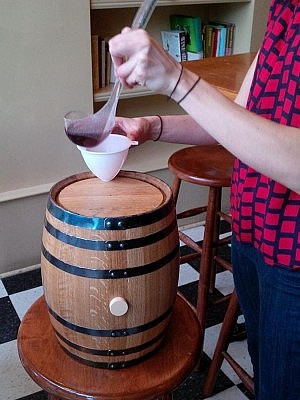 Shannon Mak of Le Petit Bar (399 Water St., Peterborough, 705-775-7384) is currently in the process of creating their first oak-aged libation, a Vieux Carré.
"We wanted to know what the oak and oxygen would do to the flavour of the cocktail," says Shannon. "We're hoping it will pick up a lot of the flavours of toasted oak, vanilla and caramel, and that the oxygen will round out the edges."
The Vieux Carré originated in New Orleans. It was invented at the famed Carousel Bar in the 1930s. Le Petit Bar's take on the classic contains brandy, rye, Bénédictine and Lillet Rouge.
The ingredients were mixed in a punch bowl, tasted, then transferred to an 8-litre oak barrel on November 13th. It now sits above the bar, where it's rotated and tasted every few days. Shannon says that already the barrel aging process has created a more harmonious cocktail.
"Theoretically it should taste like the most balanced cocktail we've ever been able to produce because it has had time to sit and really blend together the flavours."
The estimated date of completion for the Vieux Carré is December 10th, but it needs to pass a demanding taste test before it will be available to the public.
If the Vieux Carré isn't ready yet, you could try Le Petit Bar's "Hot Autumn" instead — a take on the hot toddy featuring Brandy, Drambuie, and Earl Grey syrup.
---
Kawartha Local is produced, packaged, and delivered locally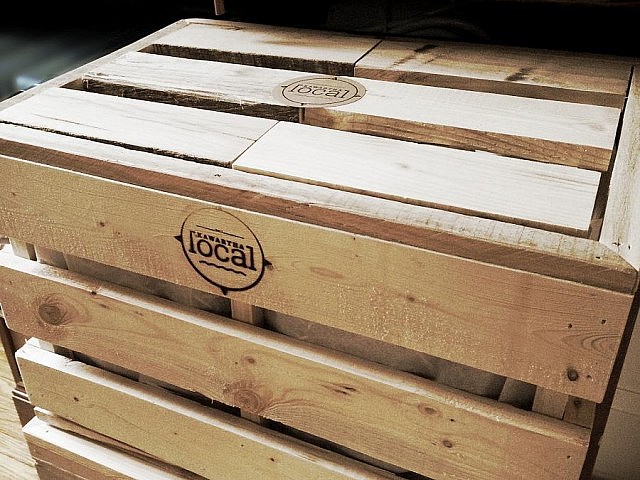 Forget the big box stores this holiday season — instead try Peterborough's new small box store. On December 2nd, Rob Howard launched Kawartha Local, a company offering goods that are made strictly in the Kawartha region.
Kawartha Local's first product, Kawartha's Best Gift Crate, contains a range of local products in a bespoke wooden crate. Each crate contains handmade pottery and food from local suppliers including Sugar Daddy Fresh Sodas, The Chocolate Rabbit, Carolina's Columbia, OtonaBEE Apiary, Sugar Valley Farm, Hard Winter Bread Company, and Mclean Berry Farm. It retails for $132.
The crate is made by Sustain Furniture, a Lakefield company that uses locally reclaimed wood. After it's emptied, it can be used as an end table or shelf. Rob wanted to make the packaging sustainable.
"It's nice to get something where you can actually use the container that it came in," Rob says, "rather than recycling it or throwing it away."
Erin McLean, owner of McLean Berry Farm, speaks highly of the new company.
"We think it's a great initiative to help foster the buy local movement and make it even easier for people to support all of the amazing small businesses our region has to offer."
Rob is currently working on developing a smaller version of the crate, which will retail for around $60. He is also developing themed crates for gardeners and sweet tooths — as well as a beverage crate.
Rob plans to open a brick-and-mortar store in downtown Peterborough this spring. For now, you can order online at www.kawarthalocal.ca.