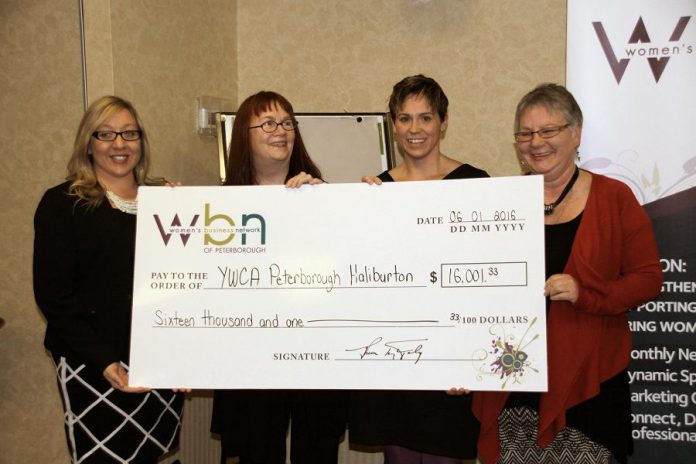 At its meeting yesterday night at the Holiday Inn, the Women's Business Network (WBN) of Peterborough presented a cheque for $16,001.33 for the Nutritional Well-Being program at YWCA Peterborough Haliburton's Crossroads Shelter.
WBN raised the funds from live and silent auctions at the organization's Holiday Gala and Auction Fundraiser in December, which was attended by nearly 150 members and guests from the business community,
"The theme this year was 'It's a Wonderful Life' which, at first glance, seems to conflict with the day-to-day reality of the people this event raises money for," said WBN president Theresa Foley. "For the benefactors, it's not a wonderful life — it's a life of fear, struggle and loneliness."
"But it is truly a wonderful life when people share what they have with those who are less fortunate," Foley added. "Thank you to all who joined us at the Gala, and to the hardworking women who planned and orchestrated this massive event."
YWCA Crossroads Shelter's Nutritional Well-Being program helps local women and children who are victims of family violence receive healthy food, supplements, and vitamins. The funds donated by WBN will provide 1,388 days of food and well-being for local women and children.
In addition to receiving healthy meals for themselves and their children, women also learn about meal planning, food preparation, and the principles of nutrition.
With this donation, which surpassed its 2015 fundraising goal, WBN has raised a total of $252,100 for the Crossroads Shelter.
"For over 30 years, the Women's Business Network has had a positive connection with the women and children who depend on Crossroads for safety and support," said Lynn Zimmer, Executive Director of YWCA Peterborough Haliburton.
"When families arrive at Crossroads, mothers are often malnourished even if their children seem healthy and, at times, are too tired or too stressed to eat well," she continued. "Often it's been a choice between feeding her kids or feeding herself. At Crossroads, she can relax and take care of herself. Our kitchen counsellor not only prepares delicious home cooked meals that mothers can afford on a low income, but also teaches cooking classes showing them about the right foods to eat for their health. Food becomes a comfort again, instead of another source of anxiety."
Zimmer also expressed her thanks to everyone who donated or bought items at the WBN Holiday Gala and Auction Fundraiser.