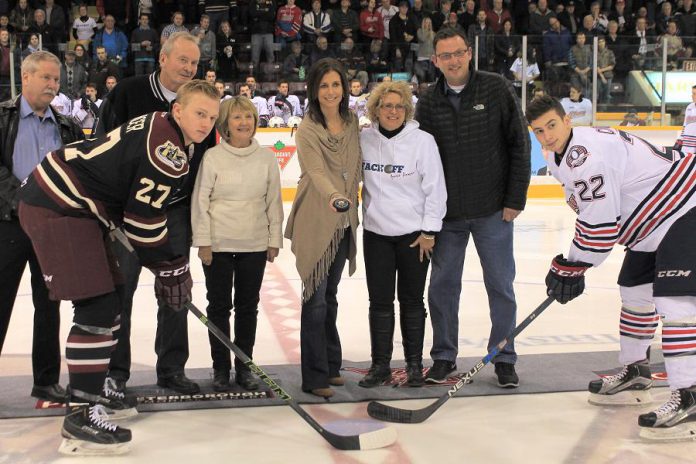 On Thursday, January 7th, the second annual "Faceoff Against Dementia" fundraiser raised over $16,000 for the Alzheimer Society of Peterborough, Kawartha Lakes, Northumberland & Haliburton.
Manon Rhéaume, called "The First Woman of Hockey" as the only female to have ever played in the NHL, was on hand for the ceremonial puck drop and to sign autographs and take photos with fans during the intermissions.
The Peterborogh Petes faced off against archrivals the Oshawa Generals. Although the Generals prevailed in a thrilling 4-3 shootout, winning Faceoff Against Dementia trophy, the fans enjoyed a fun game while supporting a great cause.
Aside from donations accepted at the meet and greet with Rhéaume, the Alzheimer Society raised money through a chuck-a-puck, a $4 fundraising ticket promo code, a silent auction, a bucket pass coordinated by Peterborough Police and Fire Services, and through the sale of Peterborough's famous Murney suckers.
The Petes won against the Generals at last year's inaugural Faceoff Against Dementia game, which raised $12,000 — bringing the total raised in two years to $28,000.
January is Alzheimer's Awareness Month, and fans looking to support the Alzheimer Society further can attend the Walk for Alzheimer's on Sunday, January 31st.