Manon Rhéaume, the first and only woman to have ever played in the National Hockey League, is coming to Peterborough for three events this week.
On Thursday, January 7th, she'll be at a fundraising breakfast for the Alzheimer Society of Peterborough, Kawartha Lakes, Northumberland & Haliburton and in the evening will drop the puck at the Alzheimer Society's second annual "Face off Against Dementia" hockey game, when the Peterborough Petes take on the 2015 Memorial Cup champions Oshawa Generals.
The previous night, she'll be the keynote speaker at the Women's Business Network (WBN) of Peterborough meeting at the Holiday Inn Peterborough-Waterfront.
"Having a female athlete like Manon come to speak to us is an opportunity for the WBN to hear from someone who has broken through barriers, using the lessons she has learned on the ice," says Louise Racine, Program Director for the WBN. "We hope young women in our community who are involved in sports will join us and be inspired by her message."
The morning following her speech to WBN, Rhéaume will be at a fundraiser breakfast hosted by the Alzheimer Society. The breakfast takes place from 8 a.m. to 10 a.m. on Thursday, January 7th at Ricky's All Day Grill (898 Monaghan Rd., Peterborough). Tickets are $15 for adults and $12 for children under 12 and are available online. All proceeds go to local Alzheimer Society programs and services.
On Thursday night at the Petes game, Rhéaume will participate in the ceremonial puck drop and will also be signing autographs during a meet-and-greet session in the North Lobby during the first and second intermissions.

In addition to Rhéaume, the "Faceoff Against Dementia" game will also include a fundraising chuck-a-puck (with prizes including Toronto Maple Leafs tickets) and a silent auction (featuring items such as NHL authenticated jerseys, Tree Top Trekker vouchers, Canadian Hockey Enterprises week at camp, and more). Last year's event, which raised over $12,000 in support of Alzheimer Society programs and services, also saw the Petes face off against the Generals.
"We were delighted with the response of the community with our first annual hockey game and are thrilled with the support of both the Peterborough Petes and the Oshawa Generals," says Susan Dunkley, Alzheimer Society Fund Development Coordinator.
If you're going to the game at the Peterborough Memorial Centre, use the promotional code ALZ when buying tickets at the box office or online. You'll save $4 and the Petes will donate an additional $4 to the Alzheimer Society for every ALZ ticket sold.
Born in 1972 in Lac Beauport in Quebec, Rhéaume laced up her first pair of hockey skates when she was three years old. Her father was a hockey coach and she played goalie in her first competitive tournament when she was only five. When she got older, she'd help her younger brother Pascal practise by playing goalie (he went on to play for various teams in the NHL, including the New Jersey Devils when they won the Stanley Cup in 2003).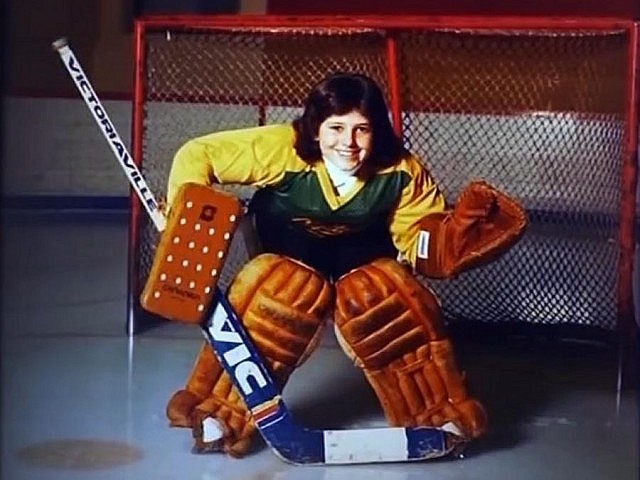 As a child, Rhéaume played on boys' teams at school and in youth leagues and, at the age of 11, played at the International Pee Wee Hockey Tournament of Quebec — the first time a girl had ever played. When she was 19, Rhéaume became the first woman to play in a major junior hockey game, as goalie for Trois-Rivières Draveurs in the Quebec Major Junior Hockey League.
In the fall of 1992, the NHL expansion team Tampa Bay Lightning invited Rheaume to their training camp. Partially to draw attention to the new team, Rheaume was put on the ice to become the first woman to play in the NHL. She played one period of a pre-season exhibition game against the St. Louis Blues, where she faced nine shots and saved seven of them (the following year, she played in another exhibition game against the Boston Bruins).
"When I got invited to Tampa Bay, a lot of people were saying it's just a publicity stunt and they're using you," Rhéaume says in an interview with City TV. "I still had to perform. I still had to go out there and face 100-mile-an-hour shots every single day, getting bruised all over. Also, the guys didn't want a girl stopping them, so they were shooting harder at me."

After the pre-season, she signed a three-year deal to play in Tampa Bay's minor league organization, the Atlanta Knights. In 1993, she played in a regular season game for the Knights against the Salt Lake City Golden Eagles — the first time a woman played in a regular season men's professional hockey game. She went on to play for seven different men's teams in four minor leagues over the years, along with a team in Austria.
"Most of the players on my teams were really supportive, but I had a few teams where one or two guys were not very happy with having a girl on the team," she says. "They made me life miserable. I remember one year this guy just wanted to shoot the puck at my head at every practice, and I just had to deal with it and not say a word."
But Rhéaume was not only playing hockey on men's teams: she was Team Canada's goaltender at the 1992 World Hockey Championship, giving up only two goals in three games, and the team won gold. She played again at the 1994 World Hockey Championship, where the team won gold again, and she was named "best goaltender" at both championships.
She went on to play for Team Canada at the Olympics in Nagano in 1998 — the first Olympic Games where women's hockey was an official event — and helped her team win the silver medal.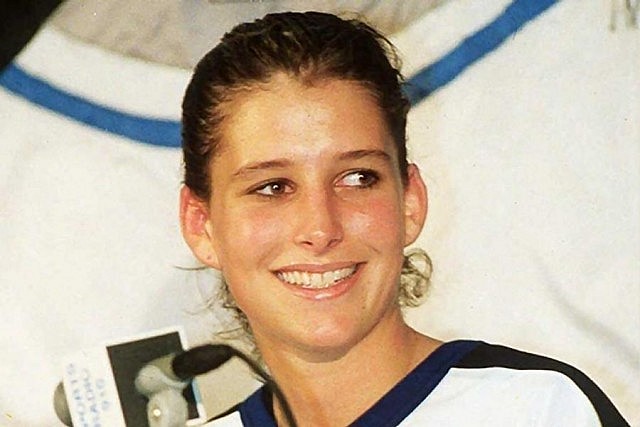 After retiring as a goalie in 2000, Rhéaume went on to work for Mission Hockey and as a coach, while raising two hockey-playing sons (one of whom will be playing with the Michigan Wolverines of the University of Michigan in 2018).
She also founded the Manon Rhéaume Foundation in 2008 as a way to give back to the community and to the game of hockey. The foundation inspires young girls to reach for their dreams while overcoming obstacles and also provides scholarships for young women.
Rhéaume has made numerous media appearances, including The Today Show, 20/20, Late Night with David Letterman, and Entertainment Tonight. A biopic about her career called Between the Pipes is currently in development and will be released theatrically in 2017. Producer/writer Angie Bullaro will be portraying Rhéaume.
Between the Pipes teaser