It's a strange time to be a Quentin Tarantino fan. His output throughout the last decade has been incoherent and self-indulgent — he seemed to be resting on the lofty laurels he earned by defining cool in the '90s.
The brilliance of films like Reservoir Dogs, Pulp Fiction, and especially Jackie Brown (his unsung masterpiece) was their firmly contemporary settings imbued with a fierce retro-cleverness that warmly homaged a litany of mostly forgotten cult fare, and harnessed that energy to set trends in all arenas of entertainment hungry for both money and legitimacy.

This technique reached its visionary zenith with the hysteric and operatic Kill Bill saga. That dazzling east-meets-west revenge fable saw Tarantino's perennial muse Uma Thurman mugging as Bruce Lee and Clint Eastwood by way of I Spit on Your Grave. Its pulsating imagery and soundtrack continue to reverberate in new media.
Unfortunately, Tarantino lost the plot with Inglorious Basterds and Django Unchained, which bizarrely reversed his trademark winning formula. Both were set in specific places and times clearly — and unfavourably — marked in our collective memory: Nazi-occupied France and peak slavery Antebellum South.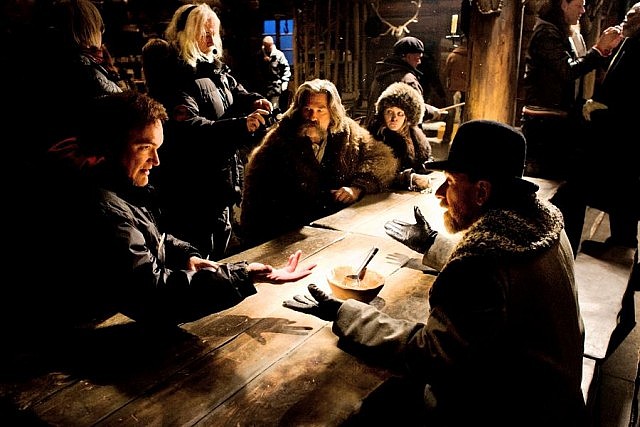 There's a lot to like and a lot to dislike about these films. The characteristically well-chosen music and engaging (if frequently overly wordy) dialogue were as pervasive as always, but they fought a losing battle to establish new popular historical fiction against classically oppressive chapters in human conflict. You can use the past to define the present, but you can't use the present to define the past.
Tarantino's 2013 announcement that his next film would be yet another foray into westerns (a genre he's been mining for what feels like ages now) looked as if it would continue this tedious pattern.
What a pleasant surprise then that The Hateful Eight (the eight being a reference to it being his eighth film, inspired by Fellini's legendary 8½) turns out to be Tarantino's strongest and most focused creation in years.
The style-shifting pyrotechnics are finally put on hold to thoroughly explore and realize a proper western world that's so densely immersive you feel like you're watching the birth of some new American mythology. This is likely the closest Tarantino will ever come to making a traditional period film.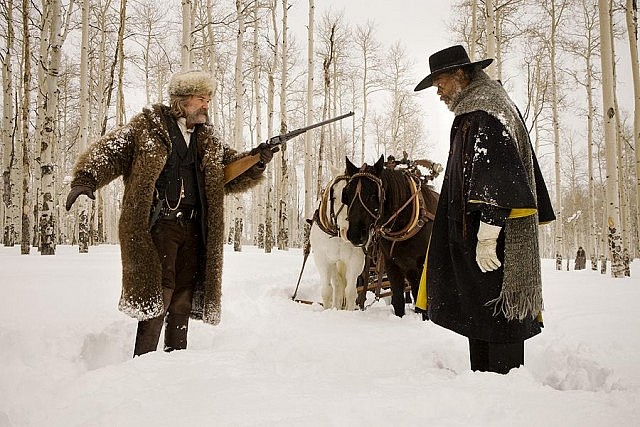 Decidedly filmed in glorious anamorphic 70mm (an increasingly rare type of film stock that grants exceptional clarity and the widest possible shots), Colorado has never looked more beautiful as the elements almost bend to the will of the camera. The expansive snow is deceptive in its scope, as the bulk of the narrative is a chamber piece where eight characters become trapped by a blizzard within a small mountain-side rest stop.
Comprised of five chapters, the film begins after the American Civil War. Tarantino stalwart Samuel L. Jackson portrays bounty hunter Major Marquis Warren — named after American director Charles Marquis Warren, who created the series Rawhide and translated the radio series Gunsmoke for television — who is transporting his latest bounty of three corpses to the town of Red Rock. The Major hitches a ride with a stagecoach containing John "The Hangman" Ruth (Kurt Russell) who is escorting the fugitive Daisy Domergue (Jennifer Jason Leigh) to Red Rock to watch her hang.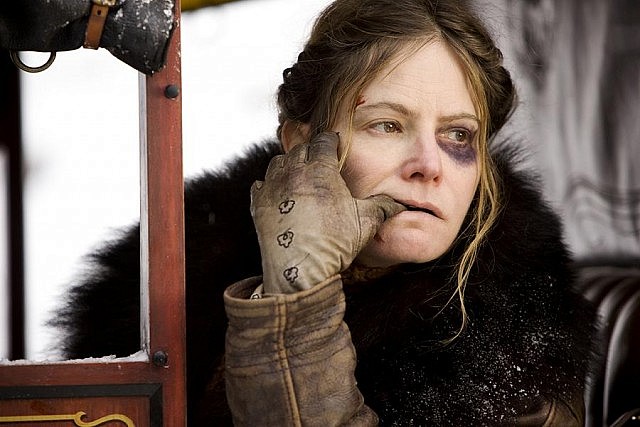 Along the way, they pick up the obnoxious Chris Mannix (Walton Goggins) who claims he is the new sheriff of Red Rock. When the motley crew reaches Minnie's Haberdashery to seek shelter from the growing storm, they meet Bob the Mexican (Demian Bashir), Oswaldo Mobray (Tim Roth), Joe Gage (Michael Madsen), and General Sanford Smithers (Bruce Dern).
These characters, who form the titular eight, are now trapped together for the next two days. The increasingly claustrophobic setting simmers with authentic tension between the excellently chosen ensemble cast — all of whom have something to hide.
The casting of Kurt Russell and the rare commissioned score from maestro Ennio Morricone (whose compositions Tarantino has "sampled" heavily for three of his previous works) signpost the biggest singular influence on this film: John Carpenter's 1982 masterpiece The Thing. Though here this snow-bound troupe of isolated misfits aren't hunting a duplicitous alien, but rather the genuine clashes of their varied social and economic backgrounds in a fledgling country still divided.

The slowly shifting attitudes over the abolishment of slavery and granting genuine equal rights is poignantly addressed by Jackson: "The only time black folks are safe is when white folks are disarmed." Social commentary is not a Tarantino calling card but it is surprisingly effective, especially when the opening reel contains relentless use of the N word and the lone prominent woman in the cast being repeatedly punched in the face for laughs.
That said, Jennifer Jason Leigh as Daisy Domergue steals the entire show. Shrewdly cast, she wipes the floor with the men and makes the often-stilted dialogue seem as natural as breathing. A Best Supporting Actress nomination, if not win, is in the bag.
What her character did to be treated with such loathsome contempt from the men that surround her is never properly revealed. And, in a way, that's the point. Tarantino has never been reknowned for his feminist treatment of women, but in these worlds he creates, everyone regardless of their gender is treated like garbage and equally disposable. One could argue that that is a form of equality.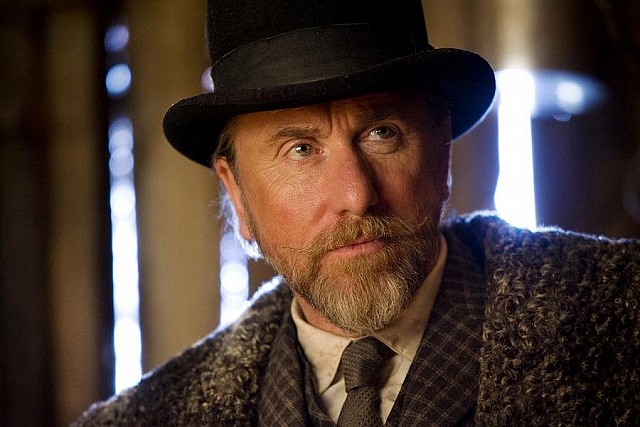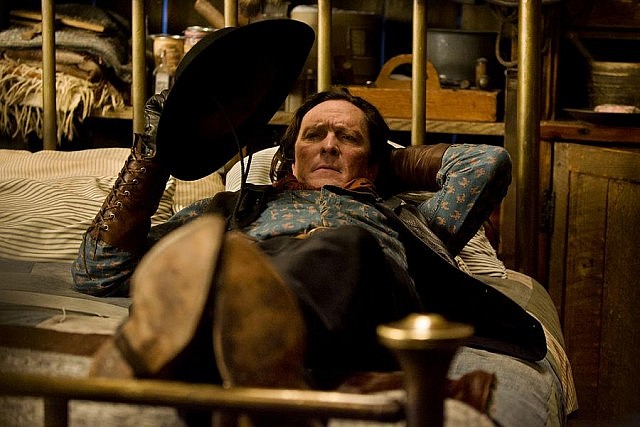 There are many dark delights to be had in this sprawling film and, when the inevitable violence finally erupts, no one is off limits. This is not a film for sensitive souls, though sensitive souls would likely never go anywhere near it. This is brutal, bloody Americana at its entertaining best.
As Tarantino currently battles a lawsuit over Django Unchained, a word that has frequently dogged him through out his career once again rears its head: plagiarism.
Ultimately, the difference between homage and plagiarism is what the viewer is willing to forgive. It's easy to criticize Tarantino's use of the wellspring when you're familiar with the original source material, but it's hard to find fault with someone who truly loves cinema and, knowing his populist reach, wants his audiences to discover some buried treasure.
In Tarantino's world, the only thing sacred is what's printed on celluloid.
---
The Hateful Eight – Official Trailer
Photos courtesy of Weinstein Films.