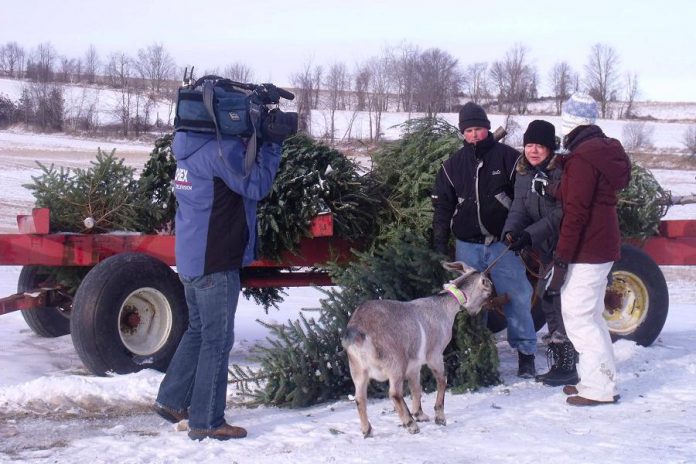 Depending on where you live in the Kawarthas, you can leave your tree at the curb for pick up, drop it off at a landfill, or feed it to a goat!
---
Feed the goats at Crosswind Farm in Keene
One again this year, Crosswind Farm in Keene is pleased to accept discarded Christmas trees for their goat herd.
Many people don't realize that goats love to eat conifer trees. A goat will strip the tree of all its barks and needles, which are rich in vitamins and act as natural dewormers when digested by the goat.
Crosswind Farm is located at 1616 Villiers Line in Keene. A drop-off area is just outside their farm store (where the cedar posts are set up). Please remember to remove all tinsel and decorations from your tree before bringing it to the farm.
For more information, visit their Facebook page or call 705-295-6049.
---
City of Peterborough
Free collection of Christmas trees in the City of Peterborough takes place throughout the month of January, until all trees have been collected.
You do not need to call the city to ask that your tree is collected — just leave it at the curb.
When your tree is picked up will depend on the weather. If there's a heavy snowfall, tree collection may be delayed. If it does snow heavily, make sure your tree is not covered with snow and remains visible from the curb.
Remember to remove all decorations from your tree, and do not bag or net your tree.
---
County of Peterborough
There is no curbside collection of Christmas trees in the County of Peterborough. Instead, you should drop off your tree during daylight hours at any one of the following five County yard locations:
Buckhorn 2292 County Road 36
Douro Depot: 713 County Road 4
Havelock: 649 County Road 46
Millbrook: 1111 County Road 10
Selwyn: 1275 County Road 24 (Centre Line Smith)
Remove all decorations, tree stands, and bags or nets. There is no charge to drop off your tree.
Artificial trees are not accepted at the above locations. If you wish to dispose of an artifical tree, take it to the Norwood Landfill at 87 County Rd 40 or to the Peterborough County/City Waste Management Facility at 1260 Bensfort Rd. Disposal fees may apply, and artificial trees in good condition may be donated for reuse.
---
City of Kawartha Lakes
There is no curbside collection of Christmas trees in the City of Kawartha Lakes.
Christmas trees are accepted at all waste management facilities (landfills) in the City of Kawartha Lakes, including Laxton, Eldon, Somerville, Fenelon, and Lindsay/Ops. Charges may apply.
---
County of Northumberland
For the Towns of Cobourg and Port Hope, curbside collection of Christmas trees runs from Monday, January 11th until Friday, January 15th, 2016.
Do not wrap your tree in plastic and remove all nails, metal, ornaments, tree stands, and tinsel from the trees.
In Cobourg, Christmas trees will also be accepted at the Public Works Yard at 390 King Street West from 8:00 a.m. until 3:00 p.m., Monday to Thursday, until January 22, 2016.
In Port Hope, if you live within the Williamsport Condo Corp, bring your tree to Strachan Street for pickup. Rural residents can take their tree to the Rural Works Yard (4741 5th Line) between the hours of 7:30 a.m. and 3:30 p.m. from Monday, January 11th until Friday, January 15th, 2016.
For other locations in Northumberland County, call your municipality for information on how to dispose of your Christmas tree.
---
Municipality of Trent Hills
Trent Hills is collecting trees at the curb on Tuesday, January 5th in the communities of Dartford, Hastings, Norham, Warkworth, Campbellford, and Trent River.
If you missed the curbside collection, you can drop off your tree at the Public Works Depots in Campbellford, Hastings, and Warkworth no later than Friday, January 8th.