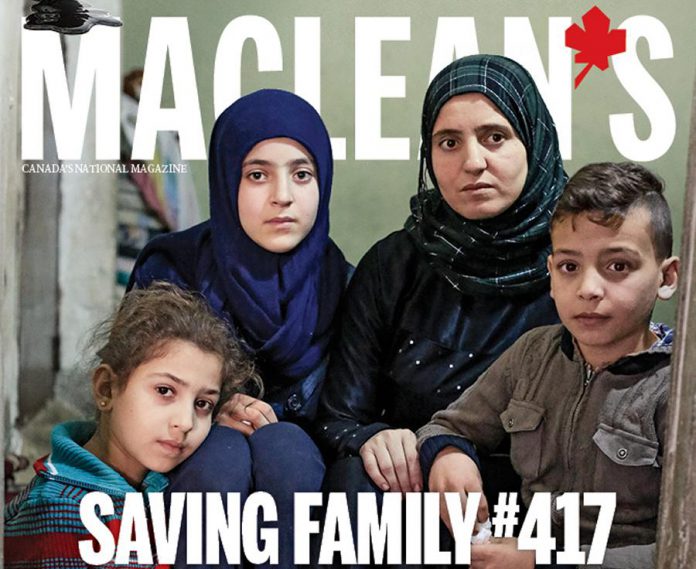 In its January 25th issue, Maclean's Magazine is profiling the story of a Syrian refugee family and the Peterborough community group who sponsored them.
"Saving Family No. 417" is written by investigative journalist Michael Friscolanti, who chronicles the inspiring journey of a group of 14 Peterborough and Millbrook residents — including a Canadian Forces veteran who served in Afghanistan, and a Vietnamese boat person anxious to pay forward the generosity that rescued her own family of refugees decades ago — who came together to sponsor the Alkhalaf family.
Back in October 2015, we covered the story of the Peterborough sponsor group, which calls itself Salaam Peterborough.
The co-sponsors in Salaam Peterborough are Tom Calwell, engineer and dance teacher; Lise Fines, teacher with the Peterborough Victoria Northumberland and Clarington Catholic District School Board (PVNCCDSB); Rick Fines, musician; Carla Gorman, teacher with PVNCCDSB; Kristy Hiltz, veterinarian; Myra Hirschberg, dance teacher and urban homesteader; David McNab, OPP constable; Stephanie Melles, Ryerson University professor; Lee-Anne Quinn, nurse practitioner, Canadian Forces UN Peacekeeper; Paulette Quinn, teacher with PVNCCDSB; and Trevor Middel, Brad Steinberg, and Phung Tran, biologists with the Ministry of Natural Resources and Forestry.
---
"We just know her name": how a group of Canadian strangers saved one family of Syrian refugees
Peterborough group: Kritzy Hiltz and David McNab
---
In his story, Friscolanti explains how the Salaam Peterborough group was matched with a family in desperate need: a single mother with three children, living somewhere in Lebanon. All the group knew was the mother's name — Amal Alkhalaf — but little else. They didn't know where the family lived in Lebanon and they had no way of contacting them.

So Friscolanti travelled to Lebanon to try to track down Amal Alkhalaf, and he eventually found her living in a squalid apartment in Beirut. He discovered she had no idea that her Peterborough sponsors even existed, and had never heard of Peterborough.
"I want to thank them one and two and three and four and five times, as much as I can," Alkhalaf told him. "They are going to take me out of this swamp and I will see the world again."
According to the Salaam Peterborough group, the family is currently living in a donated one bedroom apartment in Peterborough.
Local veterinarian Kristy Hiltz, who led the campaign to sponsor the Alkhalaf family, has posted about the Maclean's story on Facebook.
"We were very fortunate to have a journalist write an article chronicling the journey of Amal and her family, and our journey here in Canada, as we prepared for their arrival," she writes.
"I can't describe what a life changing journey this has been for us, and how deeply rewarding this has been for our family," she continues. "And if this story moves you, I encourage you to consider joining or starting a sponsorship group as well. The need is so great, and many of the families coming to Peterborough have family they had to leave behind. They would love to have the opportunity to come to Canada."
"Michael Friscolanti is an amazing guy," Lise Fines tells us. Lise, along with her husband and popular local musician Rick Fines, is also a member of the Salaam Peterborough sponsorship group.
The January 25th issue of Maclean's is available today on the Maclean's digital apps and on newsstands on Thursday.