This month, food writer Eva Fisher checks the menu for Peterborough's newest foodie fundraiser, talks seasonal food with the president of the Peterborough Farmers' Market, takes a look inside the ovens at Hard Winter Bread Company, and tastes some of the best hot chocolate the Kawarthas have to offer.
---
Your first look at the menu for Tour de Fork
From February 1st to 7th, 12 local restaurants will be offering prix fixe meals and special menu items for the first annual Tour de Fork Fundraiser in support of the Fairhaven Foundation.
Organizer Jaimie Bondy-Donohue was inspired by Peterborough's vibrant restaurant community.
"Peterborough has so many terrific restaurants to choose from," Jaimie explains. "Combining a dine-out with a fundraiser for the Fairhaven home just made sense."
When it came time to approach restaurants, Jaimie spoke first to Travis Smith, Front of House manager at Ashburnham Ale House (128 Hunter St.E., Peterborough, 705-874-0333).
"He not only gave us great feedback and advice, he also confirmed the Ale House's participation on the spot and approached many of the restaurants on our behalf," Jaimie says. "We feel fortunate to have been able to work with such a supportive community partner."
The list of participating restaurants also includes Elements (140 King St., Peterborough, 705-876-1116) which, among other offerings, will feature Spanish vegetarian croquettes made with garbanzo beans, lentils, quinoa and local root vegetables.
St. Veronus (129 Hunter St. W., Peterborough, 705-743-5714) is serving a two-course prix fixe with an entrée of house-made pork schnitzel with apple savoy cabbage slaw, beer mustard, stoemp and salad.
Dessert fans might be more interested in Ashburnham Ale House's Beerimisu, which contains Saviardi biscuits soaked in dark rum, Olde Stone Stout, espresso and Kahlua layered between whipped Mascarpone and cream and served with a drizzle of caramel sauce.
---
Map of participating restaurants
View larger map in separate window
---
10% of proceeds from each meal bought will be donated to the Fairhaven Foundation, where it will directly benefit the 256 residents currently at Fairhaven.
"Government funding does not completely cover the cost of new equipment or enhancements to our home." says Jaimie. "Gifts to the Fairhaven Foundation help to purchase much needed items."
Diners can also purchase passports for $5 at any participating restaurants and get their passports stamped when they order the prix fixe menu or special menu items. If diners order these items from at least two restaurants with their passports, they can enter a draw to win two tickets to Black Tie Bingo — the Foundation's gala event.
All of the funds raised from passport sales will benefit the Fairhaven Foundation. Note that passports aren't required to participate in the dining portion of the fundraiser; diners only need to purchase passports if they wish to be entered in the Black Tie Bingo ticket draw.
For more information, including prix fixe and menu options, visit www.fairhavenltc.com/fairhaven-foundation/tour-de-fork/.
---
Eating locally all winter long at the Peterborough Farmers' Market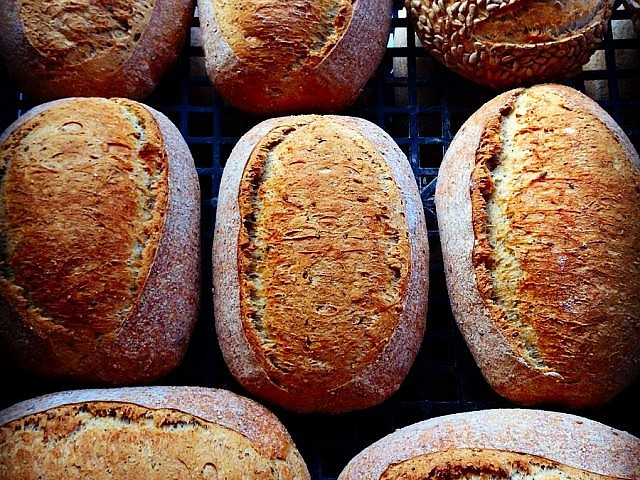 In the heart of a Canadian winter many would assume that locally grown food is hard to come by, but a trip to the Peterborough Farmers' Market (R.A. Morrow Memorial Park, Peterborough, 705-742-3276) will show you otherwise.
Root vegetables, brussels sprouts, apples and pears, mushrooms, garlic, meats, preserves, baked goods, cider, and more fill the 70 stalls at the Morrow Building every Saturday. The Kawarthas are home to a vibrant community of growers and producers that make it easy to eat local food year round.
Growers and producers are adapting to please a changing market. Jill Staples, of Staples Maple Syrup and president of the board of the market, has noticed that people are buying food less seasonally.
"We used to have people who would come and buy two gallons of maple syrup in the spring to last them all year," Jill says. "Now people come in for a litre at a time."
Growers are responding to this change with innovation.
"We have people with larger storage facilities now," she explains. "They can store their potatoes and root vegetables so the quality doesn't change. We have people with greenhouses that grow spinach and tender greens later in the season and start earlier."
Jill has been going to the winter market for over 30 years. Back then the market took place outside.
"They used to have a little wood stove outside and we'd go and get warmed up by the wood stove," she recalls.
Since those days the market has grown in popularity.
"We did a head survey last March and April, which tend to be quiet for us, and there were over 2,500 people through the door each Saturday."
For those not among the 2,500, the Peterborough Farmer's Market takes place every Saturday from 7 a.m. to 1 p.m. at Morrow Park (in the Morrow Building during the winter, and in the Memorial Centre parking lot during the warm weather).
---
Inside Hard Winter Bread Company's wood-fired oven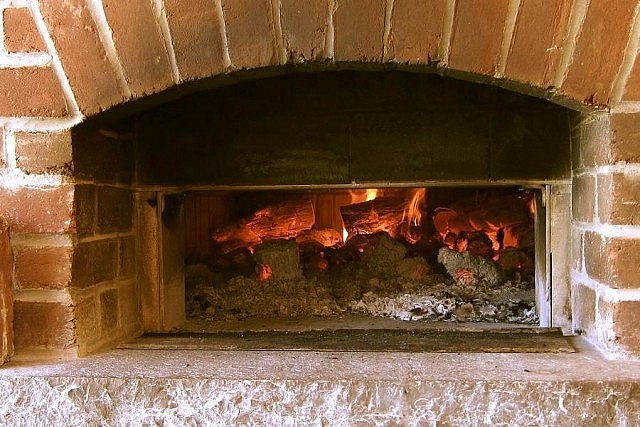 Jessica Arsenault and Graham Thoem started Hard Winter Bread Company in May of 2014 from their home in Lakefield. With the help of their friends and family they built their own wood-fired oven, which they use to make breads, breakfast cookies, granola, and more.
Jessica has simple but strong goals for the business.
"We are happily a small bakery that places an emphasis on quality over quantity," she says.
Unlike many wood-fired pizza ovens, which are fired as the pizza is being cooked, Hard Winter's oven is fired the night before. The oven is built with many thermal layers and stays warm for days after firing. Once it has burned for a few hours, the oven is cleared of ash and coals and the baking can commence.
"After a firing the oven is constantly cooling," says Jessica. "We pay close attention to the temperatures and bake a range of products in it depending on how hot or cool it is."
Bread is baked directly on the hearth when the oven reaches 650°F. Their wood- fired granola is slow roasted a full three to four days after a firing.
Hard Winter Bread Company varies its offerings seasonally. Winter is the time to try their wood-fired bagels. They offer a hot cross loaf for Easter and a garlic scape sourdough in the spring. Lately they have been experimenting with locally sourced emmer from Merrylynd Organics.
Look for Hard Winter Bread Company at the Peterborough and Lakefield Farmers' Markets, or find them at a variety of local food shops including the Lakefield Pantry (44 Queen St., Lakefield, 705-652-6062) and Chasing the Cheese (372 Water St., Peterborough, 705-775-0525).
---
Hot diggity! The Kawarthas are a hotbed of hot chocolate hotspots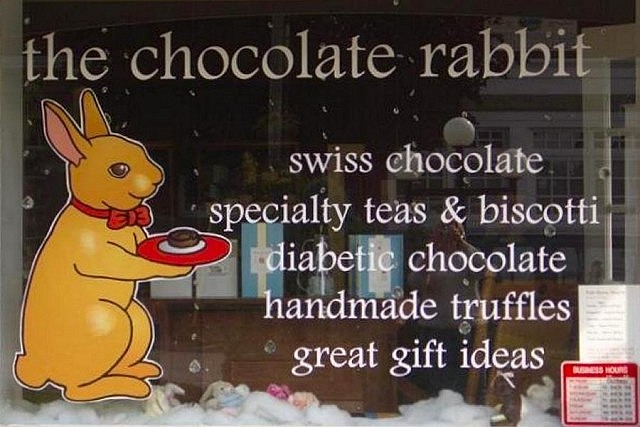 With a blanket of snow freshly covering the Kawarthas, it's the perfect time to indulge in a warm cup of hot chocolate. It's a ubiquitous drink, available in many local coffee shops and restaurants, with each having its own unique spin on the classic.
This month I asked four local businesses what makes their hot chocolate so special.
At The Chocolate Rabbit (11 Queen St., Lakefield, 705-652-8884) it's all about the chocolate. They start by grinding up couverture, a very high-quality chocolate that contains a higher percentage of cocoa butter than baking or eating chocolate. This is added to milk and frothed. Next they add real whipped cream and melted couverture from the machines they use to make their chocolates.
At the Kawartha Coffee Company (49 Bolton St., Bobcaygeon, 705-738-1500) they keep their hot chocolate local. They steam chocolate milk from Bobcaygeon's famous Kawartha Dairy, top it with Kawartha Dairy whipped cream, then add a dusting of Ceylon cinnamon and cocoa and a drizzle of dark chocolate and toffee syrup.
At Natas Café (376 George St. N., Peterborough, 705-745-2233) they make their own chocolate sauce from scratch and they are careful to steam their milk properly. When milk is steamed to the perfect temperature the natural sweetness of the lactose is released and it tastes smoother and sweeter.
At Pastry Peddler (17 King St. E., Millbrook, 705-932-7333) they offer regular and white hot chocolate steamed with milk and topped with whipped cream and your choice of freshly grated chocolate or cinnamon. They have been known to get creative with their hot chocolate, with past concoctions including a black forest white hot chocolate.