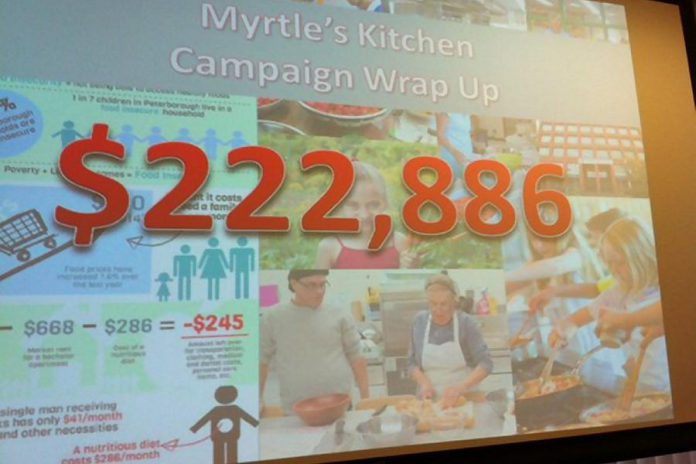 The Peterborough County-City Health Unit has exceeded its campaign goal to raise $204,000 to build Myrtle's Kitchen, a new community kitchen at the health unit's Jackson Square location in downtown Peterborough.
Along with community partners, the health unit raised a total of $222,886 for the project. The additional donations will help cover construction contingencies, programming costs, and to purchase equipment to outfit the new kitchen.
The health unit launched its fundraising campaign last November, when it also announced the kitchen would be named in honour of Myrtle Smith, the matriarch of AON's Smith family who contributed the lead gift of the campaign.
"We are enormously grateful to our amazing donors who didn't hesitate to support this campaign and make Myrtle's Kitchen a reality for our community," says Dr. Rosana Salvaterra, Medical Officer of Health. "Our donors understand how local residents and their families will benefit over the long term, thanks to the cooking skills and nutritious meals they will enjoy here."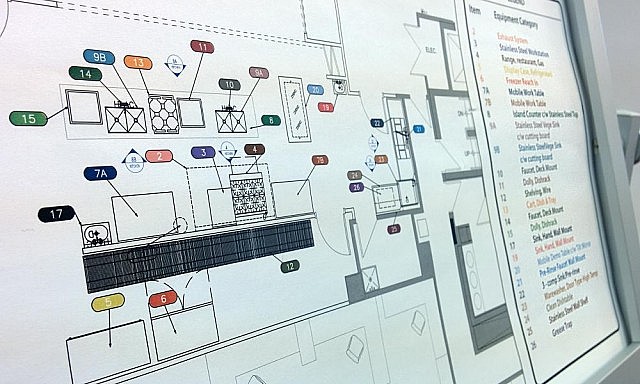 The commercial-quality kitchen will be built on the second floor of the health unit's new Jackson Square location. In partnership with the Nourish Project — a program that teaches food literacy through growing, cooking, eating and advocating for good food — and other local partners, the kitchen will support a wide range of community programs to create food security for vulnerable residents, as well as nutrition and safe food handling programs.
"As the lead partner in the Nourish Project, we're delighted to see the dream of a community kitchen come true," says Lynn Zimmer, Executive Director of YWCA Peterborough Haliburton. "The YWCA has done food work for more than 25 years because we believe it has the power to move communities, especially women and children, toward thriving. Now that the kitchen will be built, we are actively seeking investment to support our food programming, including that which will take place at Myrtle's Kitchen."
Major donors to the campaign include the Community Foundation of Greater Peterborough, the Smith Family, Flying Colours, Community Food Centres Canada, Sysco Central Ontario, LLF Lawyers LLP, Betty and Bill Morris, the Peterborough Foundation, and numerous family and individual donors. In addition, the Ontario Trillium Foundation contributed a $61,100 grant.
"I am pleased that our government through the Ontario Trillium Foundation was a partner in this project that will be located right here in the downtown," says Jeff Leal, MPP for Peterborough. "Myrtle's Kitchen will improve the quality of life of our community by establishing a regional, shared meeting place where people can come together to access healthy food and learn valuable life skills."
A tribute wall will be designed in the main foyer leading into the kitchen to recognize the support of donors who contributed to the campaign. The health unit's a goal is to open Myrtle's Kitchen in the spring of 2016.
If you want to donate for future public health and nutritional programming at Myrtle's Kitchen, donate online at www.pcchu.ca or call 705-743-1000 ext. 264. If you want to donate to the Nourish Project, visit www.nourishproject.ca.
"Ready Set Cook" culinary competition to raise funds for nutrition programs at Myrtle's Kitchen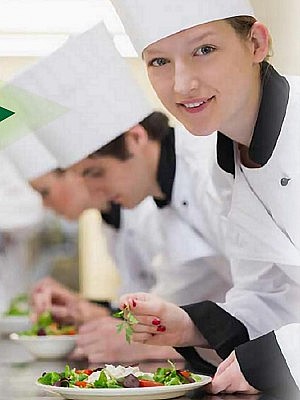 To raise further funding to support public health nutrition programs at the kitchen, The Gardens of Peterborough (owned and operated by AON Inc.) is sponsoring "Ready Set Cook", a culinary competition.
The event will take place on Tuesday, February 9, 2016, from 2 to 4 p.m. at Canterbury Gardens Retirement Residence (1414 Sherbrooke St., Peterborough).
Teams of cooking staff from each of the seven The Gardens of Peterborough locations will vie for the trophy by preparing an appetizer course for professional judges from Fleming College and Catering Plus.
Community members are invited to take part in this quest for the best appetizer by purchasing tickets for only $20, enabling them to sample all seven options.
"Sharing good food is virtually synonymous with building community, so we are thrilled to offer a unique event that brings together culinary excellence in support of public health programming," says Vicki Coppins, Director of Dining Services of AON Inc.
"This event will also give guests a chance to meet the chefs who create the menus for the enjoyment of residents at each of The Gardens of Peterborough locations," she adds.
Tickets are available at all seven The Gardens of Peterborough locations:
Canterbury Gardens (1414 Sherbrooke St., Peterborough)
Centennial Place Long Term Care Home (2 Centennial Lane N., Millbrook)
Empress Gardens (131 Charlotte St., Peterborough)
Moira Place Long Term Care Home (415 River St. W., Tweed)
Princess Gardens (100 Charlotte St., Peterborough)
Royal Gardens (1160 Clonsilla Ave., Peterborough)
Summit Terrace Luxury Senior Apartments (1802 Cherryhill Ave., Peterborough)
Tickets are also available online at www.peterborough.snapd.com.