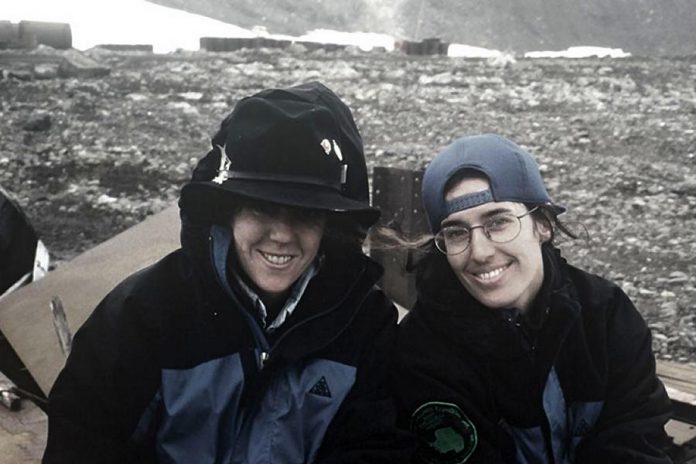 In January, Peterborough's Wendy Trusler and co-author Carol Devine appeared on CBC Radio's Fresh Air to talk about their book The Antarctic Book of Cooking and Cleaning, and now they've been featured on CBC Radio's The Next Chapter with Shelagh Rogers.
The episode was broadcast on Monday, April 11, 2016 and you can listen below or by visiting The Next Chapter on the CBC website.
We published an excerpt of the book after it was first released by Vauve Press in December 2013, but the book has since been republished for worldwide distribution by Harper Collins with the title The Antarctic Book Of Cooking And Cleaning: A Polar Journey.
It's available in hardcover at book retailers and online with hardcover and ebook versions at Amazon, Chapters, and Barnes and Noble.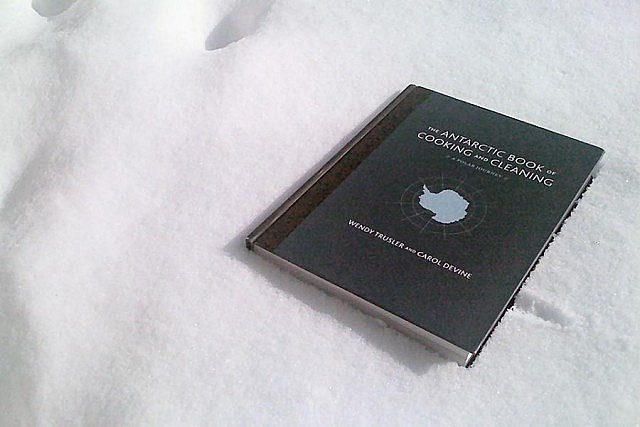 The international distribution has renewed interest in Wendy and Carol's book.
Last May, they were interviewed on CTV's Canada AM. Maria Popava, the founder of Brain Pickings with over four million Facebook fans and over half a million Twitter followers, profiled the book on her website. More recently, The New York Times featured the book in the food and cooking section of its Holiday Gift Guide.
If you aren't familiar with The Antarctic Book Of Cooking And Cleaning, it recounts Wendy and Carol's 1996 adventure to Bellingshausen, a Russian research station on King George Island in the South Shetland Islands, which lie about 120 kilometres north of the Antarctic Peninsula.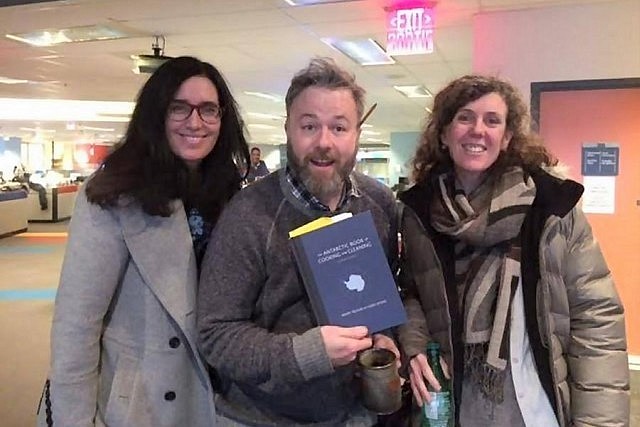 Carol, a humanitarian, organized a group of 54 civilian volunteers from five countries to head to Antarctica to clean up 28 years' worth of garbage which, due to the cold temperatures, never decomposes. Wendy, a visual artist/designer and food stylist who had many years of cooking experience (including cooking for tree planters in remote areas of Canada), signed on to feed the expedition's volunteers.
Taking inspiration from the writings of historic polar explorers, the book draws on the journals, letters, recipes, menu plans, and provision lists of Carol and Wendy wrote from December 1995 to March 1996. They share pithy, insightful observations on life, food, science, politics, and the environment. Woven throughout the narrative are historic and contemporary images, vignettes and observations, and warnings and wisdom from Antarctica's short history.
The book includes more than 130 full-colour photographs, including many by photographer Sandy Nicholson. His award-winning work has been featured at galleries and museums and published in Rolling Stone, New York Times Magazine, Wired, Toronto Life, and more.

As well as serving as a cultural history of Antarctica, The Antarctic Book of Cooking and Cleaning is a cookbook, containing 42 of Wendy's recipes.
During her interview with Carol for the job as expedition cook, Wendy learned that King George Island had 11 international bases. Also a visual artist, Wendy was already working on a mixed-media project called Dancing in a Northern Kitchen, inspired by the many seasons she spent cooking for tree planters in remote areas of Ontario, Alberta and British Columbia.

So she decided to collect recipes from each of the international bases while she was there. As a result, the 42 recipes in the book include cultural influences from Russia, China, and South America.
There are recipes for Honey Oatmeal Bread (very popular among the expedition volunteers, who called it "Wendy Bread"), Cheese Fondue, Great Wall Dumplings, Roasted Pepper Goulash with Smoked Paprika, Roast Leg of Pork, Frozen Chocolate Cream, and more.
In the book, Wendy also reveals the challenges of cooking for a large group of people from different nationalities who are gathered at the bottom of the world. The biggest challenge was provisioning — she had to order food shipments from Argentina by fax from Toronto, which presented a problem as she didn't speak Spanish.
Another challenge was cleaning up, as well as figuring out how to prepare meals for a large group of people in a cramped makeshift kitchen using limited ingredients.
For more information about the book, visit www.theantarcticbookofcookingandcleaning.com.
All photos by Sandy Nicholson except where noted.
---
Carol and Wendy on CTV's Canada AM
Carol and Wendy on CBC Radio's Fresh Air